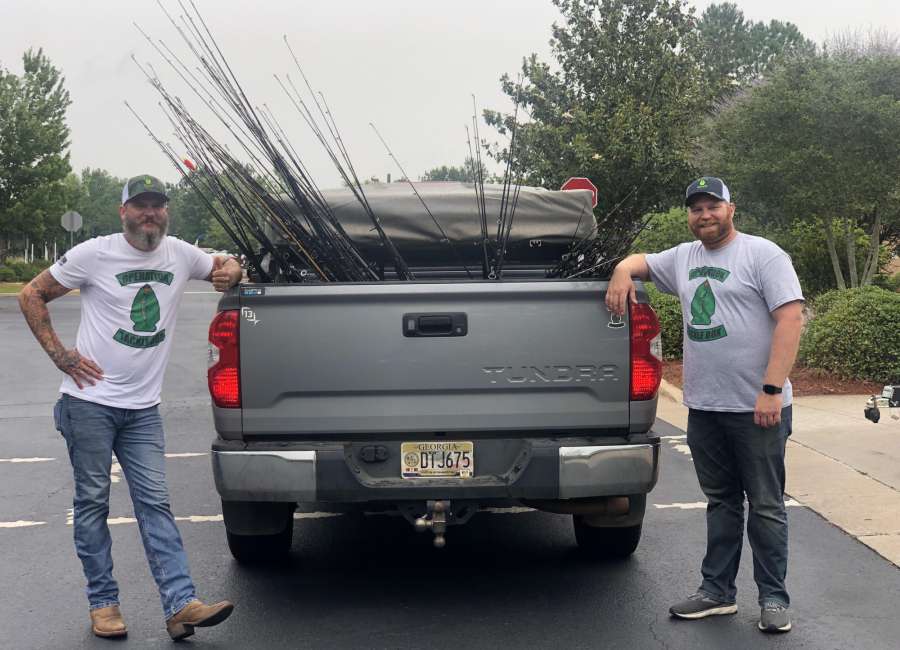 Jacob Watkins started taking veterans fishing to help relieve them from the symptoms of post-traumatic stress disorder.
"I'm a combat veteran myself, and fishing has helped me a lot," said Watkins, founder and CEO of Operation Tackle Box. "When I'm on the water, I'm not looking over my shoulder or worrying about someone coming out to my boat. I wanted to give that calmness and peacefulness to other veterans because it helped me out so much."
Watkins served in the army from 2007-2010 and spent 14 months in Afghanistan as a gunner in convoy security. He launched OTB earlier this year in January.
"I feel that our veterans aren't getting the care they need for their PTSD and mental health," he said.
OTB is a way for veterans to socialize and "to get them to come out and have that camaraderie again," Watkins said.
"Veterans don't really see other veterans a lot. There's not going to be 200 veterans in your neighborhood," he said.
As a part of the excursion, the veteran is given $200 of tackle gear, two fishing reels, T-shirts, hats and "anything else we can supply them with."
Watkins said OTB is funded by donations, which he uses to purchase to the gear he'll use and given to the veterans.
"I just keep buying gear until I get all the gear to take out a veteran," he said. "Then I start the process over again."
According to Watkins, the organization's goal was to take out five veterans a year, but as of May they already achieved their goal. Now, OTB is trying to assist a veteran each month.
Cameron McBride, vice president of OTB and also a veteran, got involved with the organization after he saw an exchange between Watkins and a mutual friend on Facebook.
"We just got to talking, and he told me about OTB. We hooked up one day and got out to go fishing," he said.
After the trip with Watkins, McBride said he became more involved with OTB by helping the organization with its social media and promotions.
McBride served in the Marine Corps for eight years and had two deployments in Iraq. He said he had a passion for fishing – and like Watkins –  uses the activity to de-stress.
"Whenever I've been really down, stressed out and having problems, I've gone fishing. It helps me," he said. "I really wanted to get more involved. I was never able to find something I could truly get behind until I found Jacob and OTB."
Watkins said after receiving help from McBride, he offered to make the veteran vice president within the organization.
"I know a lot of guys that have had bad problems with PTSD and are just trying to find help. It's more difficult to find good help than you'd imagine," McBride said.
Outside of fishing, Watkins's organization also offers veterans help with receiving VA and GI Bill benefits.
"We have a pretty full binder notebook that helps them with everything they need to know. Some of the benefits that comes with being a part of OTB and fishing with me," Watkins said. "Though, even if someone doesn't come fishing, we can still help."