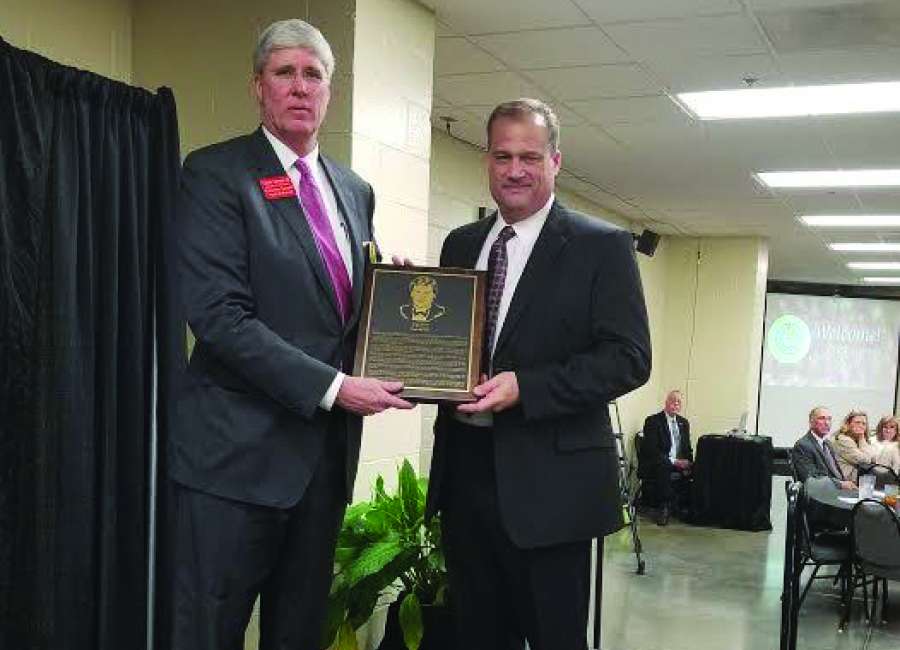 Former Newnan and Alabama  football standout Mike Zuga, 51, who was inducted into the Coweta County Sports Hall of Fame in February died of a heart attack last Friday.
He is survived by his wife Leah, daughter Anna Beth and his mother Margaret Benton.
Former Newnan teammate Ronnie Underwood nominated Zuga for the Coweta County Sports  Hall of Fame honor and is in a state of shock over the death of his friend.
" Leah said to me that I am so glad you nominated him. He was just so humbled and excited to get in," Underwood said.
Zuga and his family flew in to town in February for the Hall of Fame banquet and since then, Zuga has kept pictures of the event on his social media pages.
"I didn't realize it touched him that much," Underwood said.
Zuga played on the offensive line at Newnan where he starred as a center for head coach Max Bass after moving into Coweta County his junior year.
Bass can thank former Alabama defensive coordinator Ken Donahue, who was friends with the Zuga family for directing him towards Newnan when he family relocated to Georgia.
"Mike was a great football player, but a better person," Bass said.
Former Newnan quarterback Dexter Holiday was a teammate of Zuga and was also inducted into the Hall of Fame in February.

The duo helped Newnan win several key games.
"I think we must have won eight or nine games a year when they were here," Bass said.
In just two seasons  anchoring down the Newnan offensive line, Zuga earned a long collection of accolades on and off the field.

After his senior year with the Cougars, Zuga was named to the Class 4A All-State team and also earned Region 6-4A Lineman of the Year.
Bass remembers helping guide Zuga when it came time to select a college.

"He wanted to go to Ohio State or Michigan or somewhere like that," Bass said. "I kept telling him, Mike, they can get those big corn feed boys up there and they're big, you are not that big, but  he went on  to Alabama and had a nice career."
After helping the Cougars post an 18-5-1 record in two seasons, Zuga signed a letter of intent to the University of Alabama where he played for head coaches Ray Perkins and later Bill Curry.
In his freshman year with the Crimson Tide, Zuga was named to the SEC Second Team All Freshman squad after Alabama went 10-3 and beat No. 12 ranked Washington in the Sun Bowl.
He also earned award winning marks in the classroom after compiling the highest GPA on the team.
In his sophomore season, the first year under Curry, Zuga won the starting job as the team's center.
Alabama posted SEC victories over No. 5 LSU, No. 8 Tennessee, and No. 11 Penn State on its way to a 7-5 season, ending in a loss to Michigan in the Hall of Fame Bowl.
Zuga helped Alabama get back to its winning ways the following season with a 9-3 record and a victory over Army in the Sun Bowl.
Zuga saved some of his best football for his final season as the Crimson Tide went 10-2 and won the SEC Championship with victories over Tennessee and Penn State before losing to Miami in the Sugar Bowl.
Zuga worked in the healthcare industry.
A memorial service is tentatively  planned for July in Huntsville where Zuga and his wife were married.
"You don't have too many good friends and when they go away, it's like wow," Underwood said. "It's like I tell my daughter, you better enjoy everyday."