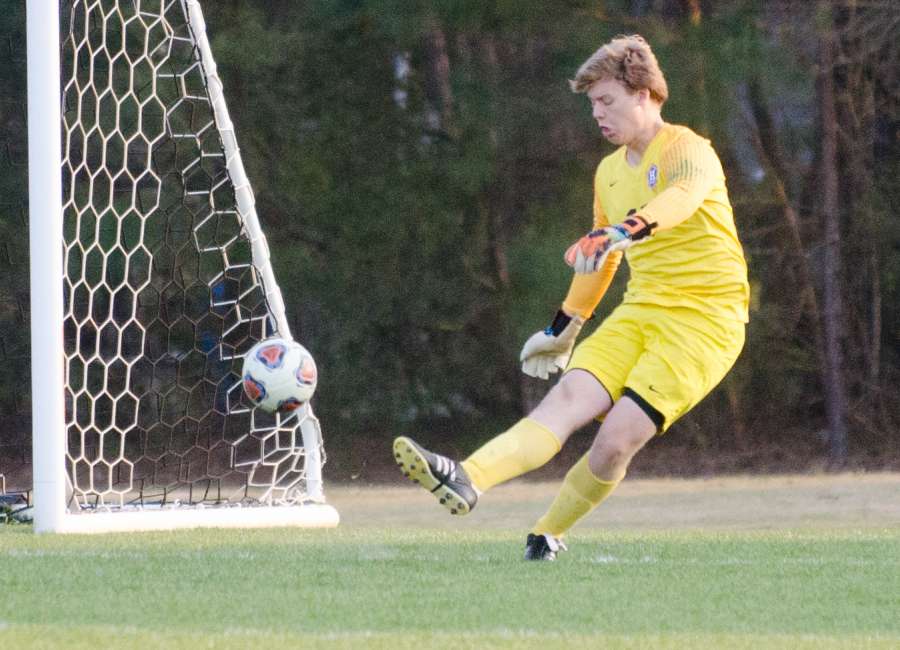 Playing goalie can be one of the most challenging positions on the soccer field.

Sometimes the goalie can go several minutes without being challenged, but they have to be ready to make a stop often without warning.
This past season, two players were among the state's best high school goalies, leading their teams to several key victories and trips to the playoffs.
For their efforts a pair of seniors, Newnan's Rad Wyrick and Heritage's Jack Hunt share Co-Player of the Year honors on the Newnan Times-Herald/Cowetascore 2019 Coweta County boys soccer team.
Wyrick had a stellar high school career on an off the field. He capped his senior season earning All-Region honors after making 75 saves, including 35 in the region.
He led the Cougars to a 12-2-2 record with five shutouts. Off the field, he took care of business in the classroom after being named the school's valedictorian.
He has also received an appointment to the Naval Academy.
Hunt led the Hawks to the GISA State title game and was named all region. He will play college soccer at Birmingham Southern.
Six other players joined Wyrick on the All-County team from Newnan.
Senior midfielder  Tanner Bassett earned All-County honors for the third year in a row and also earned All-Region 2-A selection. He finished the season with six goals and six assists.
Newnan junior forward Dean Goad was the offensive catalyst for the Cougars leading the team in scoring with 17 goals and five assists. He also was named to the All Region 2-7A squad.  Goad is also a competitive weightlifter.
Newnan junior defender David Ponce earned All-County honors after helping keep the ball out of the Cougars' net. Ponce played every minute of every game for Newnan this past season. Ponce also took care of business in the classroom, excelling in Advanced Placement classes.
Senior Angelo Sanon played several different positions for Newnan including midfield and forward. He finished with nine goals and 11 assists.
Junior defender Justin Sanchez has been a three-year starter for the Cougars' varsity. He moved from midfield to defenses and scored three goals and finished with two assists.
Sophomore defender Colin Swenney played every minute of every game and is expected to be one of the leaders on  the Cougars' soccer team over the next two seasons.
Junior forward Abel Villaescusa was a foreign exchange student at Newnan this year and finished with 12 goals and four assists to earn All-County honors.
Four players earned All-County honors for East Coweta.
Junior defender Matthew Allen finished with eight goals and three assists.
Defender Michael Alrutz finished with seven goals and one assist.
Also earning First-Team All-County honors for the Indians were senior  midfielder Noah Shumake and senior forward Andrew Wilson.
Shumake blasted the ball in the back of the net 10 times and also had three assists.
Wilson had an explosive offensive season scoring 13 times and finishing with 14 assists.
Both Shumake and Wilson also earned All-Region honors.
Northgate placed four players on the 2019 roster including sophomore forward Erek Graham, freshman goalie Sam Morgan, senior defender Keshav Laul and defender Hayden Schultz.
After advancing to the GISA title game, three players join Hunt from Heritage on the All-County squad.
Sophomore defender Brandon Hurlock switched positions this season and helped the Hawks put together a winning streak until the final four.
Senior Gridley Pendergrast also helped the Hawks from the backline, turning in stellar defensive performances en route to All-County honors.
Daniel Wellons also earned All-County honors for the Hawks. The junior midfielder also proved he could score, finishing with 15 goals and six assists.
Trinity senior goalie Sean Davis also made the All-County team for the Lions in the team's first season at the GHSA level. Davis finished with 90 saves.
All-County Boys Soccer
Co-Players of the Year
G Rad Wyrick, Newnan, Sr.
G Jack Hunt, Heritage School, Sr.
All-County Team
D Matthew Allen East Coweta Jr.
D Michael Alrutz East Coweta Fr.
M Tanner Bassett Newnan Sr.  
G Sean Davis Trinity Christian Sr.
F Dean Goad Newnan Jr.
F Erek Graham Northgate So.
D Brandon Hurlock Heritage School So.
D Keshav Laul Northgate Sr
G Sam Morgan Northgate Fr.
D David Ponce Newnan Sr.
D Gridley Pendergrast Heritage School Sr.
M Angello Sanon Newnan Sr.
D Justin Sanchez Newnan Jr.
D Hayden Schulz Northgate
M Noah Shumake East Coweta Sr.
D Colin Swenney Newnan So.
F Abel Villaescusa Newnan Jr.
F Andrew Wilson East Coweta Sr.
M Daniel Wellons Heritage School Jr.
Honorable Mentions
East Coweta — M Tyler Stewart, Sr.; M Nick Grimaldi, Jr; Heritage School — Jalen Cunanan, Fr.; Mack Mikko,  8th grade; Northgate: Austin Anderson, Sr.; Josh Burks; Bryan Torres-Quiroz;