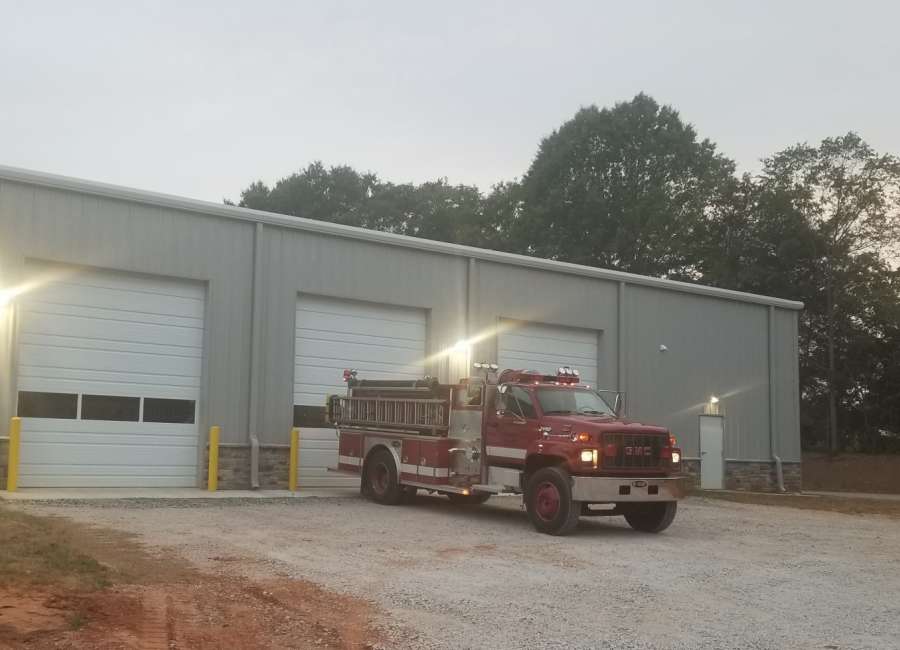 Luthersville and Lone Oak have manned fire stations, giving those Meriwether County towns a new, higher level of service.

Meriwether, Coweta's neighbor to the south, is following in Coweta's footsteps with regard to fire service. Ribbon-cutting ceremonies for the stations in Luthersville and Lone Oak were held Wednesday.
Luthersville abuts the Coweta County line, and Lone Oak is just a few miles south of Grantville.
Meriwether's approach to fire service has a clear Coweta connection. Theron Gay, longtime county administrator in Coweta, is the administrator in Meriwether now. He had seen how a fire district tax transformed Coweta's fire service.
Starts with volunteers
Going back a few decades, both Coweta and Meriwether had paid fire service only in their largest towns – Newnan in Coweta and Manchester in Meriwether.
Volunteer fire departments were formed. Patricia Palmer, public information officer for Coweta County, said the Coweta County Volunteer Fire Department was formed in 1972 with Barry Bass, John Madaris and Woody Wood as directors.
Two years later, Coweta appointed a fire commission. The original members were B. A . Hobby, Elton Goodroe, Millard Floyd, Tip Brewster and John White, as well as Johnny Brown, who also was serving on the Coweta County Commission at that time.
As the fire commission formed, plans were already underway to put a fire district vote before Coweta's electorate. In November 1974, Coweta citizens approved a referendum to levy tax in the fire protection district, which covered most of then-rural Coweta.
Two fire stations were built in 1975, one in 1976 and a fourth in 1977, Palmer said. Two more followed in 1978 and 1980.
Personnel were hired, and equipment was purchased – funded through the fire district tax. Coweta now has 16 manned fire stations.
Overwhelming vote
In 2016, Meriwether voters were given the option to create a fire district. Alphons Pynenburg, Meriwether's fire chief, noted the vote passed with about 75 percent of voters in favor.
There have been previous efforts to bring paid, professional fire service to Meriwether County, but they had not been successful.
"The challenges were pretty big," Pynenburg said.
The success of the 2016 vote was because of leadership in the county and cities, as well as citizens and firefighters being "committed and unified," Pynenburg said. "It's amazing the support for this that we've seen."
"This was an effort not just by the board of commissioners, but by the community as a whole," Hines agreed.
"The community – the people here – came together," Pynenburg said.
He said it has been "almost surreal" to see all the pieces fit together to make manned fire stations a reality.
In an interview last year, Gay talked about what the fire district means for Meriwether.
"We will go from a volunteer department – except for a paid chief and a couple of other positions – to a fully manned fire department, while continuing our volunteer program as well," Gay said.
The firefighters will also serve in the role of first responders for medical and accident calls.
Pynenburg noted that the creation of the fire district and the tax on that district does more than generate funds to build and equip the new stations. The fire district provides "a way to sustain it, to keep it going in the future," he said.
Paid firefighters at the Luthersville and Lone Oak stations are already responding to calls, and the stations and personnel often are the first stop for people who are experiencing a health crisis.
"Response times are going to be faster," predicted Meriwether Commissioner Mary Bray.
Economic impact
The stations also serve an economic development purpose – making north Meriwether more attractive for development. A node of industrial development is in northwest Meriwether, just a few miles from Lone Oak.
That industrial park was discussed at a recent meeting of the Coweta, Fayette, Meriwether Joint Development Authority. That organization is looking to market all three counties – with an emphasis on Interstate 85 as a trunk with branches in the three counties.
"This is a real boon for us," Sunny Gwaltney, who works in human resources at Mando, said of the Lone Oak fire station. Mando has two Meriwether facilities, one of them a foundry.
"I'm really looking forward to the wonderful addition this is going to be," she said.
Hines talked about how the Lone Oak station is going to serve the business community.
"Sometimes people don't realize how important it is to prepare for growth," she said. Putting infrastructure in place "allows for more growth," she said.
Hines and Bray said the stations in Odessadale and Durand will open before the end of June. Hines said bidding for the stations in Greenville, Woodbury, Primrose and the Cove should be done soon.
Sites for the Greenville and Woodbury stations are already secured.
"The benefits we're going to reap from it are going to be immeasurable," Pynenburg said. "We are here, all of us, to be here and to serve our public."