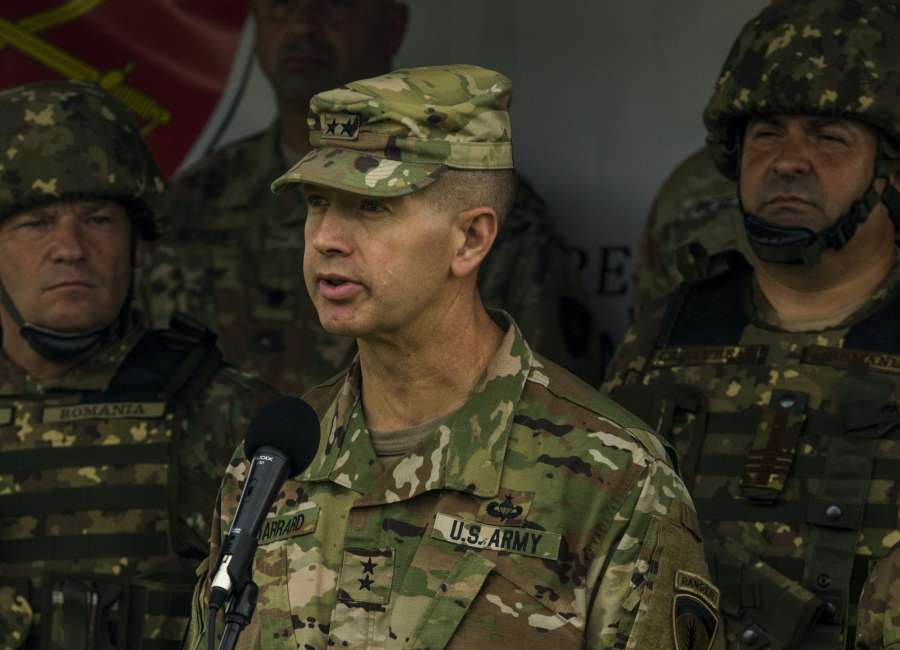 Maj. Gen. Joe Jarrard, who has roots in Coweta County, addressed soldiers taking part in the Saber Guardian 2019 exercises in Romania earlier this month.

Jarrard, U.S. Army Europe deputy commanding general for the Army National Guard, spoke at the opening ceremony for Saber Guardian 2019 in Cincu, Romania on June 3. Saber Guardian 2019 is an exercise co-led by Romanian Land Forces and U.S. Army Europe to enhance joint and combined interoperability across a variety of mission sets.
Involved in the exercises were the United States, Bulgaria, Hungary, Romania, NATO allies and Partnership for Peace nations.
Romanian soldiers, accompanied by U.S. troops from the 519th Transportation Detachment, saluted the official party during the arrangement of Romanian and U.S. National Anthems. Maj. Gen. Dorin Ioniță, commander of Joint Task Force Headquarters Romania, joined Jarrard in speaking.
Jarrard was head of the Georgia Army National Guard during Gov. Nathan Deal's administration.
His grandmother, Virginia Trammell Jarrard, grew up on a Coweta County farm, and his father, Tom Jarrard, was born in Newnan. Two of his great-grandfather's brothers, Henry Grady Jarrard and Juan Marcus Jarrard, were Baptist pastors who served churches in Coweta and Meriwether counties.
Jarrard's sister, Amy Coffee, and her family live near Luthersville.