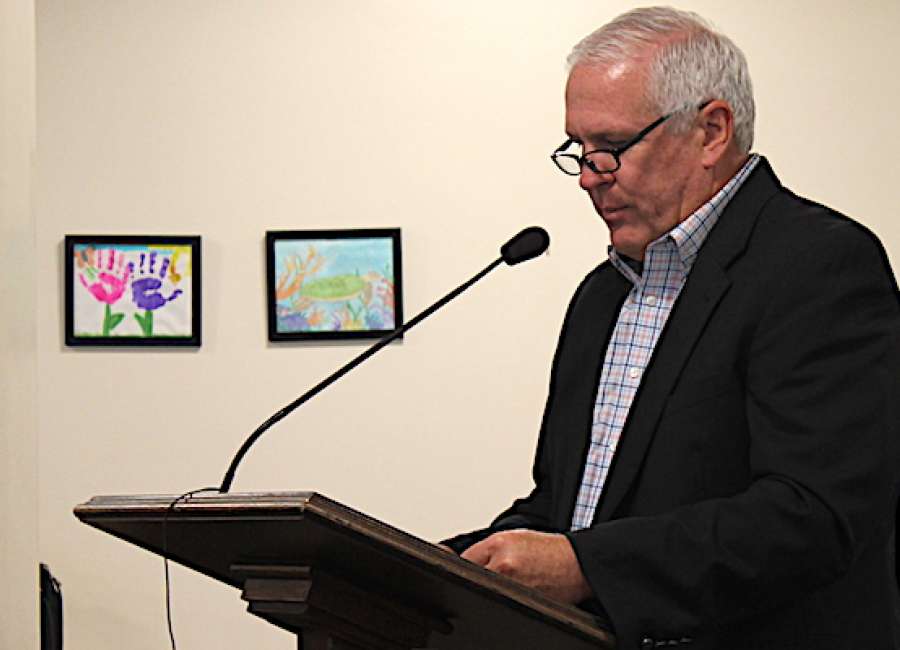 Updated 6/13/19 at 8:35 a.m. to correct vote.
•••
Linda Menk's fellow school board members should take action against her for hindering a board-initiated investigation, according to one Cowetan.
Ken Bennett – one of several community members who spoke during the public comment portion of Tuesday's meeting of the Coweta County Board of Education – called for the board to officially reprimand Menk.
Menk was the only board member who did not fully cooperate with a 10-month probe into allegations of corruption against board members and school system staff, investigators Bob Wilson and Keri Ware say in their report.
"I ask that you publicly censure Ms. Menk for her stunning and clear lack of cooperation," Bennett told the board, which voted unanimously to commission the outside investigation in August of 2018. "To obstruct an investigation while in a position of responsibility is horrendous behavior and should be recognized and treated as such."
Bennett, who says he is a registered Republican voter in Menk's district, also criticized her for using social media and TV news to mislead the public about the focus of the investigation. Menk has claimed she is the real target.
"She attempts to portray herself as the person being attacked," he said. "I find this humorous since she voted for the investigation."
Investigators say they found no evidence that a board of education member or any school system employee engaged in bid-rigging, conspiracy to defraud or racketeering in awarding a bid to install synthetic turf on high school athletic fields.
However, the evidence suggests she "began actively participating in building a case against her own board to undermine their vote and create a public scandal" as part of a political agenda, according to the report.
"It is not the purpose of your elected seat to advance your or any political agenda," Bennett said. "Your position is to advance the agenda for K-12 children of Coweta County."
Bennett said the board also should pursue full reimbursement for the cost of the investigation – more than $100,000 in taxpayer money – and refer the "mess" to law enforcement for further investigation.
"It is time to shine the light of truth on this entire matter," Bennett said.
Other speakers expressed similar sentiments.
David Keller, the father of three Northgate High School alumni and CEO of a Newnan manufacturing company, said he is concerned about what investigators uncovered.
"(The report) highlights some very serious attempts to influence and alter that project, maybe unethically or illegally," said David Keller. 
Keller requested the board look into possible ethics violations and potential criminal misconduct, and reminded those present that Coweta's school board should operate as it was intended – as a nonpartisan entity prioritizing students.
"The school board should be apolitical," he said. "It shouldn't care if you're a Republican or a Democrat. It shouldn't care what those beliefs are because it should be about one thing only, and that's the kids."
Retired educator Beverly Jennings said Menk is more interested in furthering her "political agenda of disrupting the status quo" than in students' well-being.
"(That) is inappropriate and at odds with what her role as a board member should be," Jennings said. "Student achievement should be the primary barometer in decision-making. I believe Ms. Menk is injecting personal biases and overstepping boundaries."
Jennings said Menk has sown discord and kept the board from acting as a singular voice for students.
"Ms. Menk, if you cannot work toward one accord with Dr. Barker and your fellow board members, I suggest you resign," Jennings said.
Menk did not speak during board comments.
However, Chairman Amy Dees read from a prepared statement, saying in part that she will continue to focus her efforts on Coweta County's students.
•••
How we got this story
For our ongoing investigative series focusing on the Coweta County Board of Education, The Newnan Times-Herald's sources have been almost exclusively in the public domain.
In addition to elected officials' social media posts, statements and public forums, our sources include documents and information available to everyone under Georgia's Open Records Act. 
To avoid potential conflicts of interest, we sometimes seek input from experts outside Coweta County and the Atlanta area. Those sources are named, and their comments attributed to them, in our stories.
Recent pieces in our series have originated from a report to the Coweta County Board of Education by Decatur law firm Wilson, Morton & Downs. The report, released to the public on May 23, 2019, documents findings from a 10-month independent investigation by attorneys Bob Wilson and Keri Ware into allegations of criminal acts by board members and school system staff.
The investigation found no evidence that a board of education member or any school system employee engaged in bid-rigging, conspiracy to defraud or racketeering – all allegations made by a local resident in an Aug. 7, 2018 letter of intent to sue, which prompted the board's *6-0 vote to pursue an outside investigation.
Our series now includes ongoing analysis of the 161-page report – which is posted publicly on the school system's website at http://cowetaschools.net/image...– and identifies the report as the source for those pieces.
•Earlier versions of this story incorrectly stated the board voted 7-0. Board member Larry Robertson was absent from the August meeting during which the board voted to pursue the investigation.