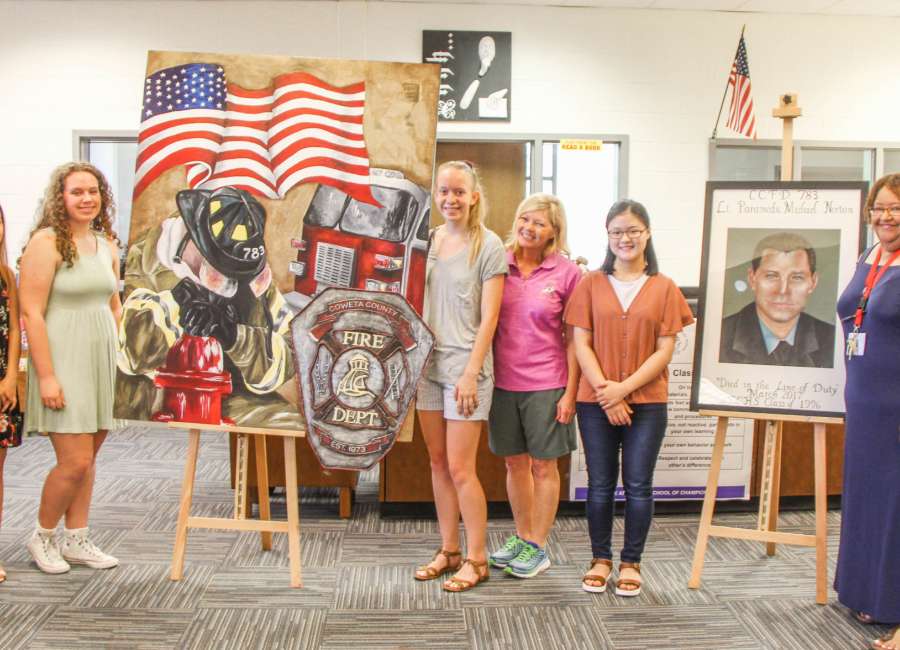 In his life, Firefighter Lt. Michael Norton was passionate about many things – family, friends, firefighting, golf and his community – including East Coweta High School.

With that in mind, students from ECHS recently paid tribute to Norton who passed away unexpectedly at the age of 38 from heart disease in March 2017.
His passing came less than 12 hours after responding to a house fire while on duty.  A firefighter's death that occurs within 24 hours of battling a fire is considered a "line of duty" death.
Norton's was the first line of duty death in the history of the Coweta County Fire Department.
Members from Coweta County Fire Rescue, along with members from Norton's family, recently witnessed the unveiling of the art project – a portrait of Norton and a painted collage.
Patrice Newell, who leads the AP Studio class, said her students embraced the story of the 1996 graduate and jumped at the chance to honor him with the portrait, which will hang in the hallway of the ninth-grade building at East Coweta.
The shield painting, completed by the advanced sculpture class of Georgie McMillan, is now on display at Station 1.
"Even with it being the last week of school, the students threw themselves into the project," Newell said.
Chief Pat Wilson said the unveiling was an emotional event, attended by Norton's family members and personnel from Coweta County Fire Rescue.
"We had the opportunity to let the kids know how grateful we are for them to pay an awesome tribute to him," Wilson said. "The work and passion behind this project is just incredible."
East Coweta Vice Principal Amy Westbrook grew up with Norton. Her husband, Brian Westbrook, worked with Norton at Coweta County Fire Rescue.
Based on Norton's legacy and pride for ECHS, Westbrook said the art students thought it crucial to honor him.
"The pride they have for the history of the school and one another makes East Coweta an amazing place to work," Westbrook said.
Westbrook, a Newnan High graduate, said Norton never missed an opportunity to brag on East Coweta and would have derived great satisfaction knowing she did the dedication.
"He was an amazing guy with a great sense of humor," Westbrook said. "It's an honor to dedicate these works and still see his face at school."