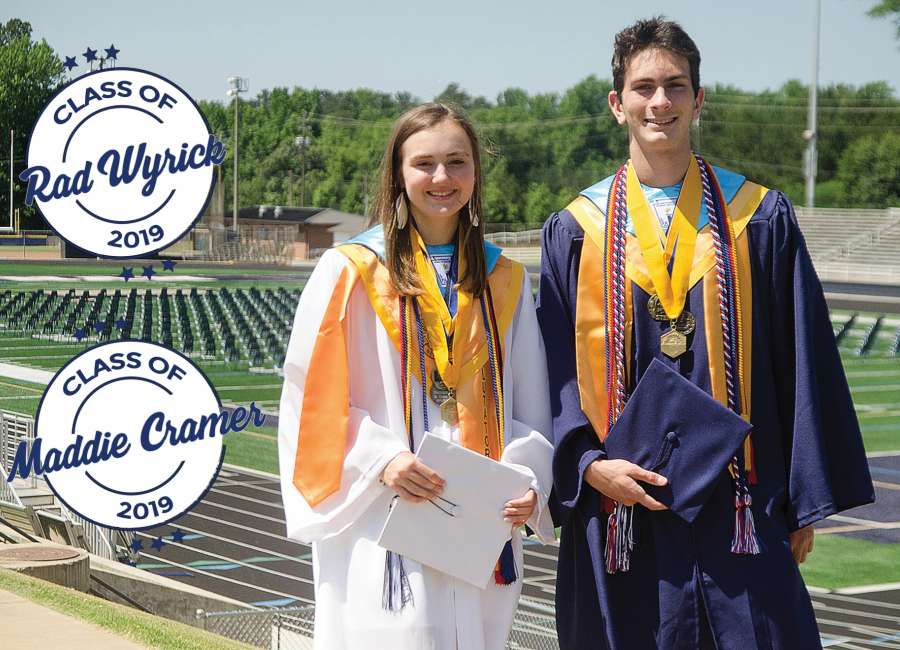 BY Chris Goltermann
Cowetascore
Last year, Newnan High's soccer programs took pride in Class of 2018 graduate Hannah Marriaga graduating as its valedictorian.
Heading into Thursday's ceremonies to honor the Class of 2019, they have two more reasons to celebrate.
Both Valedictorian Rad Wyrick and Salutatorian Maddie Cramer also shared the pitch at Drake Stadium during their four seasons of varsity soccer.
Just over 24 hours from leading Newnan's graduating class onto Drake Stadium's new turf surface, they were getting ready to take a final look at each other's speeches.
"We've known each other since we were like five years old," Cramer said, adding of any internal competition, "It's been a running joke."
With unique paths chosen for their next chapter in life, the longtime friends were even joking when they might run into each other again in the future outside of a class reunion — with Wyrick having potential thoughts of becoming a Naval Aviator and Cramer, who is on her way to Georgia Tech next year, a physician with a background in neuroscience.
"I want to work with Doctors Without Borders," Cramer said of the humanitarian program that includes medical projects in 70 countries. "If you take neuroscience it'll give you the health minor that will help send you to PA school."  
It made Wyrick drum up hypothetical and equally wild scenarios of how the two longtime classmates might run into each other again.
"We joked that I'll be over in some country and I'll get shot down and she'll have to save my life," he said.
An Editor's Note: Dark senses of humor have also been linked to high IQs.
The pair continued a trend of student-athletes at Newnan High that has excelled in the classroom that includes Thursday's graduating class.
This year's Lady Cougars' soccer seniors had an overall GPA of 95 — something coach and AP History teacher Frankey Henderson made note of at the team's end of year banquet.
Newnan head baseball coach Marc Gilmore's roster has a separate column for GPA along with a number, position and year. This spring it was led by a weighted 102 of senior Mason McKibbon and a 100 of senior Logan Hudson.
Prior to Marriaga, tennis standout Thomas Schultz was named Newnan's Valedictorian for the Class of 2016, with student-athletes now topping the school's senior list of GPAs in three of the last four years.
For Wyrick, whose grandfather and father became pilots, the key to balancing education and athletics has been knowing one's limit.
The Newnan High Star Student juggled four AP classes including calculus and physics with two varsity sports including multiple duties as both a kicker and punter on the Cougars' football team last fall while named to the 2018 All-County Team. He also became an Eagle Scout before completing the lengthy process for applying to the Naval Academy.
"You can't do too much. I figured that out my freshman year when I started playing football. That's when I quit club [soccer]. It just maximizing your time. Before I could drive, I was always doing [school] work in the car as much as I hated doing that," he said. "It's controlling your sleep schedule. I tried to get sleep on game days and days of tests. You have to figure out when you need sleep the most. When you're doing a lot of things you're not going to get the full eight [hours]."
Both Wyrick and Cramer have had to battle through injuries including a torn ACL that kept Cramer off the field for her senior year. Rehabilitation has been slow, and at times equally frustrating, while still waiting to resume regular running exercises.
As a sophomore, she dealt with a meniscus injury that eventually became worse despite physical training. When doctors eventually got a closer look upon surgery after more complications as a senior, they found "it was a whole lot worse," she said.
"It's a five-month recovery before running, which is a long time. I hadn't expected it to be that much of a recovery," Cramer added. "It ended up be a whole lot more."
But being off the field helped steer her toward Georgia Tech, which had been an afterthought after visiting schools that also had NCAA programs in soccer.
"I have toured so many schools soccer-wise and it was always that mindset. I toured Tech because my parents really encouraged me," she said. "For a while, I was really intimidated by the academics of the whole thing. And so we didn't even consider it for a while."
Cramer got a chance to tour the Atlanta campus again when interviewing as a semifinalist of Georgia Tech's Stamps President's Scholarship Program.
"When I toured campus again, I thought, I should be here," she said. "Then I hurt my knee and soccer was kind of off the table."
The senior midfielder, who has been an All-Region and All-County selection throughout her career with the Lady Cougars, isn't giving up on her career, however, with a chance to play for Georgia Tech's club team.
"I'll play club there when I come back, so I'm really excited," she said.
Wyrick, meanwhile, played through three fractures in his back as the starting keeper for Newnan's boys' team. The Cougars captured this year's Coweta Cup by sweeping rivals East Coweta and Northgate for the first time since 2011. The end result of a second-place finish in Region 2-7A also produced the first home boys soccer game over the same span.
"It was nice to finally show we could play," he said. "I think the thing that made it really stand out is that everyone in general, we melded well as a team. Everyone was really close. We've all played together for a while. It makes a difference. Our leadership was great."