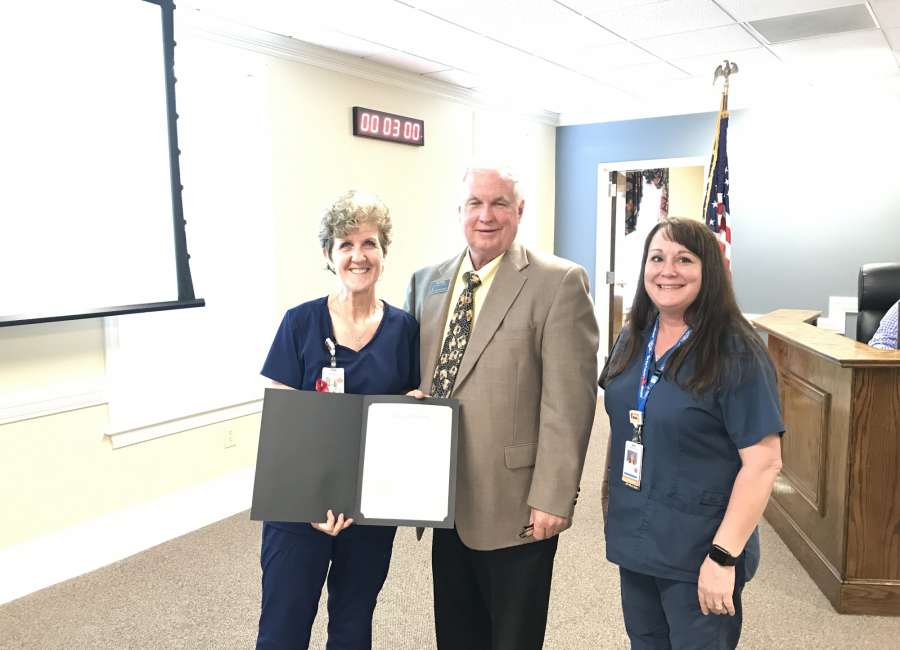 NTH STAFF REPORTS

Coweta County Commissioners and City of Newnan Mayor Keith Brady recently joined Piedmont Newnan Hospital's stroke awareness team, proclaiming May to be "Stroke Awareness and Prevention Month," in Newnan and Coweta County.

 "I urge all residents to familiarize themselves with the warning signs, symptoms and risk factors associated with stroke so that we might begin to reduce the devastating effects stroke imposes on our state," Brady said.
 The event took place at Piedmont Newnan Hospital on Wednesday, May 22.
 Piedmont Newnan is a stroke center committed to providing quality care for stroke patients through state-of-the-art diagnostics, emergency stroke treatment and effective, timely care, which can significantly improve outcomes and save lives in Coweta County and surrounding communities.
Quality stroke care is especially important in an area known as the "stroke belt." The Southeast, excluding Florida, has the highest rate of strokes in the country. With time being of the essence, it is important to have a local hospital that can treat almost any stroke victim in the county and support a "door-to-needle" time of fewer than 60 minutes. The door-to-needle time refers to the timely administration of the clot-busting drug tPA or tissue plasminogen activator, which is used to treat acute ischemic stroke and must be given within three to four and a half hours of the onset of symptoms.
 "Stroke is now the fifth-leading cause of death, with one death occurring every four minutes. But the good news is that 80 percent of strokes are preventable by eating right and exercising regularly, as well as by getting regular physicals and working with your primary care physician to control your cholesterol and blood pressure," said Debbie Camp, Piedmont Newnan's stroke program manager.
 Through Piedmont's partnership with Encompass Health Rehabilitation Hospital, people who have suffered a stroke can have comprehensive care without having to leave Newnan.
 "The aim of this proclamation is to inform everyone in Coweta to be an advocate for early stroke intervention by increasing their awareness about the signs and symptoms of stroke and its devastating effects," Commission Chairman Paul Poole read in the proclamation at the commissioners meeting on Tuesday, May 21. "It is important to remember the warning signs and the F.A.S.T. acronym – Face, Arms, Speech and Time."
The proclamation added that stroke costs Georgia an estimated $1.5 billion and nationally an estimated $34 billion each year. Piedmont Newnan averages 45 stroke patients a month.
 However, according to Camp, 50 percent of Piedmont Newnan patients did not call 911 when they were having a stroke. Recognizing the signs of a stroke and knowing what to do can save a life. Risk factors include high blood pressure, smoking, diabetes and obesity, all of which are preventable, according to Camp.
 "Being able to prevent and recognize a stroke is extremely important. Receiving prompt treatment could be the difference in walking out of the hospital and being dependent upon someone to care for you for the rest of your life," Camp said.