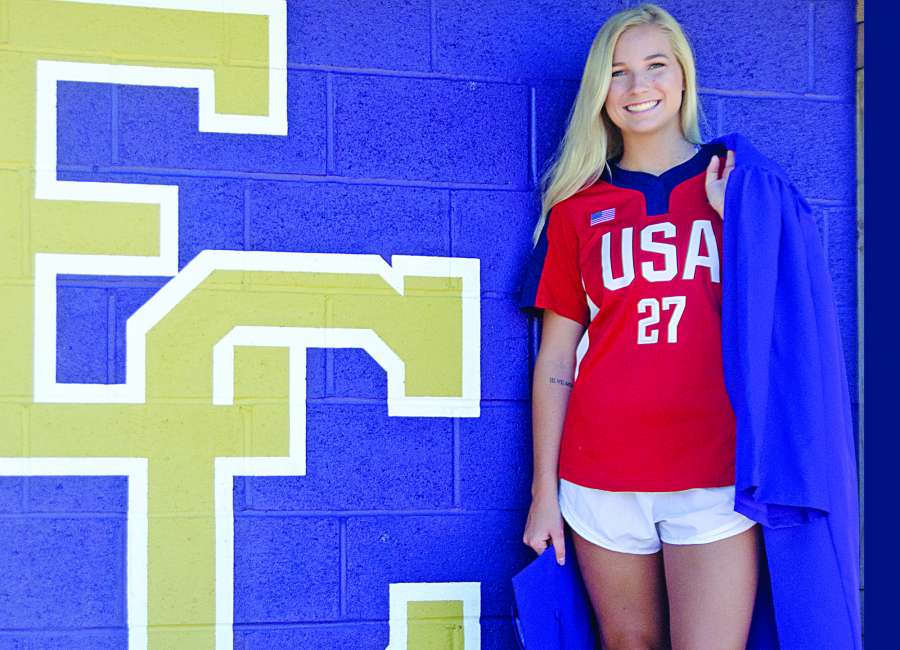 By Chris Goltermann
Cowetascore
To be an effective softball pitcher at any level, is to be in control. Life can work the same way, even when one is thrown the stingiest curveball they can imagine.
Maintaining that control, even facing adversity, is a skill that East Coweta High School senior Kelley Lynch has made her unofficial calling card.
"When you're pitching you're involved every single pitch. I like being in control, being out there," she said. "I feel like it's a good leadership spot."
When she arrived on campus four years ago as a freshman, there were whispers from her coaches that she could be the very best of a long line of outstanding softball players to wear a Lady Indians uniform.
The first hints toward Lynch's potential came at a time when growing list of standouts were moving on to college programs, one of which included her older sister Katey.
As she graduates among nearly 700 of her fellow classmates, however, the volume of what Lynch has accomplished at East Coweta could be heard from one end of Garland Shoemake Stadium to the other among a standing room only crowd.
Now moving her tassel from right to left, Lynch will turn the page and embark on a new chapter of her life that could be even more rewarding than recent accolades that include two GHSA state titles, a national club level championship and a Gatorade Player of the Year Award.
Awaiting her is a new adventure off the Pacific Ocean at the University of Washington. But before arriving to a much different backdrop in Seattle, she'll spend the summer playing out another of her dreams while representing Team USA in the U19 World Cup alongside a group of friends including Northgate High alum Charla Echols.
It hopes to be the first step toward another in a long series of goals — almost all of which have been checked off — that include representing the United States in the Olympic Games.
"As it gets closer, it's sad, but it's exciting. I feel like I'm very independent. But still leaving home it's not going to be easy," Lynch said. "I just think it will be a cool experience. It's four years which is not a long time. It'll give me a chance to see the West Coast instead of being in the South my whole life."
The only constant in life is change. Being able to adapt to it wasn't always easy. Her late father Steve, who along with mom Jan became her biggest fan, passed more than seven years ago when Kelley had hopes of becoming a star pitcher.
While Katey played and Steve coached, Kelley would scour the sidelines looking for a throwing partner, most of the times settling for other siblings and parents to be a makeshift catcher for her.
Even as a middle schooler, she struggled, sitting on the bench at times and hoping to finally make a breakthrough.
It came almost without notice until years later. Playing with her travel ball team against a top opponent, Lynch gave her current "go-to" riseball its first real chance to shine.
Fifteen-plus strikeouts later, the performance acted as a launching pad to success.
"It's funny because before that I was like a bench warmer. I didn't play that much. This is just four years ago. I look back on it and I really don't know what happened," Lynch said. "It's crazy to think of. I'm just so blessed with God's given me. I'm just thankful I get the opportunity to play."   
Her success has come through setting and achieving a series of goals that began with the drive to play Division I softball. As success came by the end of middle school and her varsity debut, the list of interested schools piled up at a time when NCAA recruiting became rampant.
Kelley said watching older sister Katey — who will also receive her college diploma at Kennesaw State this summer after finishing her softball career — made an impact in her life.
"I think for sure my mom and my sister were big influences. My sister and I were always tied with softball with my dad," she said. "Watching my sister try to get a D1 scholarship, you look up to them and I wanted to do it too."
As her rise ball became more rampant, so did Lynch's ascent in her own confidence, enough to gain the moniker of "Kelley Ice" from Lady Indians head coach Franklin DeLoach.
"They'll never be another one like Kelley," he said.
She leaves East Coweta owning or sharing 17 school records including almost every major category in the circle and at the plate. Over her varsity career, she went 52-6 with a 0.57 ERA and 746 strikeouts.
The new marks also included those for career batting average (.443) hits (181), doubles (47), homers (29), RBIs (159) and walks (57) for a Lady Indians program that went 68-2 in her final two seasons.
Above her individual accolades, Lynch may be most pleased with leaving school with consecutive GHSA Class 7A championship trophies in the possession of her alma mater.
"EC's always had a strong team. Everyone knew that. But we kept falling short every year. I don't know, we just did it. We were on the edge and we finally got over," she said after finishing the 2018 tournament with a 4-0 record, a 0.45 ERA and 45 strikeouts in 25 innings capped off with a no-hitter and a perfect game. " This year we kept going and hopefully they can keep it going next year."
Her commitment to Washington came in the last weeks of a recruiting process that began with being under heavy pursuit by Division I schools when she arrived on campus in Sharpsburg.
"It was a really crazy thing that I ended up going to Washington. I was never interested. You get five officials your senior year and I had only used the one for Auburn. I went and fell in love with it," she said. "I really, really like the coaches and the players. I just clicked really well with them."
The confidence to take the road less traveled may have come from the one person who also had hoped she might stay closer to home — her mother.
"My mom's always been supportive in whatever we want to do. There was a time that my sister didn't know if she wanted to play and she was still so supportive in that," Lynch said. "She's more an action person. Through that whole experience, losing our dad, that's who we were looking up to. For her to keep us in church every week. Who knows what was going through her head at that point with two young kids. Her actions definitely spoke to us."
As tough as it was to watch Kelley opt for a destination nearly 2,200 miles away after three-plus years of gathering things in blue and orange, the decision was met with open arms.
"She's spoken to us, especially with me committing to Washington," Kelley said. "Keeping our faith first as I move away and start this new life. She just wants me to keep the core values that she always taught me, her and my grandparents."
The world just as much awaits her. The U19 Team USA lineup includes a bulk of players who were on opposite sides of the dugout in last summer's PGF 18U Premier National Championship game televised live on ESPN.
Along with future roommate Jadelyn Allchin, who played for the opposing OC Batbusters, are four Georgia Impact teammates including Echols. The two began playing recreation ball together at Whitlock Park.
"Me and Charla started playing at Whitlock I think when we were 3," Lynch said of Echols, who will transfer to Florida next fall after playing with her older sister Ebonee at Michigan State. "It's sad to leave, but this will always be home and where I started softball."
The journey on Team USA, which is led by Washington coach Heather Tarr, begins immediately with a trip to Texas next month for fundraiser clinics on June 13.
The team will then fly to Paris for games on June 22 against France and Japan. They'll then fly to Dublin to face Ireland's Women's National Team on June 24.
A week later, they'll be in Atlanta on June 30 for exhibition games and in Columbus from July 1-7 for the USA Softball International Cup.
"I'm just excited. I never thought I'd be playing for Team USA, but now that it's here and just getting a chance to play with some of my best friends," Lynch said. "That's what I'm most excited about."
It could be equally fitting that Lynch was able to be surprised with a No. 27 jersey when her Team USA uniform package arrived at her house. It's the same number worn by one of her softball heroes — former Olympian Jennie Finch.
After seeing through every goal in her path during four years of high school, it may be just the backstory to an even more successful future to come.
"I definitely consider myself a driven person especially with softball," she said. "I think once I started seeing these goals I have for myself that I was able to reach them, I kept going bigger and bigger."