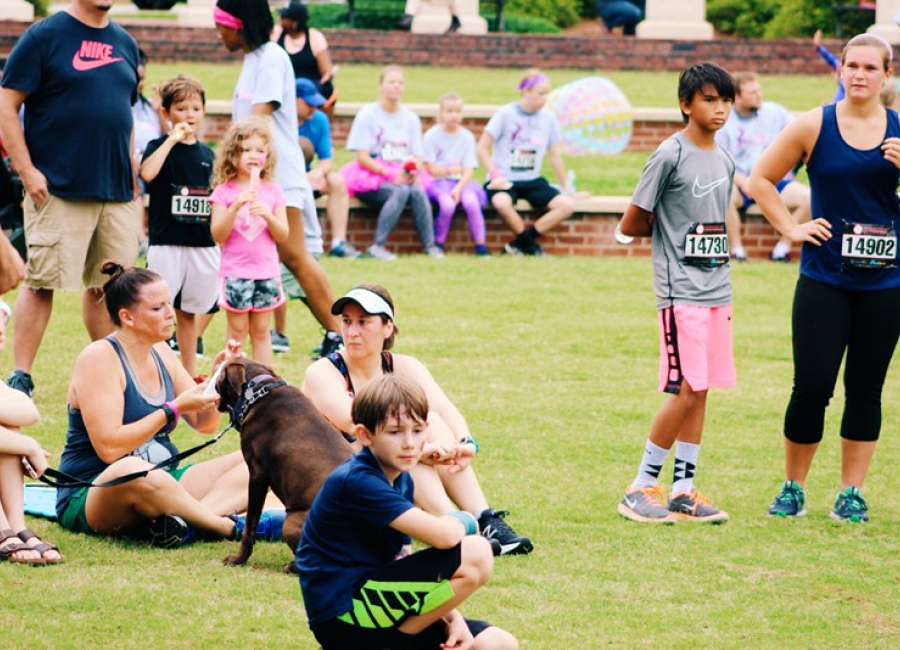 More families than ever are in need of financial assistance as their children battle pediatric cancer, and a local nonprofit wants to help.
Cancer is the second most common cause of death among children ages 1-14 in the U.S. after accidents, according to www.cancer.org .On Saturday, Keris Kares is hosting its annual "Royal Run" in an ongoing effort to raise funds that help families with nonmedical needs.
May 18 holds a special significance. It would have been Keris Bembry's 10th birthday.
The nonprofit was created in memory of the young Coweta resident, who passed away at age 6 from diffuse intrinsic pontine glioma (DIPG), which is a rare form of pediatric brain cancer with only 100-150 new cases each year. She was diagnosed in 2013 and was given a life expectancy of six to nine months, but surpassed that and lived 20 months.
Keris' mother, Deidre Bembry, said the race is always held the third weekend of May, which this year happens to fall on Keris' birthday.
"This is a celebration of life," Bembry said. "We have a mission, and we have work to do. In (Keris') lifetime, if she were here, she would love every minute. She would be happy."
Bembry said the organization has seen a spike in local families needing financial help from its family emergency fund. Keris Kares has four signature events, but the run is one of the organization's top fundraisers.
"We rely on the turnout of this run to really get us off to a jumpstart," Bembry said.
Keris Kares supports families all over Georgia, but local families are priority.
"We've had tons of requests, and the kids that are being diagnosed are very young, " Bembry said. "We just received a request for help from a family of an 18-month-old that has been diagnosed with cancer."
Bembry said she doesn't know if the increase in need is because of more awareness about Keris Kares, an increase in cancer diagnoses or a combination of both.
She said families in need can apply online for the family emergency fund, and the grants team works to evaluate the applications within 48 hours. She said the typical turnaround to disperse funds is within seven business days.
The average amount disbursed is $1,500 per family each time assistance is requested. Bembry said the nonprofit has given more than that, depending on the circumstance. She said bills are paid directly by the nonprofit, and money is typically used for rent, mortgages or car payments. Housing expenses and utilities often are paid as well.
"By the time we're talking to them, they've only been diagnosed for a short time, and their world is already unraveling," Bembry said. "It reminds me how quickly everything changes. We're talking to people on the onset of diagnosis, and they're already locked into that treatment schedule and trying to get a grip, because it's happening so fast."
Bembry said the increase in demand has made the organizers push themselves to fundraise more, and she said that now is a year-round initiative.
"We never lose site of how important our work is," Bembry said.
Bembry said the nonprofit also has a care team that follows up with the family after money has been disbursed.
"They are checking in with them and sending encouragement and checking to see if there is something else we can assist them with or connect them to," Bembry said. "This is happening in our backyard. We are thankful to be able to do something to assist them in their greatest time of need, because when you have a sick child, that is your greatest time of need."
Bembry said a portion of the funds will be used for the nonprofit's  art supply program and donating art supplies to schools in Coweta County this fall.
The race and family fun day will be held on Court Square from 7:30 a.m. to noon. The event will feature a balloon release and birthday cake, along with  visits from princesses, a superhero autograph session, bounce houses and face painting, among other activities.
To register online, visit https://runsignup.com/Race/GA/Newnan/KerisKaresRoyalRun .
Runners/walkers can register the day of the event. Registration is $30 for the 5K race. Registration for the fun run is $20 for adults and $10 for ages 12-under.
Donations can also be made on the registration page or at www.keriskares.org .
Organizers are encouraging  participants to dress as their favorite superheroes, princes, princesses, kings or queens.
For more information, call 770-502-0200 or visit www.keriskares.org .