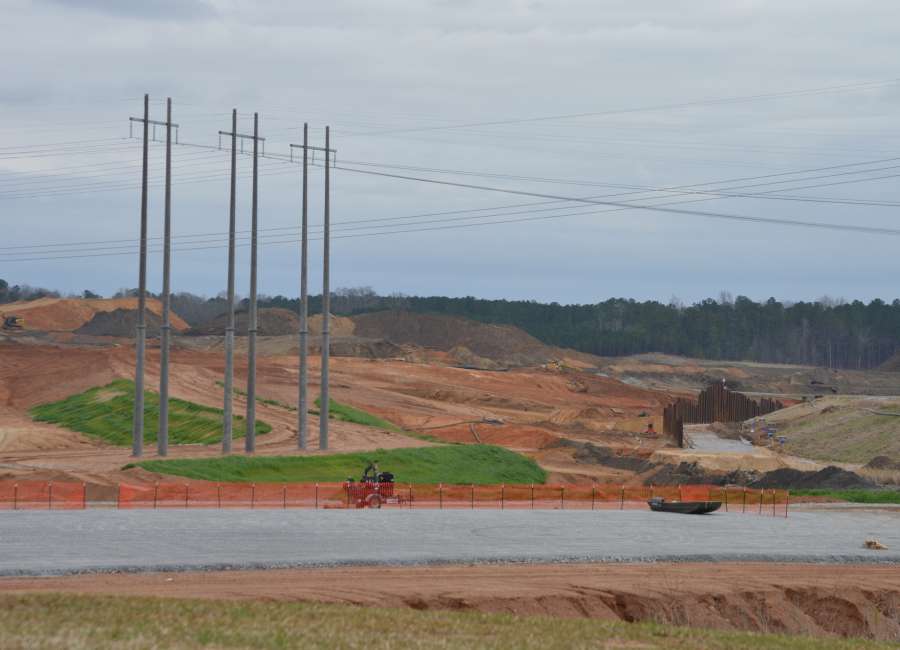 The ash pond closure process at Georgia Power Plant Yates isn't expected to be complete until 2023, and groundwater contamination already exists at the site.
Instead of decreasing levels of contaminants as the cleanup moves forward, testing indicates that contamination is increasing.
Georgia Power is already required to take action to remedy problems with beryllium in groundwater. Levels of beryllium began to rise in 2018, as work continued to consolidate all the coal ash on the site into two unlined landfills.
Worrisome test results
Groundwater wells have also shown signs of contamination with other pollutants, including boron, cobalt and selenium.
However, beryllium is the only regulated constituent that has shown a "significantly significant increase" under the groundwater monitoring program that began in 2017, under the requirements of the federal and state Coal Combustion Residual regulations.
Corrective action is required if test wells show levels of any regulated contaminant are increasing significantly over the base levels measured in 2017.
In June 2018, beryllium at one well was tested at .016 milligrams per liter, and by September it was .024. The state groundwater protection standard for beryllium is .004.
The well, 33s, is located between the R6 coal ash landfill and the former Ash Pond B, which is being excavated and "closed by removal." It is below the "Ash Management Area," where coal ash from the rest of the Plant Yates site is being consolidated in a second unlined landfill.
Toxic effects
Though inhaled beryllium is considered a probable human carcinogen, studies on oral ingestion in rats generally have not shown adverse effects, according to the U.S. Environmental Protection Agency's Integrated Risk Information System Chemical Assessment Summary (IRIS). A study in which dogs were fed high (500 mg/l) concentrations of beryllium found it caused intestinal lesions.
The EPA lays out the health impacts of pollutants found in power plant wastewater in a 2015 environmental assessment done on water discharge regulations for power generating.
Boron can be toxic to vegetation and wildlife at certain water concentrations and dietary levels, and human exposure to high concentrations can cause nausea, vomiting and diarrhea. Lab studies in animals found that long-term oral exposure to boron can have impacts on fetal development and the size of testes, as well as fertility.
Elevated levels of selenium were found in two wells that were abandoned and are no longer being tested because they were too close to construction activities.
In 2016 and 2017, levels in one well ranged from 0.06 mg/l to 0.085, above the groundwater protection standard of 0.05. The levels moved both up and down over the 12-month testing period. Levels in the other well were recorded at 0.069.
Selenium tends to bioaccumulate – build up in the bodies of living things, according to the EPA report, and elevated concentrations have caused fish kills and numerous sublethal effects to aquatic and terrestrial organisms. In humans, short-term exposure at levels over drinking water standards can cause hair and fingernail changes, damage to the peripheral nervous system and fatigue and irritability, and long-term exposure can damage the kidneys, liver and nervous and circulatory systems.
Cobalt levels were also found to exceed the federal standard of .006 mg/l in three wells – well 33s, with a level of 0.023 in September, well 301 with a concentration of 0.0233 in June of 2017 (the last data located) and well 21-L, an "up gradient" well that is intended to measure groundwater above the coal ash ponds and landfills, with a level of .01 in mid-2017. Levels in the up-gradient well changed often, sometimes being too low to be read by lab equipment.
Cobalt has both radioactive and nonradioactive isotopes, and test results in Georgia's Power's reports did not indicate whether or not the cobalt was radioactive.
Cobalt is used medically to treat anemia and is a component of vitamin B12. However, exposure to elevated levels in water or food were found to cause problems with the heart, liver, kidneys, blood and testes, as well as behavioral changes in animal studies, according to the Agency for Toxic Substances and Disease Registry of the Centers for Disease Control.
Boron widespread
Elevated levels of boron have also been found in many wells on the site, said Chris Manganiello, water policy director for the Chattahoochee Riverkeeper. "Half the wells at Plant Yates have indicated boron."
Boron isn't regulated in groundwater. However, "it is a pretty good indicator that your coal ash is mixing with your groundwater," he said. It has been established that heightened boron levels indicated that "coal ash is basically intermingling with the groundwater in the soil below its storage point," he said.
According to a 2016 paper published in Environmental Science and Technology, boron has been found to be a "sensitive tracer" for CCR effluents, and is used to monitor for possible contamination of shallow groundwater.
"It is an indication that there is stuff that needs to be taken care of and managed here beyond just moving the ash," he said.
An August 2018 ruling by the U.S. Court of Appeals, D.C. Circuit quoted U.S. EPA's determination that unlined ash ponds had a 36.2 to 57 percent chance of leaking during their foreseeable use. Though that finding applied to wet storage in ponds, the ruling also states that the "sheer volume of coal residuals" in landfills and ponds "can force contaminants into the underlying soil and groundwater."
Nationwide, 70 percent of coal ash landfills and 65 percent of ash ponds are unlined, according to the ruling in Utility Solid Waste Activities Group, et al, vs. Environmental Protection Agency.
"Why they chose not to put it in lined landfills I don't know," Manganiello said.