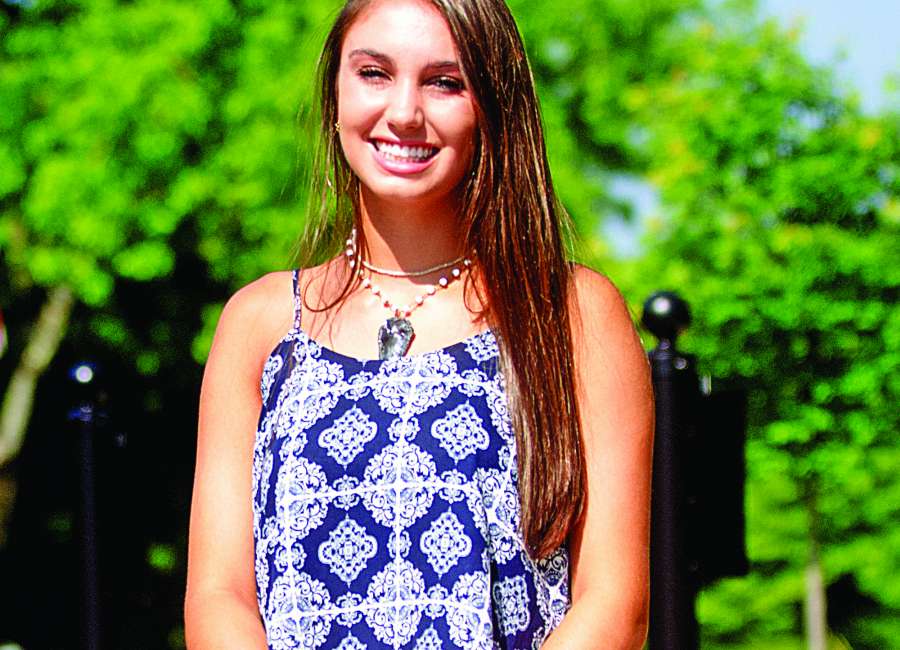 By Chris Goltermann
Cowetascore
To those who feel great thinkers are simply born, well … think again.
Tricia Underwood is living proof that all it takes it time, patience, practice and a little bit of a push to set someone down the path of academic success.
For the Heritage School senior set to graduate on Tuesday, it will come in the role of the Class of 2019's Salutatorian after being heavily involved both in the classroom and on the field while playing at least three varsity sports.
The future Auburn student was also one of just two high school seniors in Coweta County to be named a 2019 Georgia Scholar, which honors overall excellence in school and community.
There was a time, however, when Underwood arrived at the private school that she couldn't comprehend a simple sentence.
As a fourth grader in Kay Huffstickler's class, she was unable to follow along with the class as they read out of a Junie B. Jones book. While math and science came easy, reading comprehension was near impossible.
"It was so frustrating," Underwood said. "I'd watch my all my other friends be able to read the book. I could pick up, but I could never comprehend what the words meant. It was like alphabet soup."
Huffstickler stayed with her routinely after school to pull her back on track with her classwork, even if it meant missing husband Lyn's varsity baseball games at Heritage.
"She was dedicating her time. Now I'm salutatorian and the rest is history," Underwood said. "She changed my life. That's why I fell in love with Heritage because she stayed after school and helped me learn."
Over the last four years, Underwood did more than take advantage of all a small private school setting had to offer while moving on to attend Auburn's Honors College for nursing with hopes of becoming a nurse anesthetist.
She became a varsity contributor in volleyball, girls basketball, track and girls soccer, as well as an officer in four Heritage School clubs — National Honor Society, Honor Council, Student Government Association and Key Club.
Underwood has also understood that every student has a different path to education, including her younger brother, who attends Newnan High and plays for the Cougars varsity golf team.
Tricia's sports accolades as a senior included All-Region selections in both basketball and soccer, while also named All-County after a trip to the GISA Final Four on the court for head coach D.J. Clay's Lady Hawks.
"Newnan [High] works for him, and it could have worked for me. But I chose to stay here and I'm very happy," she said. "I enjoy doing a lot of things. I'm kind of like a control freak so I like to be involved."
Being involved not only in school activities six days a week, but equally church on Sunday also means adapting.
Her senior schedule this year included AP classes in calculus, physics, language and computer science, a class that became so enjoyable that it has Underwood even thinking of a potential minor.
While bus rides tend to be longer in the GISA where schools are spread further apart, Underwood took advantage of that time for studying and school work.
"I love to be proactive, so I do everything ahead of time before it's due," she said. "We have a lot of time to travel so when people tend to take a nap on the bus, I'm over there studying my AP calculus exam or AP physics."
It helps when learning becomes an obsession. It provided a push for Underwood in wanting to constantly improve herself.
She as much credits Heritage School valedictorian Taaseen Hossain Khan for a friendly rivalry that began in elementary school and carried throughout the years.
"He gave me a run for my money," Underwood said. "I love learning. A lot of people can't say that. But power is knowledge to me. Struggling is ok, but I never want to be in that place again where I can't do a big skill. That's where I got my dedication from. I never want to go back there. That's why my goal was to be near the top of my class."
Mission accomplished.