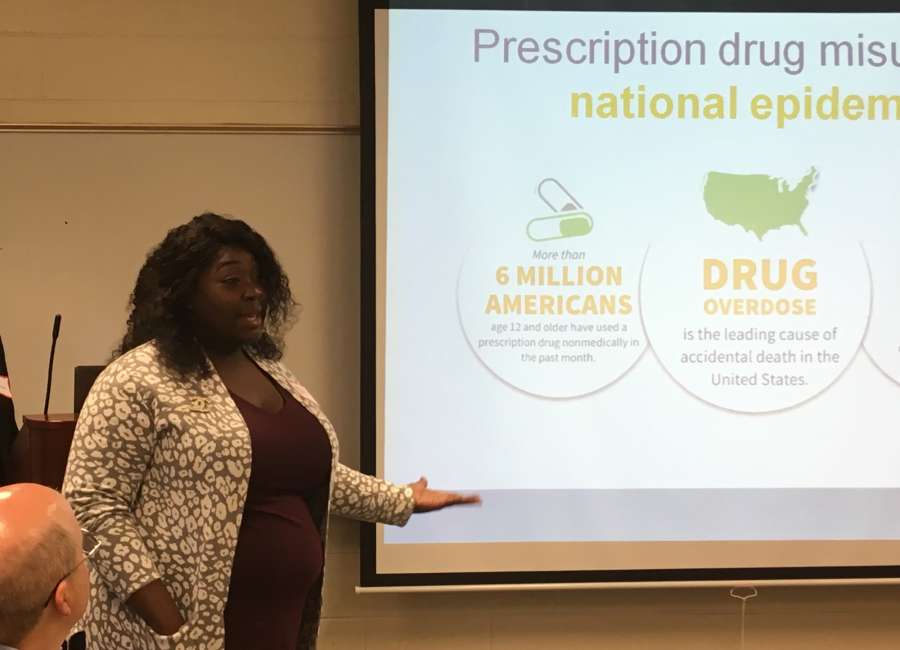 Local college students have been talking to their fellow students about the dangers of misusing and abusing opioids and other drugs under a grant program associated with the Coweta Substance Abuse Prevention Coalition.
The student "presenters" receive a small stipend for the presentations they do before classes at the Newnan campuses of the University of West Georgia and West Georgia Technical College.
For the spring semester, there were a total of 10 presentations, but that is just the beginning.
"The fall should give us more opportunities," said Meredith Bragg, program coordinator for AV Pride, the organization that is administering the grant for the program.
"We're hoping to double our numbers," Bragg said.
Most of the sessions, so far, have been at UWG, and are in classes including community health and wellness, critical thinking, social work and welfare, and criminal justice. The WGTC presentations have been in introductory psychology classes.
The grant funding the project is SPF-Rx, which stands for "strategic prevention framework" for prescription drugs, and the presenters use materials from "Generation Rx." The presentation and content was developed by Ohio State University.
During early planning stages of the program, it was discussed that the new student/freshman survey classes would be a good place to get in front of students with the presentations.
So far, there hasn't been approval to be in those classes, according to Bragg, but they are looking at the survey class as a future opportunity.
"The plan moving forward is to continue the Generation Rx message via social media, marketing campaigns and on the Coweta campuses via student engagement and awareness events," said Brittany Cook, enrollment specialist in student affairs at UWG.
Over the summer, Bragg said the group and the presenters are going to try to go to some events and make presentations where administrators and school leaders will be present.
Hopes are to get more buy-in from school administration on the program. And there will be a new fall kick off or the program, she said.
Of the eight presenters currently in the program, about half will be graduating this year, Bragg said, so the group will be looking for some new presenters. They will also be trying to raise visibility of the program amongst students – and letting students know they can ask their professors about bringing the program to their classroom.
"They are wonderful and we've received great feedback from the professors and students they've presented to so far," Cook said.
Three of the presenters spoke at this month's CSAP meeting.
"When introduced to this, I jumped on the opportunity," said DJ Johnson, a health and community wellness major at UWG. Johnson is adopting a child whose parents have drug abuse issues – and their problem started in college, so she felt like reaching college age students would be important.
Victoria Deans is a nursing major at WGTC, and Jessie Crowder is a community health and wellness major at UWG.
Crowder said she struggled with addiction herself for 14 years, and has been in recovery for 17 years.
Her life experience is why she wanted to become a part of the program. "It's an opportunity to provide a safe environment for people to come who need help. And that is why I'm here," said told those at the CSAP meeting. "During the time of my addiction, I didn't hear of a safe platform to come and say – hey I have a problem with drugs," she said. "If I could just reach one person, then my mission would be done."
The presentations are usually about 45 minutes to an hour long, depending on how interactive the students are and how many questions they ask, Bragg said.
The presenters tell their fellow students that sometimes, it only takes using drugs one time to become addicted.
"We also explain to the students what the misuse of drugs actually means," Deans said. "We go into detail about how taking medication for reasons other than what is prescribed, taking more than prescribed or taking somebody else's medication is misusing and how that can impact them," she said.
They talk about prescription pain medications first, then talk about prescription stimulants, and wrap up talking about safe medication practices, Deans said. Then they open it up for questions.
The presenters have had students say they have misused stimulants because they are trying to stay awake doing school work. They also make sure students know the dangers of mixing alcohol with other medications.
Johnson said some of her fellow students say they use drugs or alcohol as a coping mechanism without knowing how dangerous it can be.
Many people are introduced to drugs in college, Crowder said. "I've had the opportunity to talk to students that have taken drugs just for staying awake or for anxieties, not really understanding the risk of danger that they put themselves in, she said.
She's also had students stop her on campus and ask her how they can get help for their drug use.
"For me, it just makes me more grateful that I am clean today," Bowers said. "I'm just grateful to be here, to be a college student. Drugs destroyed my life, my family, it affected my children," she said. She also wants people to know that addiction is a family disease.
"It takes a lot to say – 'hey I have a problem," Crowder said. "But when there are people that realistically have survived drug addiction, I think it is just phenomenal for somebody else to open up and say 'I need help, I have a problem."