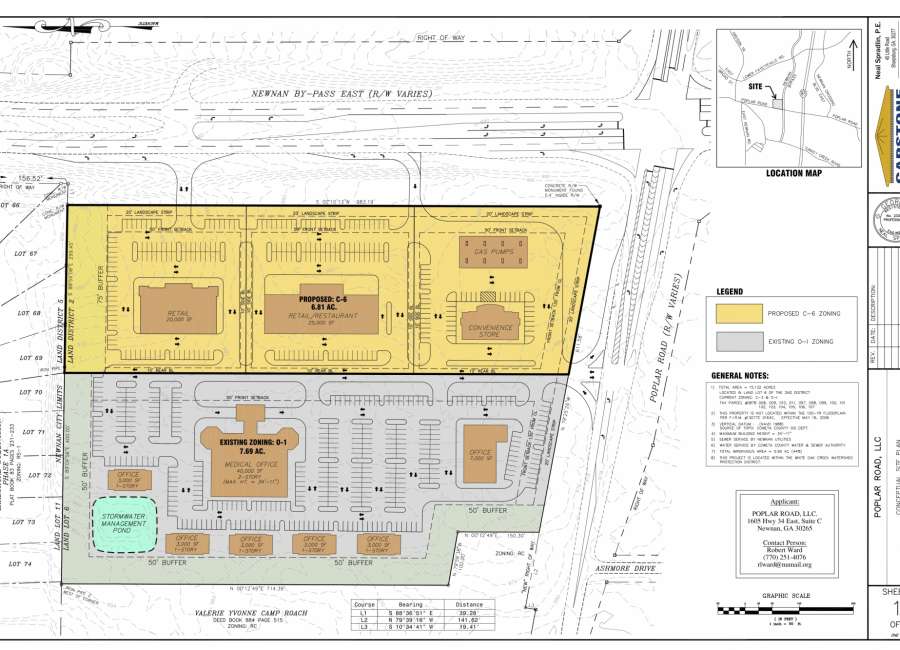 A convenience store with gas pumps, as well as other retail, is proposed for the northwest corner of Poplar Road and the Newnan Bypass.
Rezoning of seven acres at the corner, across from Ashmore Drive, was approved this week by the Coweta County Board of Commissioners.
A total of 15 acres at the corner was rezoned several years ago to the county's Office Institutional and C-3 Commercial Retail zoning.
But that zoning doesn't allow convenience stores, according to Angela White, assistant Community Development director, so the applicants requested C-6, Commercial Minor Shopping District.
Going from C3 to C6 "gives us a little more flexibility in the types of businesses and the size of businesses," said engineer Neil Spradlin, who represented the applicant, Poplar Road II LLC. "We feel like it is a great location."
The property borders the Lakeshore subdivision, and there will be a 75-foot buffer between the residential and C-6 property.
Though the site plan shows a restaurant and other retail on the C-6 parcel, "these are all just conceptual things," Spradlin said. "We are definitely looking at a convenience store on the corner and two other retail buildings. It may not be a single tenant," he said.
The site plan shows medical offices on the OI portion, but that is hypothetical. "We don't really know what will go there," Spradlin said, but it could be medical offices.
The property is served by water and public sewer.
No one spoke either in support or opposition at the public hearing. Commissioner Bob Blackburn recused himself from the discussion and vote. The vote to approve was 4 to 0.