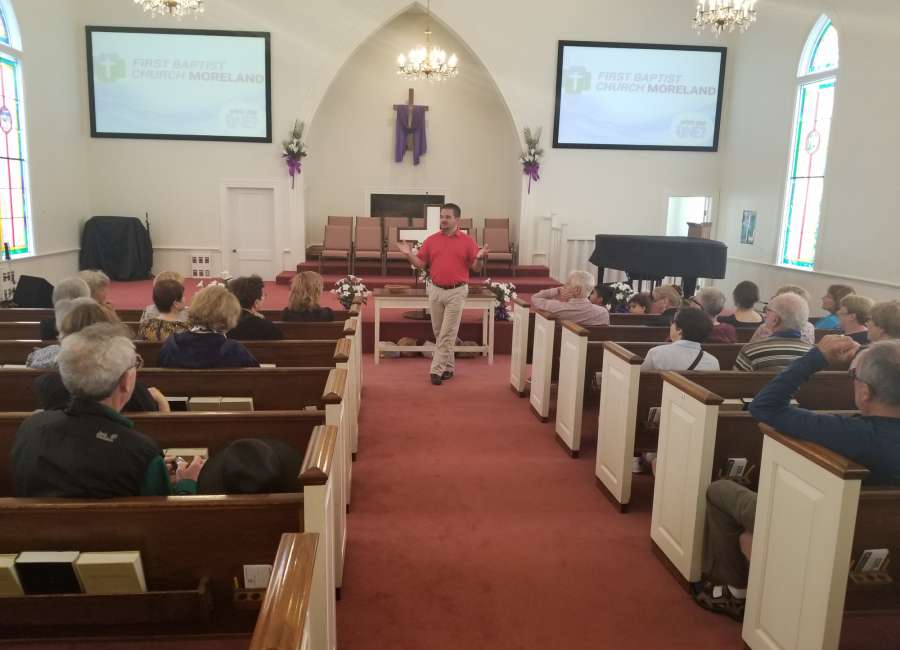 A group from Australia traveling the American South to learn about its literature spent Friday morning soaking up some Coweta history in Moreland.

The group of 26, led by Susannah Fullerton, visited First Baptist Church of Moreland and toured the Erskine Caldwell Birthplace and Museum and the Moreland Hometown Heritage Museum. Carol Chancey of the Moreland Cultural Arts Alliance planned the details of the stop in Moreland.
Fullerton is an Australian author and literary historian who has been president of the Jane Austen Society of Australia, that nation's largest literary society, since 1996.
The first stop for the bus was at the church, where Todd Slade, pastor at First Baptist Moreland, and Winston Skinner, local writer and historian, spoke briefly about the development of religion in west central Georgia. Skinner is news editor of The Newnan Times-Herald and president of MCAA.
After visiting the church, the group went to the town square where they toured the museums. Caldwell, the author of "God's Little Acre" and "Tobacco Road," was the world's best-selling author in the 1950s.
His birthplace has panels that tell his life story, items that belonged to Caldwell and his family, and a large collection of his works in several languages.
The Hometown Heritage Museum includes a section that is a tribute to Lewis Grizzard, who grew up in Moreland and became a journalist, author and humorist.
Sue Fischer said she particularly enjoyed visiting the Caldwell home. "I think you can picture somebody being in that era, in the architecture at that point in time," she said.
Fischer also said she enjoyed the tour guides at each spot in Moreland. "The talks were very interesting," she said.
This marks the third time Fullerton has brought a group of book lovers from down under to Moreland. "I knew this would be a special visit," she said.
This year's trip started in Savannah and has already included stops to check out Georgia authors including Joel Chandler Harris, Flannery O'Connor and Margaret Mitchell. 
The group left Moreland headed to Columbus where Carson McCullers' home is a museum. The itinerary also includes Alabama and Mississippi stops focused on F. Scott and Zelda Fitzgerald, Harper Lee, Eudora Welty, Tennessee Williams and William Faulkner.
"All the Faulkner stuff is fantastic," Fullerton said. The tour group's last stop will be New Orleans.