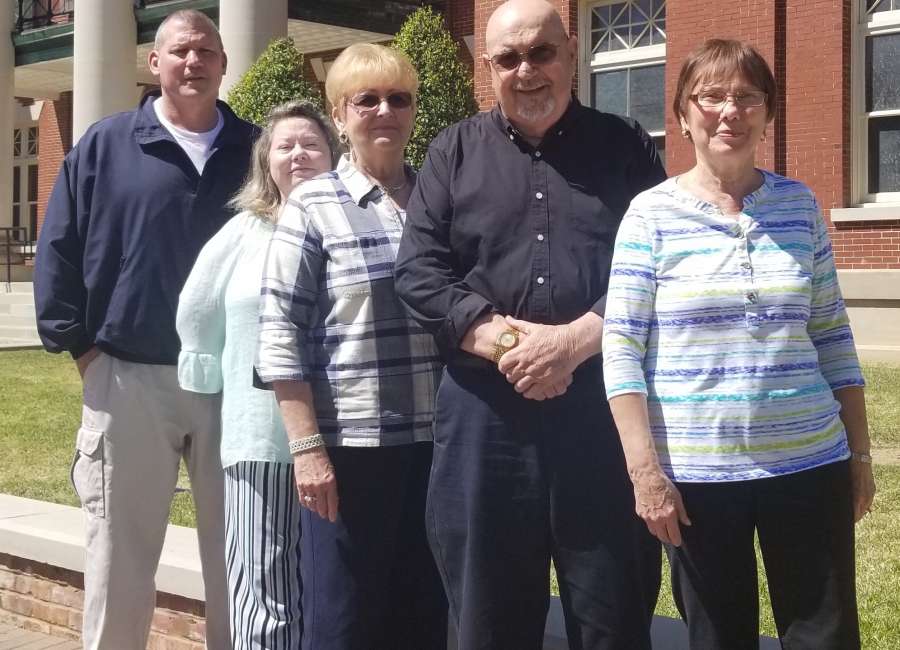 On Feb. 26, 1984, Rhonda Ilean Smith's life was poised for an exciting and happy future.

She was in love and engaged to be married. She was living with her fiance, and they were working on an addition to their Coweta home that would enable her to leave her current job – one about which she had initially been less than truthful to her parents – to open a dog grooming business.
Rhonda already had business cards imprinted with "Canine Specialties" and her name, address and telephone number. She was to pick up invoices for the business in a day or two.
And then … she was gone.
Members of Rhonda Smith's family converged on Newnan a few days ago, seeking answers to what happened to the tall, independent young woman they loved. Despite years of police investigations and a flurry of searches, posted fliers and a $5,000 reward back in 1984, the family has no answers.
"We don't want to take this to our graves," said her father, Jack Smith.
Smith and his wife Susan came to Newnan along with Jack's former wife, Ilean Cornell, Rhonda's mother. Also with them were Jack's nephew, Gary Cunningham, and Gary's sister-in-law, Nancy Cunningham.
Nancy's been in the family for about three years. While watching a true crime television program with her husband, Terry, he brought up the story of his cousin who had disappeared. Since then, Nancy's been collecting information on Rhonda and working to raise visibility on the now 35-year-old case.
If Rhonda were alive, she would be 57 years old today. Her family, however, does not believe she is alive. Early on, some police suggested she had run away.
"I said, "You don't know my daughter. She lets me know what I can do in my house, so she's not afraid to tell me something,'" Ilean Cornell remembered.
More recently, there have been suggestions that her job as a dancer at Tattletales, a men's club in Atlanta, might have put her in contact with an unsavory situation that landed her in the witness protection program.
For her family, those theories are just distractions that delay answering the questions of what happened to her in February 1984 and at whose hand.
Suddenly Gone
Rhonda and her fiance, Tom Shoemaker, were living at 73 Twelve Spring Drive in 1984. She had not been feeling well for a couple of days, but decided to go into Atlanta to do some shopping on Feb. 27.
Rhonda left home about 6:30 a.m., possibly stopping at a Newnan fitness center as she headed to Atlanta. It was a cool February day – it snowed that night – and she wore a camel-colored rabbit fur coat over her ensemble for the day, which included a silver blouse, earrings and a gold necklace.
Around 7 p.m., Shoemaker called Ilean Cornell to see if she had heard from Rhonda. He was concerned because Rhonda was conscientious about letting him know if she were running late.
When she had not gotten home later that evening, Shoemaker again called Cornell, certain that something was wrong.
"I don't remember if we tried to call hospitals or the police stations first. And then we started calling the malls," Cornell said.
She tried calling malls north of downtown, while Shoemaker called another set.
Shoemaker called Cornell and told her security at Lenox Square Mall had located the truck Rhonda had been driving that day. Her car was in the shop, so she had borrowed a truck from a friend.
The truck – parked under the mall's east parking deck near Davison's – was locked, and there was a wine glass and a beer can in the front seat.
Weeks of efforts to find Rhonda – or any evidence – followed. There were searches in Coweta County and in Atlanta. Fliers were distributed at Lenox and at other Atlanta malls in hopes someone would have seen her shopping.
Neighbors were questioned, as were co-workers from Tattletales. Cornell thinks her daughter, who initially told her parents she was serving drinks at the club, was not scheduled to dance around the time she disappeared.
"I was thinking she wasn't even working. According to some of the interviews with some of the girls, she hadn't been working.," Cornell remembered. "One said she was scheduled, and another said, 'No she wasn't.'"
Initially, Cornell and Shoemaker worked closely together on the effort to find Rhonda or any evidence of what happened to her.
According to notes Cornell kept at the time, Shoemaker's father suggested he see a lawyer on Feb. 29. The attorney reportedly recommended he not talk with the press or pass out fliers.
As time passed, the relationship between Rhonda's parents and Shoemaker – which had been warm – became strained.
Shoemaker said last week that he would like to see the case solved. "What happened, happened to me and my family, too," he said.
Shoemaker, who still lives in Coweta County and has grown children, said he has consistently cooperated with law enforcement officers with regard to the case, including talking with Coweta and Atlanta officers within the last year.
"I have cooperated with the police in everything they've asked me to do," he said.
No Answers
The fliers and searches produced no substantive clues about what happened to Rhonda Smith.
R.W. Carnbal III, who managed the Wicks and Sticks store at Lenox told Cornell that he had seen Rhonda sometime between 1-4 p.m. on the day she disappeared. He told Cornell that Rhonda "was in such a good mood, she had made his day."
In retrospect, family members wonder if Carnbal saw Rhonda another day or simply encountered someone who resembled her.
The family's efforts to find an answer to her 1984 disappearance in 2019 are rife with reminders of how the world has changed. Security cameras would probably confirm or disprove she was shopping at any major shopping venue today, and a cell phone would potentially offer a wealth of data about her movements after she left home.
"There was no DNA even back then," Cornell reflected.
The case was complicated from the beginning because she was last definitively seen in Coweta County the morning of her disappearance, but the vehicle she was driving was located in Atlanta.
Officers with the Coweta County Sheriff's Office and the Atlanta Police Department have followed leads and questioned people about the case over the years.
Rhonda's family also believes her job at Tattletales moved her case off the priority list for law enforcement in 1984.
"I personally feel like that since Rhonda was a dancer, that she didn't count. That was really my initial feelings," Ilene Cornell said.
Jack Smith said he felt the overall response was, "Oh, she was just a dancer in a nightclub. Let's go to another case."
Shoemaker expressed frustration that Rhonda Smith's disappearance remains unsolved.
"At this point, nothing has really seemed to change anything," he said.
Teacup of Sunshine
Rhonda Smith had danced at Tattletales for only about eight months, and she was preparing to walk away from that job.
The house on Twelve Springs "was sort of round," Cornell said. "They had added another room to the back of it. They were in the process of doing that." The plan was to use that space for Canine Specialties.
Even if Rhonda did dance at an adult club, her parents said, their daughter still was a person – an only child, a daughter, someone who was close to her family and stayed in touch with her grandparents, someone who was loved.
Growing up, Rhonda was a tomboy. She spent lots of time with her cousins – Rory, Gary and Terry Cunningham. "She was just like our sister," Gary said.
"She was just another guy running around with them," Ilene remembered. "If they climbed a tree, she climbed a tree, too."
Rhonda made lasting friendships – one of her friends describing Rhonda as "a teacup of sunshine."
Rhonda grew to a height of six feet – a dark-haired, olive-skinned, brown-eyed beauty as an adult. There were some awkward moments, however, on the road to the woman she became.
"Growing up, she hated her being so tall. She felt like she was lanky. I said, 'You just wait. A few more years, the guys are going to be there.' And that's exactly what happened," Jack Smith said. "She was our daughter, yes, but she was a beautiful girl."
After a pause, his voice growing somber, he added, "It might have been a curse in a way."
As an adult, she was direct and honest with her family – and resilient. "She didn't let things drag her down," Ilean Cornell said. "She just kept going."
Any Information
The people who loved Rhonda Smith have not given up hope that they will find out what happened to her.
"I would love nothing more than for me to have closure as well as Rhonda's family to have closure," Tom Shoemaker said. "I think about it a lot. There are things that come up in my life that steer me back to that time."
Rhonda's family encouraged anyone who knows anything to contact the Coweta County Sheriff's Office or the Atlanta Police Department.
Ilean Cornell believes there may be someone who knew something at the time but didn't want to get involved. Now, that person may have had children of their own and might feel differently.
"We're just hoping that somebody heard something, saw something," she said. "No matter how small you think the tip might be," Cornell said, that memory might be the piece that unlocks a 35-year-old puzzle.