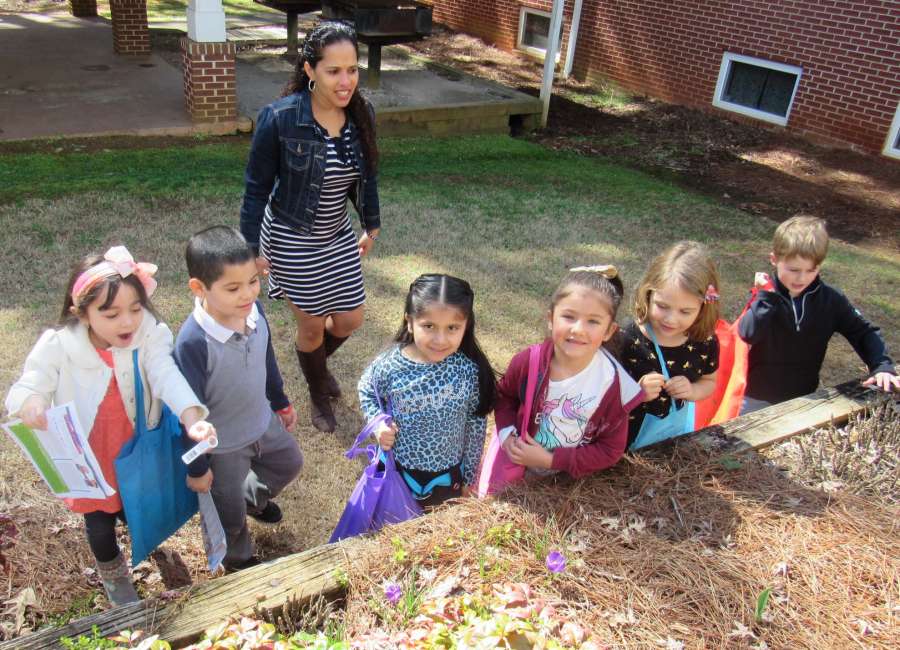 Getting ready for Easter began in the fall for one Coweta Sunday school class.

The kindergarten pupils at St. George Catholic Church learned by the Holy Trinity – Father, Son and Holy Spirit – in the autumn. They also had "some fun outside playing in the dirt before flying their Holy Spirit doves," said Verna Funk, who teaches the class.
The playing in the dirt time included planting some bulbs – and celebrating the birthday of one of the class members, Andrew Villona.
The children kept watch over their tiny garden, checking Sunday after Sunday and finally seeing shoots and blooms.
"The idea behind the planting of the flower bulbs was to plant them in the fall and to watch them bloom in time for Easter," Funk said. This is the third year that the kindergarten class has planted bulbs.
"With each class, the children get to learn that after Jesus Christ was crucified on the Cross on what Christians call Good Friday, he was buried in the tomb and on Easter Sunday will rise from the dead on the third day," Funk said.
"Somewhat like a caterpillar going into a cocoon, the flower bulb goes into the ground and comes out transformed – or glorious," Funk said.
The caterpillar emerges from its cocoon, transformed into a completely new creature. "In Christianity, the butterfly symbolizes the resurrection of Christ and of believers," Funk said, noting butterflies are often used in Easter celebrations and Christian funerals.
The flowers in the kindergarteners' garden at St. George – and the butterflies who visit there – offer a reminder of the meaning of Easter.