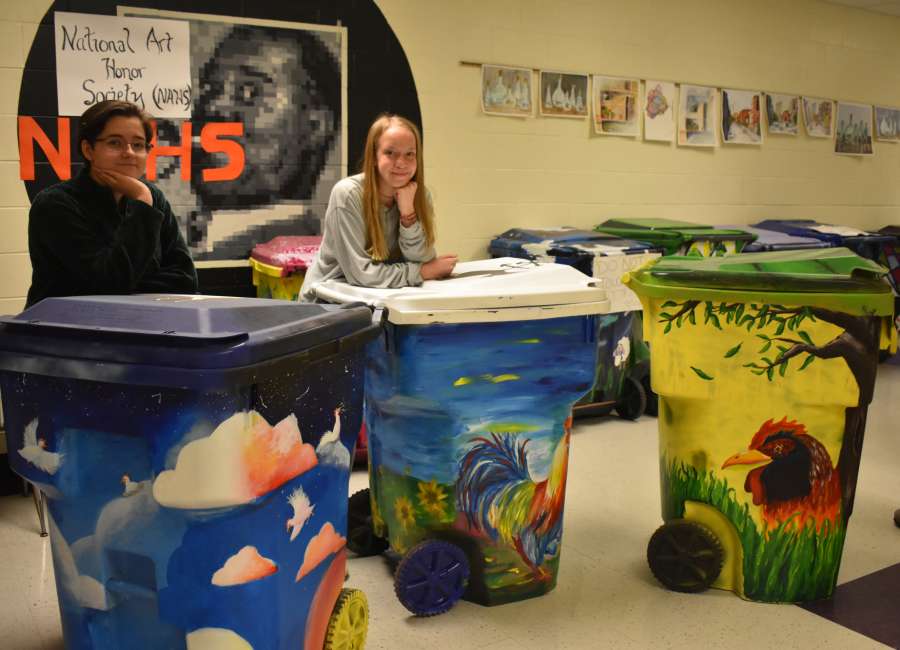 Garbage cans decorated with painted chickens have taken up residence in Wadsworth Alley.
The decorative bins were painted by students in the East Coweta High School National Art Honors Society, AP 2D Design and AP Drawing.
Patricia Newell, an art teacher at ECHS, said they decided to contribute the painted trash cans after they learned Newnan High School was doing a project with trash bags.
"They were doing something else with trash bags but it wasn't as permanent. So we're like if they're doing something with trash bags then we'll paint trash bins," she said. "I've been checking on then and they've been holding up through the weather, so we're excited."
"All of our trash cans are chicken-themed too," said McKenna Schmidt, a student at ECHS. "We had some abstract chickens."
Newell said the students will contribute a second art installation to the alley in the form of a mural and the AP classes and NAHS usually create artwork that can be a part of the community.
"It's kind of light and whimsical so ours is going to be very colorful," she said. "We have that and we have other projects lined up. We're going to illustrate a book for one of our faculty members who passed away, a foreign language teacher."
The NAHS and AP art classes will also contribute to The Memory Project, said Newell.
TMP is a nonprofit that provides portraits to children around the world who have faced violence, neglect, war, poverty and loss of parents.
"We're sent pictures of orphans and we do portraits of those orphans. Most of these kids never get images of themselves as children," she said. "This is likely the only image they'll have of themselves."
This year, the ECHS students will be creating portraits for children in Peru. Previously, they made portraits for children in Afghanistan and Ukraine.
"This is where they develop their personal voice," Newell said of the class' goal. "They draw from a model every Friday. We call it 'Figure Friday.'"
"Figure Fridays are so much fun, we have the models just sit there for an hour while we draw them. Sometimes Ms. Newell makes us use a specific technique," Schmidt said. "We've done one of my favorite techniques for figure Friday, which is we'll do a water-color background with pastel over top of it which gives a beautiful effect. It's a fun time to try something new."
The AP classes never have a hard time finding models for their artwork, said Newell. The students' relatives are eager to participate.
"I actually have parents, grandparents and aunties lined up to model," she said. "We're never without a model, oddly enough."
According to Newell, many of the students in her classes go on to become art majors in college, and after graduating, go on to have successful art-based careers.
"A large majority of the class go on to be art majors. We place an emphasis on art majors and art education. We don't want them to think they have to be fine artists – there are so many careers in art right now, it's a viable career choice," she said.
"Most of the time it's hard to get guys, but this year we've had all the dads come," Schmidt said. "You think it'd be hard to convince someone to sit there for an hour but it's really not."
The students' hard work and many projects also pay off in competitions as the class submits to various shows and contests throughout the year.
"We compete constantly. At the Georgia National Fair we were voted superior high school art, and that's a state competition," Newell said. "In addition to the GNF, we do the Atlanta Dogwood Festival. We had two pieces in that. They have 700 entries and they choose 150 for the show. We've made that show for the last few years."
According to Newell, the average score for her students on the AP exams is a 4.7 out of 5. Last year, she said 11 portfolios were submitted to the college board for credit and seven received a score of five and the others received scores of four.
"In all honesty, I have hard-working students," she said.