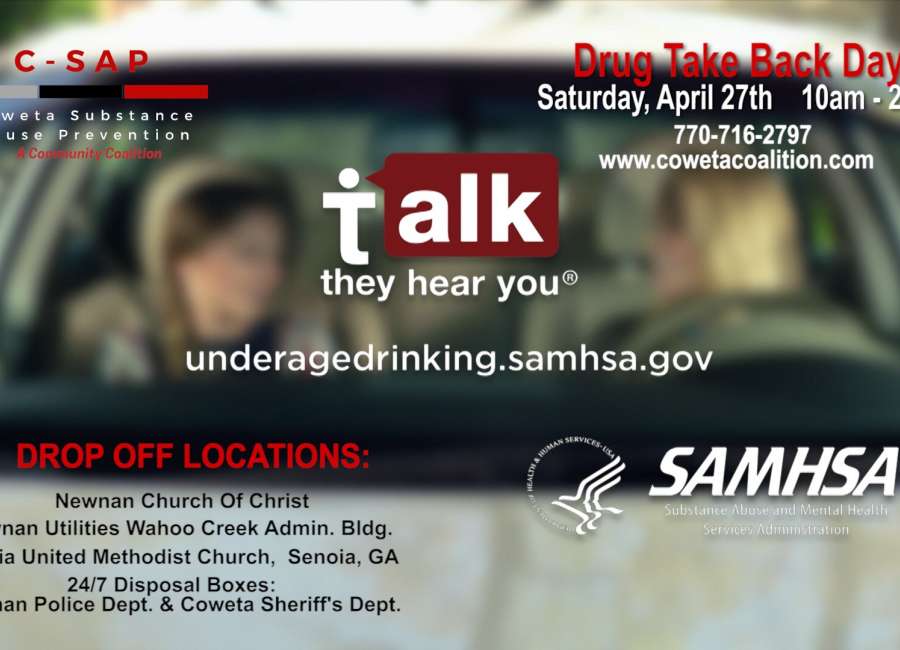 A public service announcement, with information about the local drug take back day event, Over the next two weeks, some Coweta moviegoers will see more than previews before their movie – they'll see a public service announcement about talking to kids and teens about the dangers of abusing or misusing alcohol and other drugs.
The two-week run of the PSA at Regal Cinemas is funded by the Coweta Substance Abuse Prevention Coalition.
Tami Morris of AV Pride, the organization that administers the grant that funds CSAP, said the PSA campaign was funded with some of the group's remaining grant money. The two-year grant ends April 30.
The grant was awarded for a community coalition to help battle the opioid crisis. Though the coalition has received extensive media coverage and has an online presence, the group wanted to augment that messaging.
Initial plans included a billboard warning of the opioid epidemic. But Morris said a billboard is limited to one location and might not be to get the message to young people and their parents.
"We're really trying to reach the parents, because it is our young people that are most affected by the opioid crisis right now," Morris said. "If we can get the parents and grandparents to start locking up their drugs and being more aware of what is going on, we're really going to make a dent in this."
So they thought about where parents and teens might be together – at the movies.
"It seems like a win-win," Morris said. "I hope we have a really good response from it."
The PSA, produced by the U.S. Substance Abuse and Mental Health Services Administration, plays before movies four times a day, and every five minutes on the lobby television screens through May 2.
"Avengers: End Game" comes out the day before the Drug Take Back event, and Morris is particularly excited about having the PSA before that movie.
The "Talk – They hear you" PSA was one of many CSAP could choose from.
"The message of parents talking with kids about good decision making and substance abuse seemed to really fit with what we've been trying to do with the Coweta coalition," Morris said. "It seemed to be the one that will capture people's attention the most."
At the end of the PSA, there is information about the April 27 Drug Take Back Day event, and the location of two permanent drug disposals at the Newnan Police Department and Coweta County Sheriff's Office.
For more information about CSAP, visit www.cowetacoalition.com .