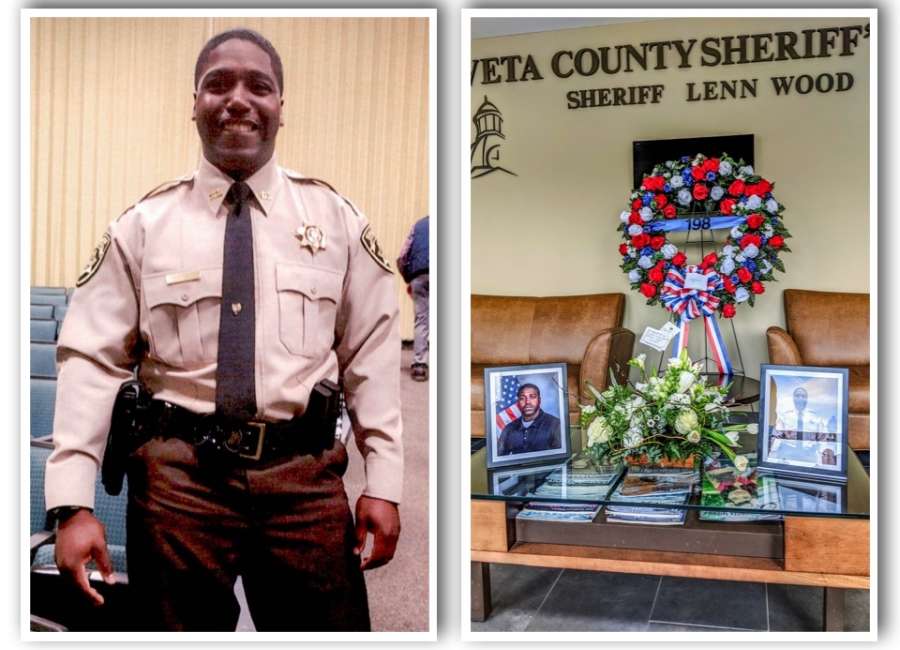 Members of the Coweta County Sheriff's Office are reeling from the shock of losing a fellow deputy following a deadly shooting – the first officer killed in the line of duty in almost 100 years.

Deputy Edmond Irving, 26, was shot and killed following a dispute with a family member Tuesday night.
Around 9:41 p.m., Palmetto police responded Irving's home in Palmetto and found he had been shot several times, according to Palmetto Police Chief Bryan Hergesell.
Irving was identified as an off-duty Coweta County deputy and was pronounced dead just after 10 p.m.
Danny Long, 17, identified as Irvin's cousin, had been at the residence when Irvin and Long were in a physical altercation. Long shot Irvin with a handgun and fled the scene, according to the GBI.
After a manhunt, Long turned himself in to authorities roughly five miles from the shooting, near Interstate 85 Exit 56. He was taken into custody without incident, according to Coweta County Sheriff Lenn Wood.
Long was arrested and transported to the Fayette County Jail. Long has been charged with one count of murder and one count of terroristic threats.
Irving began working at the sheriff's office several years ago and had recently been promoted to patrol. Colleagues recalled the deputy as an upbeat and positive influence with unlimited potential.
Major John Lewis oversaw Irving in his earliest days at the sheriff's office working in the jail.  Lewis said he immediately saw leadership qualities in Irving, who personified hard work through being thorough and proactive in his duties.
"He didn't come here looking for a job  - he wanted a career in law enforcement," Lewis said. "He was even keeled, proactive and professional – a problem solver with a great attitude."
Lewis said the last 24 hours have been a mixture of shock and sleep deprivation for many in the sheriff's office.
"You can't really prepare for something like this," Lewis said. "You see it on the news, but until it hits home, you don't get the full effect."
Irving leaves behind a fiance who was expecting their first child this year.
"He was proud to be a public servant," Lewis said. "Despite any adversity, he always persevered. He was a hard worker at heart."
After graduating from mandate in December, Irving started on patrol. Major Mark Fenninger, head of patrol for the sheriff's office, said Irving had great potential with a passion for public safety.
"We all do this job for a reason – we want to pay back the community and he's the perfect example of a guy who wanted to pay the community back ten-fold for from where he came from," Fenninger said.
In the wake of Coweta County's first officer homicide in nearly 100 years, Sheriff Lenn Wood said the outpouring of support for the community and other members of law enforcement agencies across Georgia has been tremendous.
"Some sheriffs never have to deal with this. It's still very unreal, but we're very blessed in this community to receive the support we do," Wood said.  "We've received calls from agencies to come in and patrol while we handle the ceremonies. It's been overwhelming."
The last officer killed in the line of duty in Coweta County was Deputy James Albert Kempson who was shot and killed while attempting to serve a warrant on a man wanted for theft in May of 1921.
Wood said the sheriff's office is currently working with Irving's family with funeral arrangements and honors.
"This was a man who never forgot where he came from and was always willing to help others," Wood said. "He didn't just come in to do a shift and leave. He wanted to make a difference."