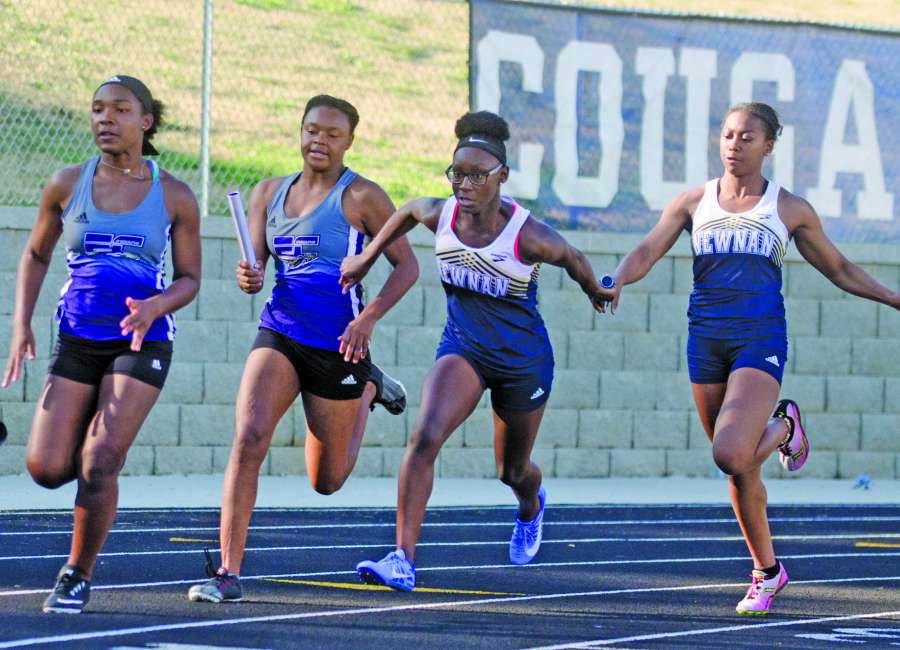 By Chris Goltermann
This year's Coweta County Track & Field Championships felt as much like a tuneup for upcoming region meets than a finale for the 2019 season.
And that's a good thing.
Considering that Drake Stadium will get a chance to hold this year's Region 2-7A meet with Newnan and East Coweta co-hosting the two-day meet, the county championships were as much a dry run for finishing neck-and-neck in both girls and boys standings.
East Coweta teams edged out Newnan in respective divisions, using depth to push in front with 79 and 66 point totals for double-digit victories.
Newnan athletes, however, dominated individual point champion efforts behind Lady Cougar sophomore Kaylen "K.K." Madrey and sprinter Zahria Owens.
The Cougars' senior trio of twins Malik and Tyriq Hussie and Elijah Williams combined for victories in four individual events including a tie between brothers in the 200.. All three were also members of winning 400 and 1,600 relay teams.
Between East Coweta, Newnan and Northgate, the three schools put together 43 season-best performances out of 160 listed finishers.
Despite finishing second in both divisions with 47 and 49 points among girls and boys teams, Newnan had 20 season-best efforts to go with nine by Northgate.
All three schools were forced to adapt quickly to arguably the warmest race day of the season. Others could be seen holding back, especially at the finish, knowing much more is at stake between the Region 2-7A meet at Drake Stadium on Wednesday and Saturday, as well as the Region 5-6A meet for Northgate on April 23 and April 25 at Lakewood Stadium.
Competition remained less heated between rivals, many of whom were seen exchanging hugs and handshakes at the end of events.
Still, six event winners came in season-best times including one from Newnan's Williams in the long jump in a head-to-head battle with East Coweta junior Christopher Pitt.
Pitt jumped first while Williams was off getting ready for Senior Night festivities, soaring to 22-1 3/4, with East Coweta teammate Amariyon Moss also breaking 20-feet.
When Williams returned, he immediately came through with a winning mark of 22-9 in a season-best effort.
Both top finishers should be among favorites to advance to the GHSA Sectionals heading into the Region 2-7A meet.
The Hussie brothers were equally strong while going head-to-head for individual point champion. Tyriq won the 100 in 10.88, ahead of Pitt (11.06) and Williams (11.36), with only the top-three finishers scoring in each event.
Malik captured the 400 in 49.96 and the duo added relay wins with Williams in both the 400 (42.24) and 1,600 (3:40.96) as seniors Trey Bridges and Vshawn Wright alternated relay spots in the fourth runner in respective events.
The Hussies clinched a tie for high-points among boys by tying for first in the 200 while running side-by-side in identical times of 21.76, which provided a season-best for Malik.
Depth, meanwhile, was East Coweta's biggest asset, with six different Indians — including brothers Braden and Logan Ray — capturing first-place efforts.
The Indians' bevy of long-distance runners, led by junior Kyle Harkabus, provided wins in the 800, 1,600 and 3,200.
Harkabus stayed on a casual pace to win the mile in 4:30.19, with hopes of eventually challenging for another GHSA Class 7A state crown. Last year's champion in both the 1,600 and 800 settled for second in the latter on Wednesday after Logan Ray sprinted the final 40 yards and caught his teammate at the finish line.
Logan's mark of 2:07.61 edged Harkabus' time of 2:07.77.
East Coweta's depth in the 3,200 had the Indians securing all three scorers led by Brayden Ray's effort of 10:43.54. Aidan Rush (10:46) and Matthew Moore (10:51) rounded out to the top three.
Indians senior Ahumad Williams added a school record of 14.19 while winning the 110 hurdles.
East Coweta was equally strong in the field behind Rigon Musliu's win of 5-10 in the high jump and Rakyan Moss' winning triple-jump mark of 43-10 in a season-best effort.
Northgate's boys scored 18 points while led by a pair of top-two efforts in the throws from Declan Gresham. The Viking standout won the shot put at 48-7 while ahead of East Coweta teammates Corey Bridges (45-9, SB) and Nelson Ramirez (41-10).
Newnan senior SanJuan Warner outdistanced Gresham in the discus with a top throw of 131-11. Gresham and Northgate teammate Justin Hale took second and third, respectively at 124-5 and 121-1.
The Vikings also received scoring efforts in both hurdles events from Malik Mixon, including a victory in the 300 intermediates at 39.24. Mixon placed a close second to East Coweta's Williams in the 110 hurdles at 14.45.
East Coweta's girls were led by senior Paishence Collier's victories in the long jump (17-1/4) and 800 (2:28.47, SB) among eight events won by the Lady Indians.
The team captured wins in four of five field events, picking up wins from senior London Fowler in the shot (30-2) and Hannah Kunkle in the discus (94-0). Deja Fowler and Lola Cheves placed first and second in the triple jump while Madi Duke cleared a season-best 5-0 while battling Newnan's Madrey in the high jump.
Winners for the Lady Indians also included senior Holly Hind in the 3,200 and both Aaliyah Phillips and Marshawn Beldon with season-best efforts, respectively, in the 110 and 300 hurdles.
Newnan's girls picked up two wins apiece from Madrey (high jump, 200)and Owens (100 and 400). The Lady Cougars also swept relay victories including a season-best mark of 50.50 in the 400.
Grace Smith also came up with an outstanding kick in the final two laps to win the 1,600 for Newnan in a season-best time of 5:42.96 in one of the more competitive events of the meet. East Coweta took second and third behind runners Shannon Ferry (5:47.69) and Hind.
Northgate's girls received scoring efforts from Dalia Gibson, who was runner-up in the 3,200, as well as Ana Rudny with a season-best effort of 84-3 to place third in the discus.
2019 Coweta County Track and Field Results
Coweta County Track & Field Championships
Wednesday, April 10, 2019
Drake Stadium
Girls Standings
East Coweta 79
Newnan 47
Northgate 4
Boys Standings
East Coweta 66
Newnan 49
Northgate 18
Individual Finishers (Top 3 score)
Girls
High Jump
1. Kaylen "K.K." Madrey Newnan 5-2
2. Madi Duke East Coweta 5-0*
Long Jump
1. Paishence Collier East Coweta 17-1/4
2. Janie Arnold East Coweta 15-2*
3. Desiree Chunn East Coweta 15-1 3/4
4. Jaisia Davidson Newnan 15-1*
5. Mya Stevens Newnan 14-7 3/4*
6. Crystalyn Driver Newnan 14-4*
7. Deja Fowler East Coweta 13-10*
Triple Jump
1. Deja Fowler East Coweta 30-2*
2. Lola Cheves East Coweta 26-9 ½*
Shot Put
1. London Fowler East Coweta 30-2
2. Jada Brock East Coweta 29-10
3. Mya Stevens Newnan 24-5
4. Jolie Weddington East Coweta 24-0
5. Lauryn Stallworth Northgate 23-8 ½*
6. Jaidyn Hammett Northgate 21-1 ½*
Discus
1. Hannah Kunkle East Coweta 94-0
2. Kylie Furguson East Coweta 93-10
3. Ana Rudny Northgate 84-3*
4. Mya Stevens Newnan 81-8
5 London Fowler East Coweta 73-7
6. Elaina Divido East Coweta 71-10
7. Jaidyn Hammett Northgate 60-5
100 meters
1. Zaharia Owens Newnan 13.21
2. Makhia Dorsey Newnan 13.22*
3. Desiree Chunn East Coweta 13.34*
4. Adrianna Good East Coweta 13.34*
5. Guya Farmer Northgate 13.49*
6. Alasia Johnson East Coweta 13.58
7. Jayla Connally East Coweta 14.07
200
1. Kaylen "K.K." Madrey Newnan 26.62
2. Makhia Dorsey Newnan 28.00*
3. Desiree Chunn East Coweta 28.32
4. Alasia Johnson East Coweta 28.35*
5. Angela Brown East Coweta 28.96
6. Charla Clayton Northgate 29.76*
7. Jayla Connally East Coweta 30.31*
400
1. Zahria Owens Newnan 1:02.25
2. Kaylen "K.K." Madrey Newnan 1:02.72
3. Danielle Holmes East Coweta 1:07.18*
4. Jaisia Davidson Newnan 1:09.11
5. Aryana Blake Northgate 1:10.55*
800
1. Paishence Collier East Coweta 2:28.47*
2. Melissa Antrim East Coweta 2:56.31
1,600
1. Grace Smith Newnan 5:42.96*
2. Shannon Ferry East Coweta 5:47.69
3. Holly Hind East Coweta 5:59.47
4. Rachel Woods Newnan 6:00.03*
5. Sarah Brummett Northgate 6:10.24*
6. Abby Collins Northgate 6:40.34*
7. Dalia Gibson Northgate 6:53.53
8. Melissa Antrim East Coweta 6:59.09*
3,200
1. Holly Hind East Coweta 13:56.64
2. Dalia Gibson Northgate 15:03.98
3. Mary Ellen Goltermann East Coweta 15:57.66
4. Emily Haberman East Coweta 18:00.56
100 hurdles
1. Aaliyah Phillips East Coweta 17.05*
2. Marshawn Belton East Coweta 19.45*
3. Lola Cheves East Coweta 19.53*
300 hurdles
1. Marshawn Belton East Coweta 52.82*
2. Crystalyn Driver Newnan 54.70*
3. Aaliyah Phillips East Coweta 59.99
4. Lola Cheves East Coweta 1:00.24
400 relay
1. Newnan 50.50*
2. East Coweta 'A' 50.87
(Alexius Sewell, Desiree Chunn, Aaliyah Phillips, Paishence Collier)
3. East Coweta 'B' 52.78
(Angela Brown, Alasia Johnson, Jayla Connally, Adrianna Good)
4. Northgate 53.68*
(Myra Camisky, Deyana Champion, Guya Farmer, Charla Clayton)
1,600 relay
1. Newnan 4:28.67
2. East Coweta 'A" 4:29.65
(Alexius Sewell, Shannon Ferry, Desiree Chunn, Paishence Collier)
3. East Coweta 'B' 5:07.71
Boys
High Jump
1. Rigon Musliu East Coweta 5-10
2. R.J. Stevens Newnan 5-6
3. Ryan Williams Newnan 5-4*
4. Phillip Wallace East Coweta J5-4
Long Jump
1. Elijah Williams Newnan 22-9*
2. Christopher Pitt East Coweta 22-1 3/4
3. Amariyon Moss East Coweta 20-6*
4. Chandler Cao Northgate 17-11 1/4
5. Malik Simons Newnan 16-7 ½
Triple Jump
1. Rakiyan Moss East Coweta 43-10*
2. Jamil Burch East Coweta 39-2*
3. Chandler Cao Northgate 38-0
4. Malik Simons Newnan 34-2
Shot Put
1. Declan Gresham Northgate 48-7
2. Corey Bridges East Coweta 45-9*
3. Nelson Ramirez East Coweta 41-10
4. Joshua Quinn Northgate 39-3
5. Kolby Broussard Northgate 37-11 ½
6. SanJuan Warner Newnan 37-2*
7. Jeden Watson East Coweta 35-5 ½
Discus
1. SanJuan Warner Newnan 131-11
2. Declan Gresham Northgate 124-5
3. Justin Hale Northgate 121-1
4. Steven Carter Newnan 119-0*
5. Christopher Moore East Coweta 111-9
6. Kolby Broussard Northgate 94-5
7. J.P. Pena Newnan 66-3
100
1. Tyriq Hussie Newnan 10.88
2. Christopher Pitt East Coweta 11.06
3. Elijah Williams Newnan 11.36
4. Antino Hogan East Coweta 11.38
5. Joseph Hart Newnan 11.45*
6. Walter Lloyd East Coweta 11.51
7. Trey Bridges Newnan 11.63
8. Hunter Frederick Northgate 11.78
200
1. Malik Hussie Newnan 21.76*
1. Tyriq Hussie Newnan 21.76
3. Isaac Jones East Coweta 22.67
4. Walter Lloyd East Coweta 23.99
5. Trey Bridges Newnan 24.04
6. Josh Lee Northgate 24.14
7. Xavier Peaks Northgate 24.88
400
1. Malik Hussie Newnan 49.96
2. Ramal Holston East Coweta 51.34
3. Xavier Church East Coweta 53.29
4. Vyshawn Wright Newnan 53.66
5. Hezekiah Parks East Coweta 56.25
6. JP Pena Newnan 58.75
7. Mason Harmon Northgate 59.41
8. Walker Harris Newnan 1:02.64
800
1. Logan Ray East Coweta 2:07.61
2. Kyle Harkabus East Coweta 2:07.77
3. Finlay Warner Newnan 2:12.51*
4. Nathaniel Jones East Coweta 2:16.41
5. Jack Palmer Newnan 2:18.03*
1,600
1. Kyle Harkabus East Coweta 4:30.19
2. Beck James Newnan 4:38.49
3. Gray Frederick Newnan 4:38.90*
4. Colby Butts East Coweta 4:41.73
5. William Stephens Northgate 4:51.41
6. Bo Palmer Newnan 4:53.66
7. Troy Blackwood East Coweta 4:53.72
8. Brayden Ray East Coweta 4:56.54
9. Emory Walden Newnan 4:57.18*
10. Luke Hanks Northgate 4:58.63
11. Billy Guilot Northgate 5:08.03
12. Ahmed Thomas Northgate 5:11.14
3,200
1. Brayden Ray East Coweta 10:43.54
2. Aidan Rush East Coweta 10:46.00
3. Matthew Moore East Coweta 10:51.37
4. Davis McIntire Northgate 10:53.20
5. Sam Wessels Northgate 11:22.60
6. Jacob Smith East Coweta 12:04.46
7. Jacob McCallister Northgate 12:17.69
8. Luke Harris Newnan 12:28.97
110 hurdles
1. Ahumad Williams East Coweta* 14.19
2. Malik Mixon Northgate 14.45
3. Ramal Holston East Coweta 16.45
4. Jaylen Whatley Newnan 17.12*
300 hurdles
1. Malik Mixon Northgate 39.24
2. Ramal Holston East Coweta 40.39
3. Malik Simmons Newnan 46.09*
4. Ahumad Williams East Coweta 46.24
400 Relay
1. Newnan 'A' 42.24
(Trey Bridges, Malik Hussie, Tyriq Hussie, Elijah Williams)
2. East Coweta 43.01
(Antino Hogan, Ramal Hogan, Christopher Pitt, Ahumad Williams)
3 Newnan 'B' 44.75
1,600 Relay
1. Newnan 3:40.96
(Malik Hussie, Tyriq Hussie, Elijah Williams, Vyshawn Wright)
2. East Coweta 'A" 3:42.07
(Ramal Holston, Tyler Foley, Kyle Harkabus, Ahumad Williams)
3. East Coweta 'B' 3:49.64
(Xavier Church, Hezekiah Parks, Christian Hatzo, Rigon Musliu)
*Indicates Season Best