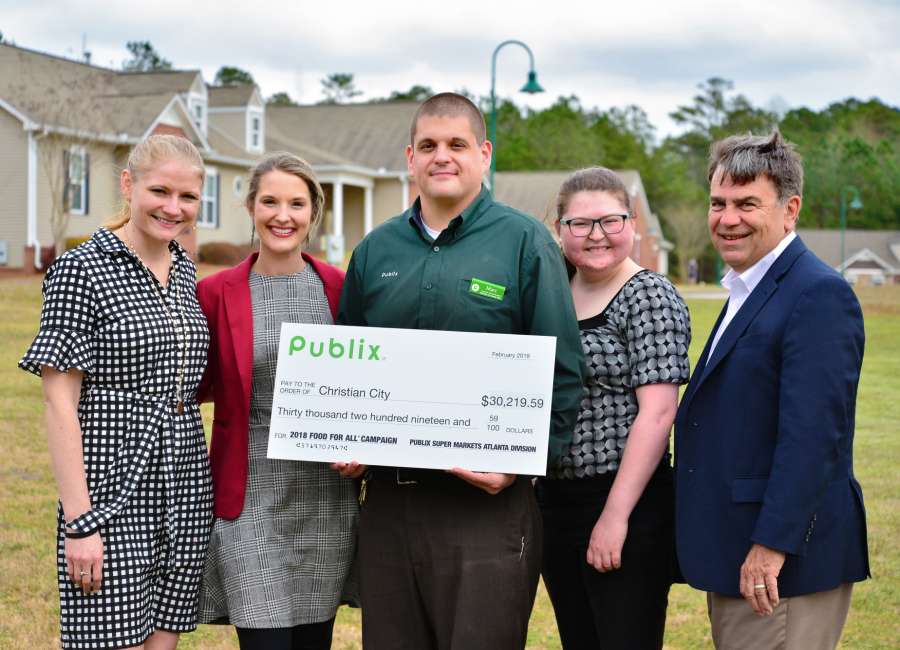 Shoppers and associates at Publix stores in metro Atlanta's southern crescent donated $30,219.59 to Christian City Children's Village during the annual Food For All campaign.

The campaign was held in October and November 2018. "Give Hope" themed boards were displayed at register areas, where Publix customers and associates supported the campaign with $1, $3, or $5 donations.
More than $1.4 million was distributed by Publix Super Markets, Inc. to 69 nonprofit organizations in Georgia, Alabama and Tennessee. The annual event raises funds to support community nonprofits with a focus on hunger-relief and self-sufficiency at a local and regional level. 
Marc Pater, customer service manager, and Lauren Ledbetter, assistant customer service manager at Publix-Tyrone, presented the donation check at Christian City Children's Village in March.
George Martin, executive vice president of Christian City, thanked Publix Super Markets for making a difference in the lives of children in metro Atlanta's southern crescent.
"We are grateful to the many individuals, churches, businesses, civic groups and foundations who support our ministries and help us care for abused and abandoned children," Martin said. "The Publix Food For All campaign is a wonderful example of a community coming together to provide for children in need."
Christian City, located in Union City, has residential programs for children and senior citizens.