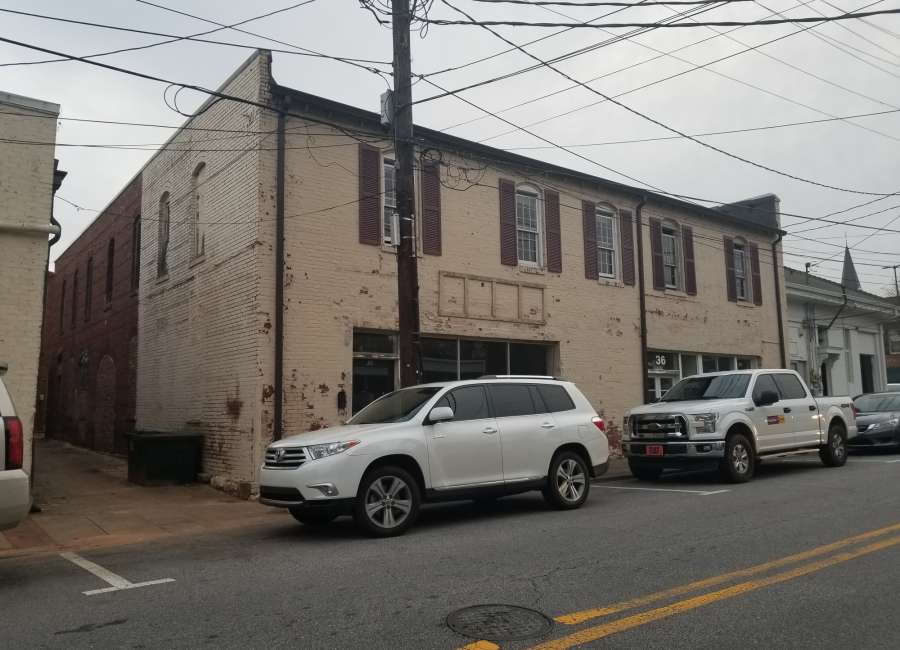 A Newnan building that legend says was used to store Pres. Franklin Roosevelt's car is being considered for development.

The brick structure at 34-36 Madison St. – which has been referred to as the Roosevelt Garage – is proposed for a mixed use development with four residential units upstairs and two retail spaces on the street level.
Courtney Harcourt, Main Street Newnan director, talked about the plans for the project at the Newnan Downtown Development Authority meeting on Wednesday at Newnan City Hall. The would-be developer has not yet purchased the property.
The developer is looking at using 10 percent owner funds, 50 percent financing from United Bank and the remainder coming from loans from the Georgia Department of Community Affair and the Georgia Cities Foundation.
The DDA works with the DOCA/Georgia Cities Foundation program. Once the project closes, "at that point it will be the DDA's role to become involved," Harcourt said.
The use for the retail spaces has not been determined. "He has interest from a variety of tenants," Harcourt said of the developer.
Total cost for the project is estimated at $850,000-$900,000. The developers name will become public once the application for the DOCA/Georgia Cities funding is filed.
It is known that Franklin Delano Roosevelt, the nation's 45th president, sometimes passed through Newnan on his way to his rural retreat at Warm Springs in Meriwether County. FDR began visiting Warm Springs after contracting polio in the 1920s and died there, shortly after beginning his fourth term, in 1945.
There is no specific documentation that verifies the story about the storage of his car on Madison Street, but the tale has been passed "from owner to owner" as the property has changed hands, attorney George Johnson, who is listed as the owner of the property, said in 2015.
The downstairs space of the building has housed a grocery, an antique shop, a hotdog restaurant and the local Democratic Party headquarters over the past few decades.
The known history of the property is recorded back into the 1800s. In 1885, the land was vacant. Four years later, there was "a single livery stable building that eventually will be divided into two," Johnson said.
Records continues to show a livery station in 1889 and 1911, as well as on a 1906 map. A garage and filling station were on the property in 1927.
By 1955, "the front part has been changed to a filling station," Johnson said in 2015. The back was being used for automobile and grocery storage.
Roosevelt reportedly allowed the medical staff at the rehabilitation center he created in Warm Springs to borrow his car. It has been theorized that a doctor or nurse who borrowed the car may have stored the presidential vehicle at the Madison Street building while spending time in Newnan.