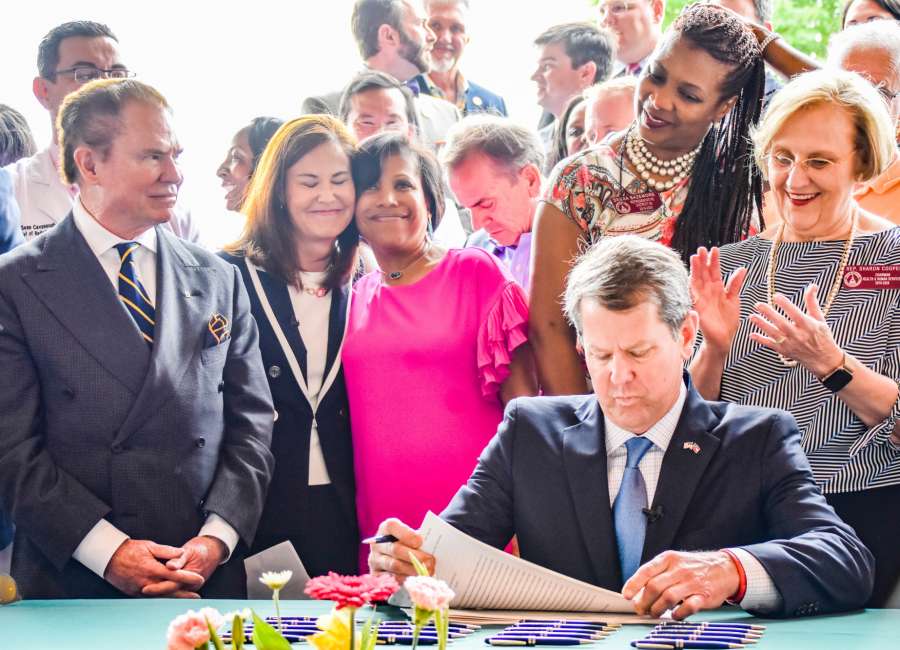 Hundreds gathered at the entrance of Cancer Treatment Centers of America in Newnan Thursday as Gov. Brian Kemp signed House Bill 186, ending a decade-long battle between CTCA and Georgia's nonprofit hospitals.

The Certificate of Need provisions in HB 186 will give CTCA a path to expand its capacity and treat more in-state patients.
The new law would wipe away a requirement that at least 65 percent of the hospital's patients be from out of state.
It also allows the CTCA to apply to add more beds on a regulated basis just like other hospitals.
State Rep. Lynn Smith of Newnan acknowledged the crowd of supporters, specifically patients who have been treated by CTCA.
"That to me is the message you're bringing to our community – patients first," Smith said.
Lt. Gov. Geoff Duncan heralded the passage of more than 22 bills during the last legislative session.
"Eleven million Georgians expect us to do two things – create better access to health care and more affordability," Duncan said. "We're going to work every day to achieve those goals.
In his remarks, Kemp thanked legislators on both sides of the aisle who helped ensure the success of HB 186.
"Today, we enhance competition in health care, ensuring greater transparency and improving access to lifesaving cancer treatment for Georgia's patients… who deserve the freedom to decide how, where and when they receive treatment.
"We'll continue to remove unnecessary obstacles, incentivize competition and give patients relief from a failed bureaucratic system," Kemp said
Along with HB 186, Kemp also signed several other health care-related bills, including  the Patients First Act and Step Therapy bills.
With the Step Therapy bill, House Bill 63, Kemp said patients will no longer be "forced to fail" on multiple medications before getting access to the correct one.
HB 63 would establish a process for health care providers to request exceptions. Advocates for patients say insurers often require step therapy for people with serious conditions, such as cancer, multiple sclerosis, diabetes and arthritis. With step therapy, patients whose doctors prescribe expensive medications are required to try cheaper options first.
"With their doctors' advice, patients can get the right drug at the right time," Kemp said.
As Kemp prepared to sign all nine bills, Pam Alford, a cancer survivor, addressed the crowd, proclaiming, "It's a great day to be alive."
When battling cancer, Alford said it's always looming in a patient's mind how many days they have left, but the prospect of choice helps keep hope alive.
"But there's hope, especially when you get to choose your team who you're going into battle with," Alford said. "I can't tell you what a great honor it is to stand here and represent the patients of Georgia and thank you for putting us first."