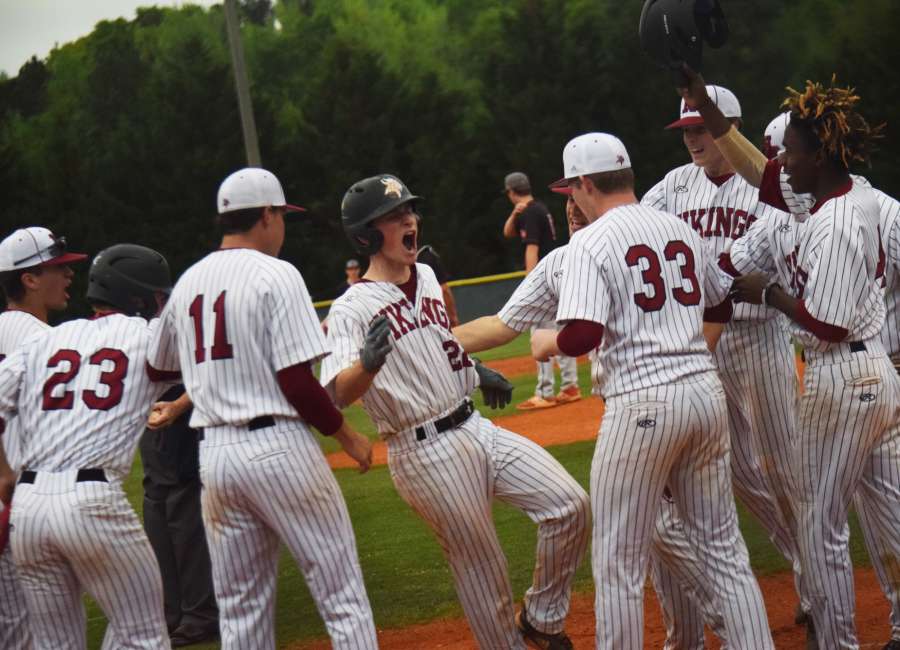 The Northgate Vikings fell behind early against Alexander Friday night, and were unable to catch up, dropping the contest 5-4 in a game that was for first place in the Region 5-6A standings.
With the win, Alexander improved its record to 24-4 overall and 12-1 in the league play.
Northgate dropped to 19-7 overall and 11-2 in the region.
South Paulding also has two losses in the region.
With Northgate behind 5-1, Andrew Baldwin did his part to bring the Vikings back, smacking a three-run homer to left field in the sixth inning to cut the Cougars' lead to just one run, but that was the only time they scored.
Pierce Williams went the distance for the Cougars, throwing 98 pitches and striking out nine.
The Alexander hurler finished off the Vikings with a one-two-three inning in the seventh, including back-to-back strikeouts.
Alexander took control of the game in the top of the first inning scoring three runs.
Zac Warren led off the game with a walk and scored when Josh McKown doubled him home.
Austin Slate's base hit gave the Cougars a 2-0 lead when he singled in Warren.
Slate crossed the plate for the final run in the top of the first when Payton Grant reached on an error.
Northgate trimmed the lead to 3-1 in the bottom half of the first after Christian Dyer led off the inning with a single and later scored.
Samuel Jennings' sacrifice brought Dyer in for the Vikings' first run of the game.
Friday night's region tussle turned into a pitcher's duel midway though the contest.
After a giving up the three runs early, Dalton Brooks settled down for the Vikings pitching six innings and striking out three.
Reid Fagerstrom pitched the seventh inning for the Vikings and retired two on strikeouts.
At one stage of the region contest, Williams retired five in a row for Alexander.
Alexander scored twice in the top of the fifth to take a 5-1 lead.
The Vikings tried to put a two-out rally together in the bottom of the fifth after Dyer was hit by a pitch and Connor Mask drew a walk, but Williams ended the threat with a strikeout.
Elliott Vickery paced the Vikings' offense with two hits.
Zeke Gilbert and McKown had two hits each for the Cougars.
The two teams will meet again on Monday at Alexander.
The first pitch is set for 5:55 p.m.