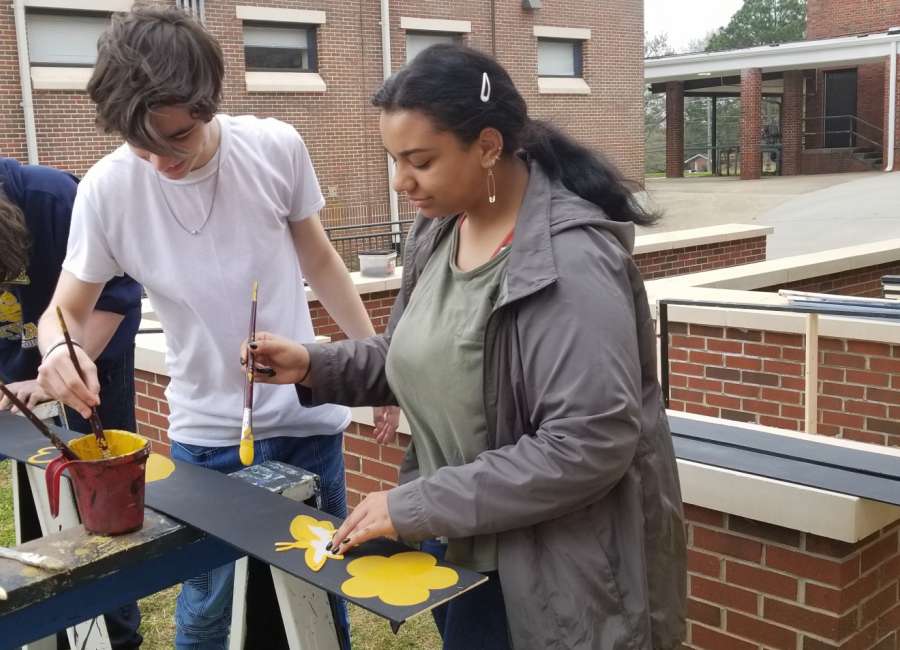 "Shrek: The Musical" is just days away, and students in the Newnan High School stagecraft class are busy positioning lights, painting, stapling and measuring.

Bob Ramseur, the drama teacher at Newnan High, started the class 11 or 12 years ago, about a year after he became part of the NHS faculty. "Previously, I had taught a tech class at Northgate," he said.
"When I came here and we had an auditorium, it was more important," Ramseur said of the class. Newnan High is the only public school in the county with its own auditorium.
Ramseur said all the students start out in Drama I. Some then go the "on stage" route, while others study stagecraft. "At least half the class does both," he said. 
"They learn how to design and build scenery. They also learn the basics of light and sound," Ramseur said. The students learn all the different facets of what goes on behind the scenes in a theater production.
Craig Carriger and Tucker Cobb, who are taking the class for the third year, are now foremen. They often direct groups of students in various components of an upcoming show.
"Everybody in here is trained in the basics of tool use," Ramseur said. Some students are also assigned the role of safety monitor – keeping an eye on groups at work to make sure the rules are being followed.
There are 21 students in the stagecraft class this semester. 
The stagecraft students are putting the final touches on the set for "Shrek: The Musical," which opens March 23. Shows are set for March 23, 25 and 26 at 7:30 p.m. and March 24 at 3:30 p.m. Tickets will be $10 at the door. 
Cast and crew will have advance tickets for $7. Advance tickets will also be available at the school soon.
The play is about 10 years old and was inspired by the film, "Shrek." "It was on Broadway for a couple of years," Ramseur said.
"It's fairly new for amateur groups," Ramseur said. 
A couple of songs from the movie made it into the play, but there are other tunes, as well.
There will be 39 students in the cast and 16-18 in the crew.
Cobb, a junior, talked about why he has continued to take the stagecraft class for three years.
"I started by being in the show. I figure out I liked knowing what's going on behind the scenes," he said.
"You feel like you have more impact being in the background," Cobb said. He explained that backstage people sometimes make independent design decisions, while those on the stage are more subject to instructions from the director.
Whitley Markward was new to NHS last year and found a place to belong in the drama group.
"Last year all the friends I made were in drama. I found out I wasn't an actor. This was the part I could do," Markward said. "Plus, the people are great."