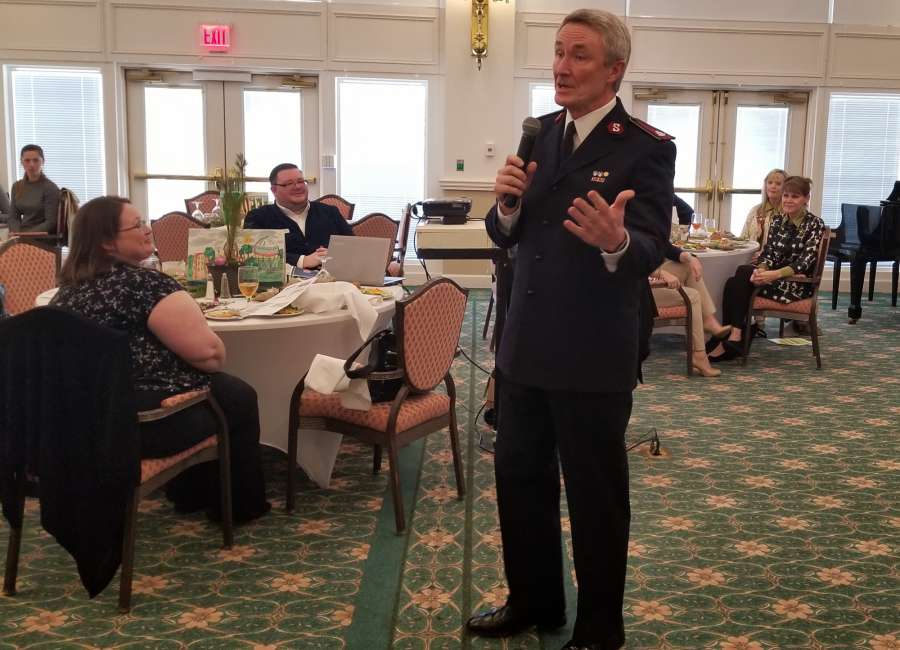 The divisional commander for the Salvation Army in Georgia says it is time "to stop serving and start solving."

Lt. Col. William Mockabee was in Newnan on Friday for the annual Community Appreciation Luncheon, sponsored by the local Salvation Army Service Center. During the program at Wesley Woods of Newnan-Peachtree City, Mockabee referred to the new Pathway of Hope program.
The Newnan Service Center is one of the service centers tapped for the program, which will identify families interested in working with the Salvation Army to get out of poverty.
"I do believe in the transformational power of Jesus Christ," Mockabee said. He said people with addiction issues can overcome them, and people mired in intergenerational poverty can find their way out with God's help.
The service center will continue its current outreach – paying light bills or providing a box of food for people who need it. Pathway of Hope will offer a broader range of help – assisting with car repairs or finding assistance from other agencies to overcome obstacles that keep someone from working.
"Intergenerational poverty is an insidious disease in our country," Mockabee said. People dealing with multiple issues related to poverty often find it hard to believe they are made in God's image, he said.
"What do we do to stop that revolving door?" Mockabee asked. He said the Salvation Army will come alongside people in poverty to "start helping them to solve their problems so they can be contributing members of society.
"It's what we need to be doing," Mockabee said. "We have a high and holy responsibility … to stop the intergenerational cycle of poverty."
Mockabee directly addressed the local service center's staff, volunteers and advisory council. "You can stop intergenerational poverty. You can do that, and your team can do that," he said.
Pathway of Hope addresses needs using the principles of soup, soap and salvation set out by the Salvation Army's founder, William Booth.
Soup represented meeting immediate needs, while soap aimed "to help people feel good about themselves," Mockabee said. The faith-based aspect of Pathway of Hope helps to ensure its success.
"We want to connect with you so that you can help us to change the world. I am crazy enough to believe the world can be changed," Mockabee said.
"I'm always grateful to come out and see folks who do such outstanding work," Mockabee said, adding the local service center is "changing the lives of men and women and boys and girls."
Mockabee said Salvation Army employees could make more money working somewhere else, but those who work for the Army are motivated by passion, "the fire that drives us to do what we do."
During the luncheon, there was recognition of the staff, volunteers and of bellringers and money counters during the Christmas kettle drive.
Sarita Workman, family store manager, recognized Khrystalle Irizarry as employee of the year and Charles Patterson as Volunteer of the Year.
Kris Carpenter, Red Kettle coordinator, recognized the top three bellringers of 2018 – White Oak Golden K member Terry Shroeder, who rang for 119 hours and collected $7,989.75; Bob Langley, who rang for 114 hours and raised $2,771.48; and Lynn Segars, who rang for 35 hours and raised $2,025.72.
The Red Kettle Campaign brought in $73,330.53, which is used to help meet needs in Coweta County.