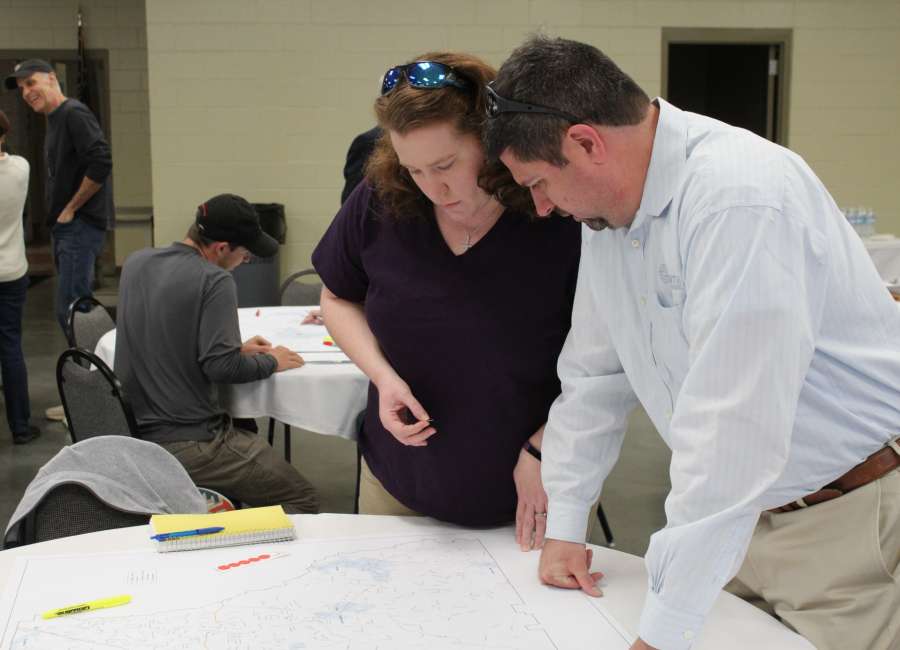 Community members shared their opinions on transportation in Coweta County at the first in a series of meetings held by the Coweta County Chamber of Commerce.
The data gathered from the meetings will be used to identify areas of concern for the upcoming TSPLOST, which if approved will start generating money in April 2020.
"The data that gets collected will be given to the county engineers and they will synthesize all of that," said Candace Boothby, president and CEO of the Coweta Chamber of Commerce. "And that will be used to help develop the final project list."
The meeting began with maps of Coweta County placed on tables. Attendees were asked to mark traffic hotspots on the maps to designate areas that cause the most traffic problems.
Cynthia Bennett, vice-president of the chamber, then showed maps of the city of Newnan and Coweta County with traffic data gathered by the county.
Bennett said county's data and the data sourced from the meeting's attendees differed.
"You guys identified locations that were a little bit different," she said. "That's what today is all about. Rather than you coming in and hearing a list of projects of what the county thinks they ought to do, we want the county to hear from us and hear the projects we believe are important."
The meeting proceeded with an online survey — with the results anonymously appearing in real time via a projector.
When asked about the levels of satisfaction with the transportation environment in Coweta County, more than 50 percent of those attending answered  "dissatisfied."
Another question asked for words that come to mind when thinking about transportation infrastructure and traffic in Coweta County. The most popular words submitted were "congested", "narrow," "slow" and "old."
In response to separate questions, alternative travel modes such as bikes, transit and multi-use trails were voted No. 1 for improving quality of life and classified as "very urgent and very important" for pedestrian improvements.
The final section of the survey featured a question and comments section. A common comment was a request for rail to Atlanta and more public transportation.
"It is impossible to work and thrive in Coweta County without transportation. We must have public transportation available, affordable and comprehensive," one comment read.
Another comment asked for careful planning in the future.
"Please, let's plan carefully. We do not need to have crazy growth without road infrastructure in place like the north side of Atlanta," wrote one respondent.
Bennett said the information gathered from the public meetings will be made available to a joint committee "where the mayors sit down and plan their projects" and in time, a summary of the data will be available on the chamber's website.
According to Bennett, the future meetings in the series will be exactly the same.
The next public transportation meetings will be held at 6 p.m. on the following days:
April 10 at The Newnan Centre
April 10 at Central Community Center
April 18 at Madras Middle School
April 30 at Northgate High School