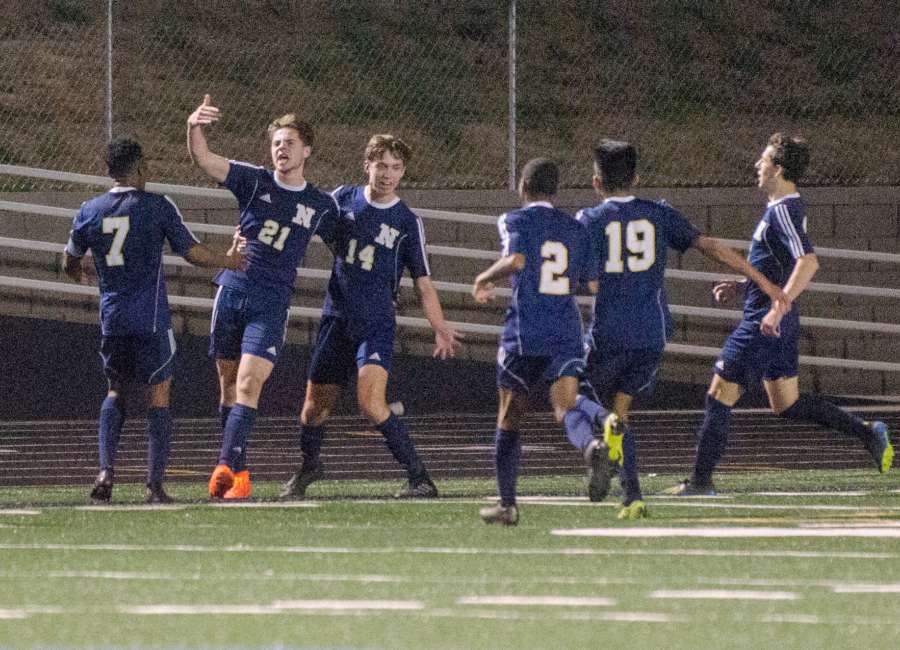 By Chris Goltermann
Cowetascore
If Newnan's boys soccer game against state-ranked Campbell — a state semifinalist in Class 7A last year — had been played on paper, Cougars head coach Brad Willems would have needed a roll of scotch tape just to keep it readable with his lineup shredded.
But with two starters already out to begin Thursday's Region 2-7Amatch at Drake Stadium and another ejected after a second yellow card following a foul with just under 15 minutes left in regulation while trailing by a goal, his team stuck together like super glue.
A stunning 3-2 upset against a talented Spartans team was to Willems own admission to his lineup at game's end "the best game we've played here in five years."
The win moved Newnan's record to 2-1 in the region with Westlake and East Coweta left on the region schedule, while now also 6-1-2 overall.
Campbell fell to 5-3 after dropping its region opener while now turning its attention to a return trip to face East Coweta on Tuesday at Garland Shoemake Stadium.
Playing a man down at the finish, the Cougars caught a break that led to Justin Sanchez's game-tying penalty kick that sent  the match to a 15-minute overtime off a foul that came on a ball served inside the box.
From there, however, the Cougars created their next and most important opportunity, as Angello Sanon and Abel Villaescusa connected on a perfectly executed serve and header from the right corner with 7:38 to go in the extra session.
With Campbell continuing to make a push at the finish, Newnan keeper Rad Wyrick sealed the win by swallowing a final shot at close range from Segun Afolabi, who had already accounted for both Spartans goals.
While Afolabi lay face down on the Drake Stadium turf, the Cougars watched the final 10 seconds tick off to complete their second win over a state-ranked region opponent at home in as many years.
A previous victory over Pebblebrook on March 13, 2018, however, still might not have measured up in substance.
"This one's bigger because we were man down," said Sanon. "We play as a team. We played together."
Villaescusa's header came on the lone scoring chance Newnan generated in the extra 15 minutes that closed out a choppy and equally chippy contest that produced enough yellow cards to count on two hands.
"Angel and I were talking and said we were going to get one," Villaescusa said. "When I saw the ball, it was mine."
The infrequent flow might have been to Newnan's liking, especially after starting Thursday without both of his center midfielders.
Tanner Bassett was sitting out a double yellow from a 2-1 loss to Pebblebrook, which avenged last year's upset to Newnan in Mableton on Tuesday. Will Thomas was also in street clothes recovering from an illness.
\Add an extended injury to center back Blaize Henderson and the loss to striker Dean Goad late when he picked up a second yellow off a 50-50 challenge and the absences were piled high.
Depth, however, came through in key minutes from reserves. Willems said junior Nick Grier, who subbed in and out with sophomore Russell Smith, hadn't played more than five varsity minutes heading into Thursday's match.
Junior Grant Whitaker helped maintain center midfield with Villaescusa, another junior. Senior Elian Gonzalez and sophomore Scott Pfahl also played key minutes in the win.
"I thought we actuallyplayed better after we went man down," Willems said. "I think it woke us up."
Campbell led for just 17 minutes of regulation, but dictated play for most of the game. Newnan's first lead came just before the halfway point of the first half when Villaecusa nudged a pass inside the box for Cougars teammate Caeden Greer, who broke in alone on a play the Spartans argued was offsides.
Greer got off a slow roller that eluded charging Campbell keeper Brian Hernandez and eyed the far left post.
Sanon won a race with a Spartans defender as it reached the goalline to make sure it found a home in the net for a 1-0 lead with 20:28 left until halftime.
Less than 90 seconds later, though, Campbell and Afolabi had the equalizer on the scoreboard, with the 1-1 tie holding through halftime.
The standout senior used his speed to break the tie in the 52nd minute on a run off left wing, sprinting past a defender and theneating Wyrick with a low hard shot as he tried to cut down the angle.
Moments earlier, Newnan thought it had caught a break when Campbell fudged a free kick when Wyrick was called for a handball outside the box, with the Spartans never getting a shot off.
Another one emerged when a Cougar was taken down during a serve into the opposing box. Sanchez buried the ensuing PK and nearly had a go-ahead tally before overtime when the junior defender went end-to-end down the right sidelines and got off a point-blank shot that Hernandez got a piece of with his gloves.
"He's been real important to our success so far," Willems said of Sanchez, who moved to right fullback early in the season.