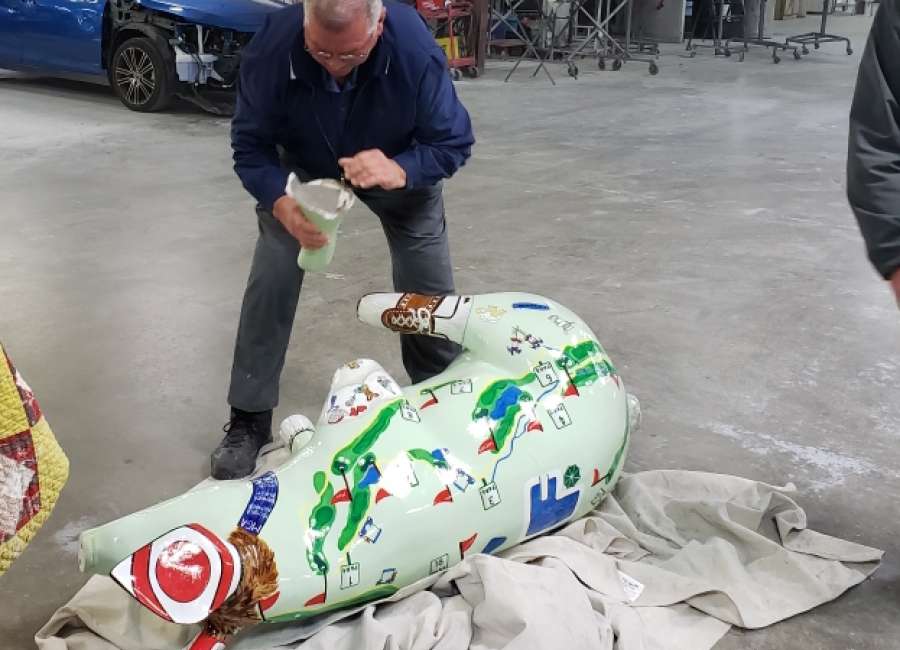 One of downtown Newnan's fiberglass animals got a little banged up in a tango with a tractor trailer, but before long, this little piggy should be good as new.
The fiberglass animals were created as a fundraiser for the children's museum as well as a public art project.
The pig, named "1919," is sponsored by the Newnan Country Club. He sat on the corner of Greenville and East Broad Streets, where about a week ago he was allegedly struck by the tractor trailer.
The crash knocked the pig off its pedestal, broke its leg, and chipped its ears and snout.
The damage was discovered Tuesday when Bette Hickman and Pamela Prange of ChildrenConnect Museum were inspecting all of the fiberglass animals in preparation for a scavenger hunt planned for May. They knew some of the placards for the animals were missing or loose, and some had been taped over with blue painter's tape. Hickman was actually in her car driving home when she saw the damage to 1919, so named after the year the country club was founded.
Hickman said you could still see the tire tracks where the tractor trailer had gone up on the curb.
Prange decided to call Gene Morris, who oversees the body shop at Southtown Motors, for help.
"She said, 'I know Gene will be able to put this back together,'" Hickman said. Southtowne had applied the protective clear coat to all the animals before they were set out downtown last June.
Once the fiberglass repair work is complete, artist Tammy Troyer will touch up the paint, said Hickman. Plans are for Troyer and Morris to get together soon to look at the damage and the repair, Hickman said.
Hickman hopes "1919" will be back where he belongs in time for the ChildrenConnect's scavenger hunt in May.
She said a police report was filed, and hopes are to recover some insurance money from the truck driver, though all of the animals are insured by ChildrenConnect.
Plans are for the animals to remain downtown until Labor Day, when they will be returned to their sponsors. The public art project was only supposed to be downtown for a year, but several of the animals were temporarily removed for movie filming in 2018, so it was decided to keep the animals downtown a few months longer. The sponsors can take them home after June if they want to, Hickman said.
The response to the animals has been great, Hickman said. Local businesses, organizations and individuals sponsored each animal, and the artists donated their time.