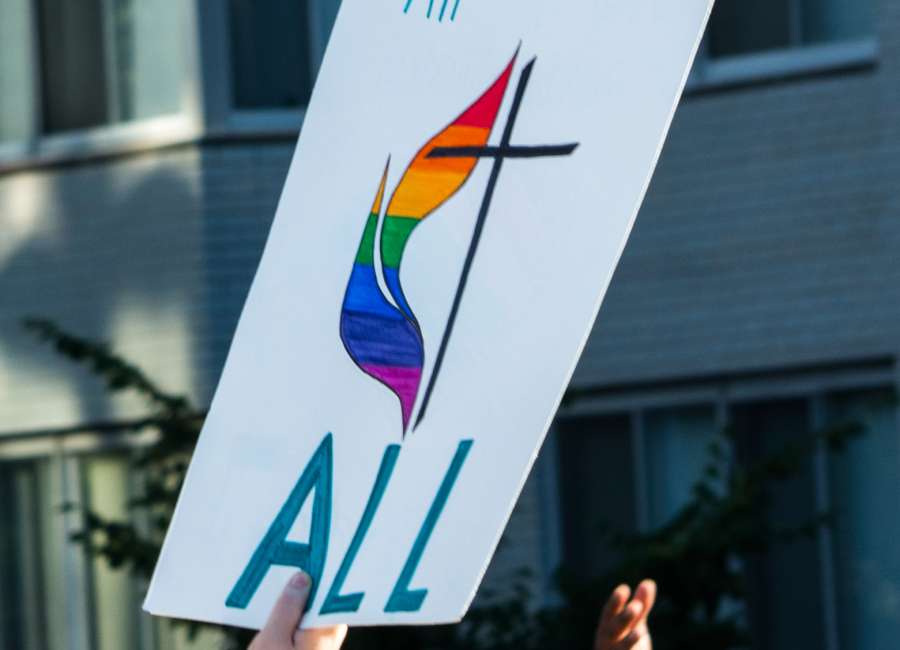 The Methodist General Conference has voted to keep traditional stances on homosexuality, but the issue – divisive for some time – appears unsettled in many minds, hearts and congregations.

After several years of study and several proposals that would offer various options for churches and conferences, the General Conference vote in St. Louis leaves the situation largely as it has been for several years. "The Book of Discipline," the denomination's rule book, forbids gay people as clergy and does not allow for same-sex marriages by United Methodist pastors or in United Methodist churches.
The rules for both clergy and marriages have been broken with a range of responses from conferences in recent years.
"All that's changed is that supposedly some of the punitive consequences – maybe if someone breaks the rules, there's more consequence or more teeth," observed Sean Kilpatrick, pastor of New Hope UMC in Chattahoochee Hills.
On Feb. 26, delegates voted 438-384 for the "Traditional Plan" over the "One Church" plan. 
A news release on the North Georgia Conference website posted after the vote concluded "there is much we don't know." The NGC release stated "a portion of the plan is known to be unconstitutional."
The denomination's Judicial Council will review the entire Traditional Plan in April. Several steps remain before the final version of the plan becomes official.
In the meantime, Methodists are looking for guidance. Coweta's United Methodist churches are in the LaGrange District. The LaGrange, Griffin and Atlanta-College Park districts will have an informational session about the plan March 24 from 4-6 p.m. at Cascade United Methodist Church, 3144 Cascade Road SW, Atlanta.
Proposals to allow gay members full membership in terms of ordination and marriage had support from 70 percent of U.S. delegates at the General Conference. The United Methodist Church, however, is an international church.
"A delegate in Liberia has the same vote as a delegate from the North Georgia Conference," Kilpatrick said. He said there may need to be a move toward less centralization in terms of rules about ordination and how churches operate.
"I really wish grace had been given to a more liberal theology in the United States," Kilpatrick said. There is a need for "recognizing there are radical differences" in how cultures approach issues of sexuality in the church, he added.
"We need to be more contextual. It is foolish and irresponsible to think that the same policy can be applied to everyone," Kilpatrick said. "One of these days, it's just not going to work."
John Turlington, pastor of Moreland United Methodist Church, suggested that day may not be too far away.
"I believe that we are possibly looking at the birth of a new Methodist Church – well, the birth of two Methodist churches," he said. The Wesleyan Covenant Association has already been formed – with an eye toward working with current United Methodist churches to "maintain traditional, orthodox Methodist beliefs," and another Methodist denomination might form that is fully open to LGBTQ people.
"These are the birth pangs," Turlington said. "I believe that the division is probably too deep. I don't think we can use the name United Methodist much longer because we are no longer – truly and sadly – united."
Chad Hill, a former pastor of a Meriwether County church now pastoring in Danielsville, had a similar viewpoint.
"I hoped for a big tent where conservative, moderate and liberal could sit down and talk civilly about the issues. General Conference proved this is not possible. The divide is too great," he said.
The current issues are deeper than sexuality, Hill said. "It all boils down to the view of Scripture. Is the Bible an authoritative rule book that should be applied literally in every situation without contextual consideration – or is it a book written for a specific time that needs to be translated to apply to our world today? The church is divided on this issue and there is no reconciling the two views."
"In having conversations with my parishioners, I told them that looking for same-sex marriage and ordination in the Bible is like looking for a Honda Civic in the Bible. The writers of the Old and New Testaments – Paul especially – had no idea, no concept of what a loving, committed, God-loving, covenant-seeking, same-sex couple was," Turlington said.
"I do not believe that staying true to or following the word of God, the Bible, has to be exclusive of loving and accepting all people into the loving arms of God," he said.
"It is important to me that our witness in the world not be compromised," said Susan Gary Landry, the LaGrange District superintendent. "Our church will remain in dialogue around this issue, especially since the vote was close. I desire for all people to hear that United Methodists love, respect and welcome those with differing perspectives."
"I'm a lifelong Methodist who has always been proud of my church's inclusiveness," said Cornerstone UMC member Tana Johnson Hochle.
"In my experience, we love and accept everyone. Ratifying divisiveness makes me very sad. I hope that this doesn't cause a split in the church but I believe I would find myself moving toward the more inclusive version, should that happen," Hochle said.