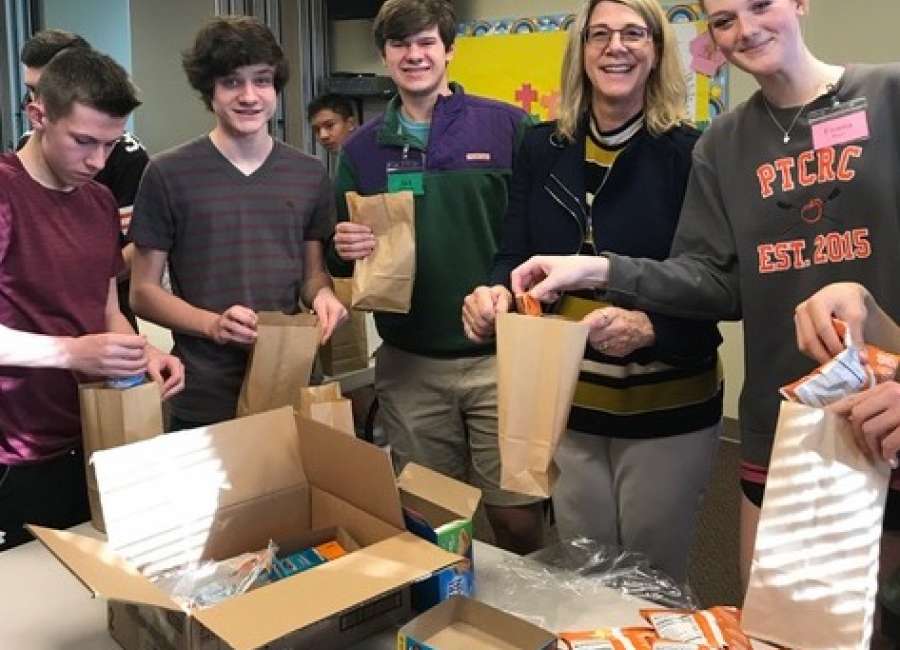 Youth at St. Mary Magdalene Catholic Church recently prepared snack bags for an afterschool program.

More than 40 youth group members participated. The youth, 9-12 graders, and 10 leaders enjoyed a Souper Bowl Sunday based around giving at the Feb. 3 event.
The parish women from the Catholic Council of Women provided chili and fixings. After being fortified, the youth assembled more than 700 snack bags.
The snack bags were donated to the afterschool program run by Catholic Charities of Atlanta. The program tutors refugee children from around the world, many of whom enter the United States through Atlanta's Hartsfield Jackson International Airport.
Snacks and drink for the bags were donated by members of the CCW, but a massive donation, more than a pick-up load full of drinks and food, was provided by Midwest Food Bank of Peachtree City.
The afterschool program helps bring children up to grade level and provides ESL education.
Following the snack bag assembly, the youth took a tour of the St. Vincent de Paul Society's food pantry operated jointly by St. Mary Magdalene and St. George Catholic Church. The food pantry receives a monthly donation from Midwest Food Bank.
Midwest Food Bank gives to hundreds of community-based programs each month. These programs are based primarily in Georgia, but also in surrounding states.
"The event was a wonderful lesson in giving for the youth of the parish," church member Maggie Heatherman said.