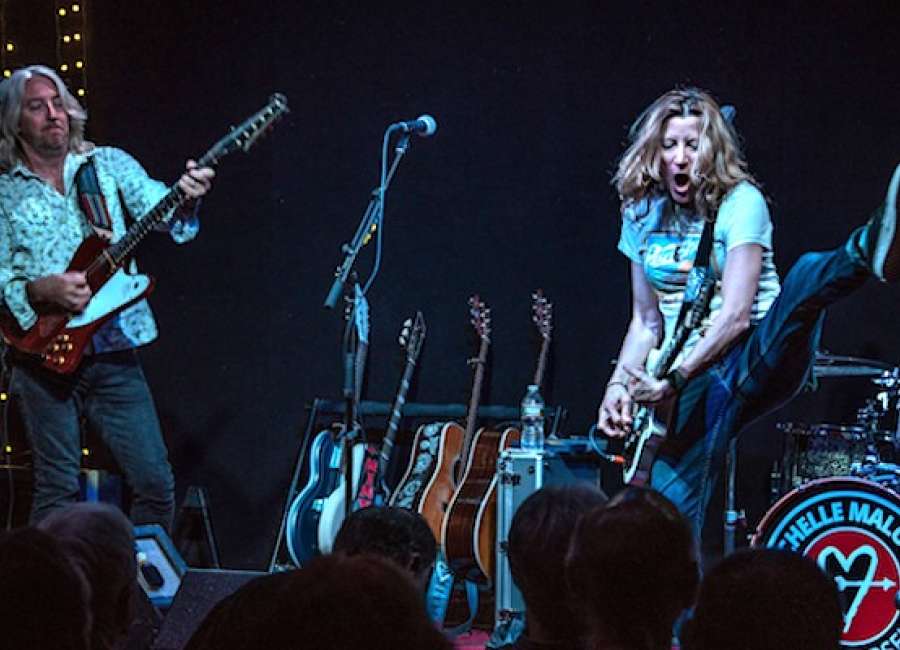 It's 289 days until Christmas, and Michelle Malone doesn't want to wait that long.

The Atlanta-based rocker teamed up with her guitarist, Newnan's Doug Kees, to bring the holiday group The Hot Toddies to town last Christmas, and they'll be back to celebrate spring on the square March 19.
"It was kind of a special thing, so we wanted to do it again," Malone said. "And we didn't want to wait until Christmas."
The Michelle Malone Band is returning to Below the Neck for the Blues & BBQ Supper Club, and Malone said she's looking forward to performing in the intimate venue with her homegrown guitarist.
"Honestly, I find it easier to connect with people in smaller towns, to build relationships and have a more personal show with them," she said. "Most everyone at the venue will know each other in some form or fashion, and most people will know Doug. It just feels like one big happy family, and I love being part of that. Even though it's Doug's family and Doug's friends, I feel like I've been initiated into the fold and I'm very grateful."
Malone – who became well-known in the '90s with her band Drag the River – has played a handful of shows in Newnan, and Kees said she's built a loyal group of followers locally.
"We have a great music-supportive crowd here, and lots of Newnan people come to our Atlanta shows," Kees said. "They've kind of adopted her."
Her vast catalog of work is a mix of rock, blues, folk and something music critics have called "alt-country," but Malone said she'll be singing the blues this time around in Newnan.
"I write a lot of blues-influenced songs, so we'll be playing those," she said. "There will be some blues covers, too. I'll be a lot of fun."
The timing is ideal. Malone's album, "Slings and Arrows," has been out for less than a year. It debuted at No. 8 on the Billboard blues chart, narrowly missed a Grammy nomination and spawned a tour with the Indigo Girls and Shawn Mullins. Kees did his first show with Malone's band in February of last year and plays guitar on the record.
Malone said she is "very proud" of "Slings and Arrows."
"It's worthy of talking about," she said. "It's gotten a lot of awards and accolades, but more than that, it's serving the purpose of bringing people together."
"Love Yourself" was the last song Malone wrote for the record, but it sets the tone for the rest.
"I feel like it kind of tied it all together," she said. "I made it a point and an intention to write a positive, bluesy record, which is kind of difficult to grasp at first but when you hear it, it makes sense. It's a reflection of the times, and it's what I wanted to do with 'Slings and Arrows.'"
The song is a suggestion, Malone said.
"If you love yourself you can show others more love and kindness," she said. "We don't need more division. We need to bring people together."
That started in the studio for Malone's band, which recorded the album live in the studio.
"I love the album," Kees said. "People don't really make records that way any more, so the idea of musicians interacting with each other – on an actual record, live in the studio – sets that album apart."
Malone said the musicians got the songs in just a few takes.
"We ran them cold," she said. "It's like when you first open a bag of chips. It's never going to be as good as then."
Mullins lent his voice to the classic duet, "I've Been Loving You Too Long" for the album.
"Shawn is one of the most amazing singers I've ever heard," Malone said. "We ran that down once to get the arrangement, and then we just played off of each other. I could feel it in the studio. It was very emotional and passionate, and somehow we managed to get it down to tape."
Kees said part of the album's magic is its departure from many current recordings.
"These are real drums with real people playing real instruments," he said. "It's such a contrast to most pop stuff. There's nothing wrong with contemporary stuff that's become sort of computerized, but my favorite thing as a musician is playing live and interacting with other musicians. I felt it and they felt it. Michelle doesn't really need me there but I'm completely tuned into singing and moods and figuring out how to play along with it. It's the best thing about playing music – the excitement, and the possibility of something unexpected happening."