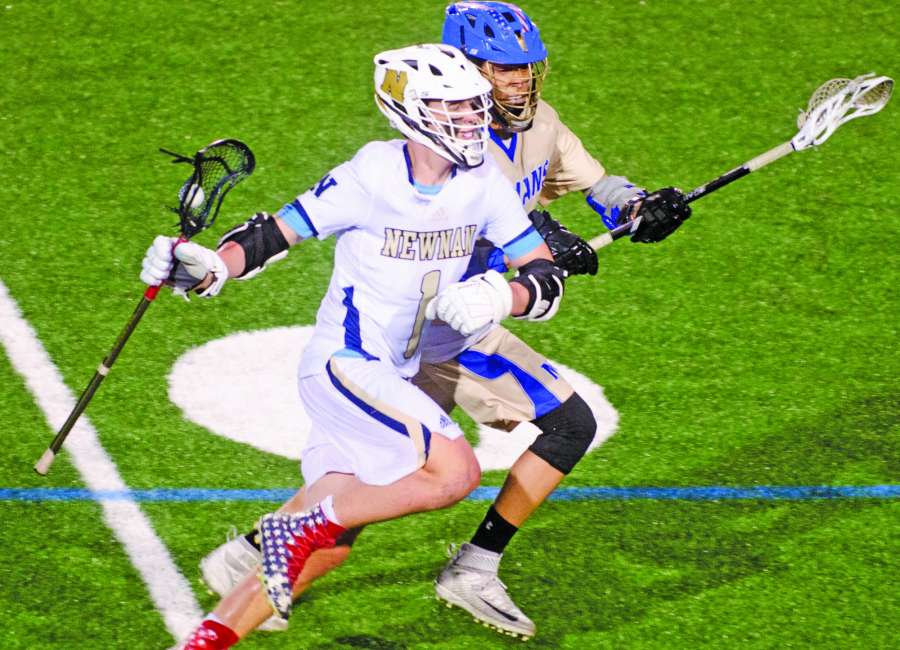 By Chis Goltermann
Cowetascore
There were plenty of lacrosse goals to go around local lineups during victories on another wet evening of early spring.
But give Coweta's new artificial turf fields at least one primary assist.
Had it been any other year, a storm cell that dropped multiple inches of rain between 6-8 p.m., would have most likely halted games at both East Coweta and Newnan.
Instead, the Lady Indians and Cougars didn't have to let up in lopsided wins that continued a pattern of success for county teams as they begin the final month of the regular season — one that includes the annual Coweta Cup schedule on consecutive Fridays in April.
Even after the neighboring baseball game at Newnan High's Joe Pope Field had been officially been halted in the fifth inning and rescheduled for Wednesday, play continued on the turf at Drake Stadium in a downpour in a 17-6 victory by the Cougars over McEachern in Area 3-6A/7A play.
Newnan's fourth consecutive win also moved the team to 1-2 in the area standings and into a tie with East Coweta and McEachern among three teams battling for the last two state playoff berths behind front runners Hillgrove (4-0) and Harrison (3-0).
The Cougars padded an 10-3 lead in the second half while continuing to pull away with four more unanswered goals in a dominating third quarter.
Newnan, which jumped out to a 5-1 advantage in the first, picked up goals from Jack Johnstone, Colton Sink and Beck Glover in the third to pad the lead.
Senior captain Jack Carroll, who was unable to play in the Cougars' non-region win over Trinity Christian on March 18, continued to get back in the swing of the offense, also scoring in the victory while also adding an assist on Payton Gale's tally to push a 16-4 advantage to open the fourth quarter.
Another of Newnan's senior captains, defenseman Ben Wagner, added an end-to-end rush for a rare goal for a long-stick player that closed out the Cougars' scoring.
Senior goalie Avery Johns withstood brutal conditions to allow two or fewer goals in all four quarters. Both of McEachern's scores in the final period came with under three minutes to play.
In Sharpsburg, the Lady Indians stayed hot with a 20-1 rout of Hampton in the third consecutive victory for East Coweta's girls, now 5-3-1 overall.
A perfect first half had the home team at Garland Shoemake Stadium in front 14-0 en route
to a non-region win where 13 players — including goalies Katie Owens and Ansley Gunter — got a chance to dot the scoresheet.
Senior Anna Robbins led the way with five goals for the Lady Indians, who were coming off hard-fought victories last week over Columbus (10-8) and North Cobb (14-13), the latter in a comeback on the road on March 21.
Sarah McCollough added four goals in the victory over Hampton to go with one apiece from Kenedi Wisenbaker, Kaitlynn Alford, Leah Chambers, Maura Ray, Summer Watson, Rebecca Ghyzel, Grace Hall, Carrie Anderson and Moriah Hamlin.
The Lady Indians have two remaining area games against rivals Northgate (8-3, 2-2) and Newnan (2-5, 1-2) with all three county schools battling for two state-playoff berths in the 3-6A/7A girls standings behind Cobb lineups Hillgrove (8-2, 5-0) and Harrison (6-4, 3-1).
East Coweta's girls were coming off an emotional win over North Cobb after rallying from an 8-6 deficit in the second half. A balanced scoring effort was led by McCullough's three goals and an assist, and included two-goal effort from Eliza Kuhne, Kristen Odum, Wisenbaker, Robbins and Ray.
The Lady Indians had 13 players contribute at least one ground ball, led by Summer Watson's five, along with three takeaways.  
East Coweta's boys also took a winning streak into Tuesday's trip to play second-year program Chamblee. The Indians were coming off a 15-5 victory over Whitewater on Friday, March 22 that snapped a five-game losing streak.
Northgate's girls head into this week with the momentum of consecutive non-region victories over Carrollton and Augusta-Evans in thrilling fashion.
The Lady Vikings dominated free-position opportunities at the finish in a wild 13-12 victory over Carrollton that had teams tied 7-7 at halftime.
Mia Griswold scored a whopping 10 times, eight of which after stoppages in free-position chances that put her one-on-one with the opposing goalie. Morgan Robertson added a pair of goals in the first half to go with another from Kaitlyn Maita.
Goalie Tia Stephens was strong over the final 25 minutes, collecting six saves in the second half.
Northgate's girls then outlasted Evans 12-10 in a physical game that had both Callie DuBose and Kennedy Halpin scoring four time. Maita added a pair, while Morgan Robertson and Lexi Whiddon also scored goals.
DuBose and Whiddon finished with a pair of assists and Robertson added a team-high six ground balls in front of Stephens during a second-straight six-save effort.
The Lady Vikings travel to Peachtree Ridge on Thursday in a non-region game prior to spring break.
Northgate's boys recorded its first varsity lacrosse win on March 21 by defeating South Cobb 9-1 on the road. The Vikings jumped out to an early 4-1 lead after one quarter before shutting down the Eagles over the final 36 minutes.
Northgate hosts Trinity Christian tonight at 5 p.m.
The Lions fell 17-4 to Starr's Mill on Tuesday in Fayetteville while now taking  a 6-5 record into their first-ever meeting against Northgate.