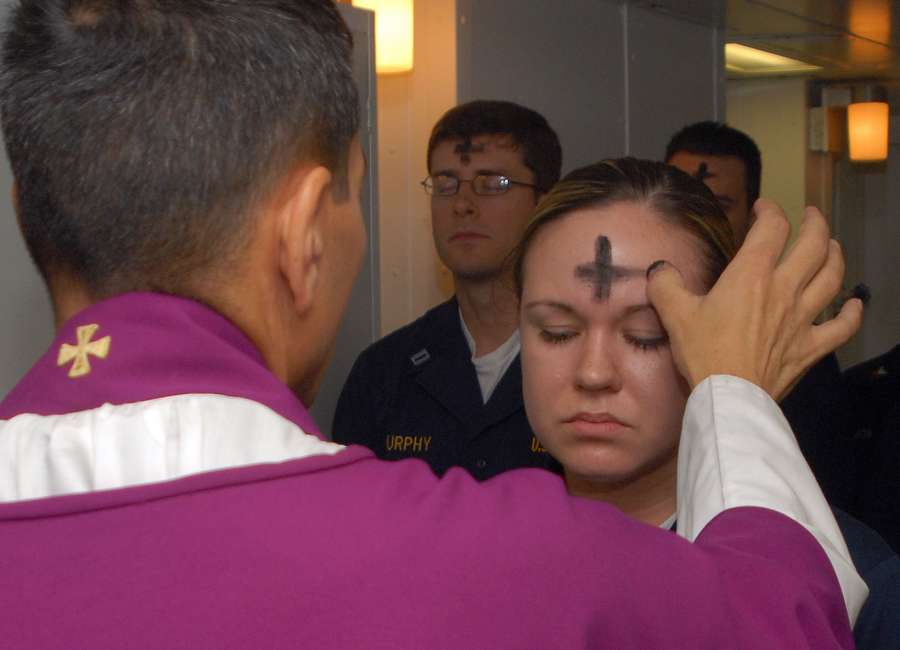 The Lenten worship services – and luncheons – are returning again.

Ecumenical services have been held during Lent for several years, and Lent starts on Wednesday. Lent is a 40-day period of prayer, reflection and self-denial that is observed by many Christians.
Lent begins with Ash Wednesday and continues through Easter, when Christians celebrate the Resurrection of Jesus. Ash Wednesday is a reminder of human mortality with believers having a cross mark placed on their foreheads.
The cross is made with ashes and oil, the ashes usually made from burning palm fronds left from the previous year's Palm Sunday service.
The local ecumenical series is held at a different church each Wednesday with a pastor from another church bringing the message. This year's offering is going to Angel's House, a program for girls in foster care, and a meal – for $5 – will be held at each church after the noon service.
The Lenten services start at noon and last a half hour. The first service will be the Ash Wednesday service this week at St. Paul's Episcopal Church. David Jones, pastor of Newnan Presbyterian Church, will preach.
The remaining service locations and preachers are: March 13, First Baptist Church of Newnan, Charles Robinson of First United Methodist Church; March 20, St. George Catholic  Church, Scott Pickering of Cornerstone United Methodist Church; March 27, Central Baptist Church, Jimmy Patterson of First Baptist Church of Newnan; April 3, Newnan Presbyterian Church, Henry Atem of St. George Catholic Church; April 10, Cornerstone United Methodist Church, Matt Sapp of Central Baptist Church; and April 17, Holy Week, First United Methodist Church, Kyle Mackey of St. Paul's Episcopal Church.
This Tuesday is Shrove Tuesday, which marks the last day before Lent. Shrove Tuesday is a traditional time for clearing the kitchen of rich foods ahead of the Lenten period. Pancakes are often eaten on Shrove Tuesday.
Three Rings, the youth ministry at the Cathedral of Christ the King, will hold a pancake dinner on Tuesday at 7 p.m. The meal will be served in the parish life center at the church, 4881 Hwy 34 E., Sharpsburg.
Donations will be accepted to fund youth activities.
Several churches will be observing Ash Wednesday. Cornerstone United Methodist Church, 2956 Sharpsburg McCollum Road, will have its service from 6:30-7 a.m.
St. Mary Magdalene Catholic Church, 3 Village Road, will have an Ash Wednesday Mass from 7-7:30 a.m. and another from 12:10-1:10 p.m.
Imposition of ashes will be offered during Mass at St. George Catholic Church on Roscoe Road on Wednesday at 8:30 a.m., noon and 6 p.m. A Spanish service is scheduled for 8 p.m.
Newnan Presbyterian Church will have a drop-in service in the church's Cornerstone Garden. People are invited to stop by for meditation and the imposition of ashes from 6-7 p.m.
An Ash Wednesday dinner will be held at 6 p.m. at Grace Lutheran Church, 575 Fischer Road, Sharpsburg. A devotion will follow at 6:45 p.m.
St. Paul's Episcopal Church will have imposition of ashes at the Holy Eucharist service at 7 p.m. Wednesday. 
Word of God Lutheran Church in Peachtree City will also hold its Ash Wednesday service at 7 p.m. "The service will include the imposition of ashes," church member Sandy Thomas said.
Word of God is also planning weekly Lenten services will be on Wednesdays at 7 p.m. on March 13, 20 and 27 and April 3 and 10. Word of God is located at 303 Kelly Drive. Suite 10, Peachtree City.
Ash Wednesday services are also scheduled at 7 this Wednesday at Resurrection Lutheran Church on Lora Smith Road and at Luthersville United Methodist Church.