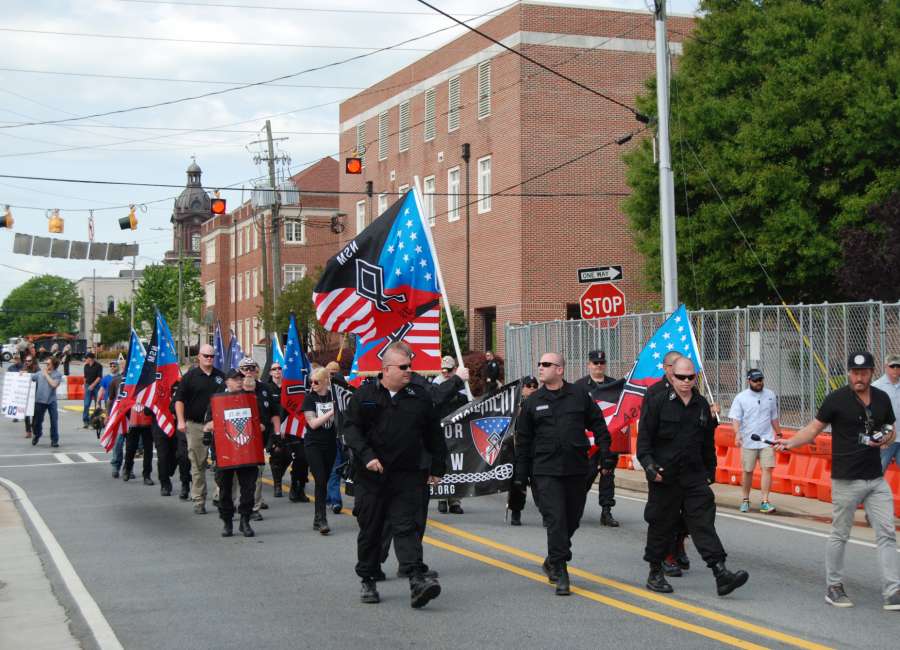 When the National Socialist Movement came to Newnan last year, the white supremacist group was led by Jeff Schoep, the group's presidents for 25 years.
The leadership now is in question. James Hart Stern, a black minister who earlier befriended Edgar Ray Killen, the Imperial Wizard of the Klu Klux Klan, points to paperwork signed by Schoep that names Stern as the new head of the group.
Schoep says Stern "does not speak for the NSM, he holds no legal standing with the NSM, … was not and never was a member of the NSM." Stern "used deception and manipulation to attempt to get something that never belonged to him," Schoep said.
Burt Colucci is president of the NSM, according to Schoep, an assertion backed up by the NSM's current file with the Michigan Secretary of State.
Stern provided The Newnan Times-Herald with a transcription of a group telephone conversation that included Schoep, Stern, several attorneys and U.S. Magistrate Court Judge Joel C. Hoppe, who is hearing a case against the NSM and the Nationalist Front regarding injuries and a death at a 2017 rally in Charlottesville, Va.
Schoep, who is a defendant as head of the Nationalist Front, said that group was never incorporated and has no website.
 "It was basically just an idea," Schoep said, according to the transcript. "It is like a paper tiger. It is nothing."
Nonetheless, Hoppe ordered Schoep to hire an attorney and emphasized the Nationalist Front as a named defendant in the suit.
Stern has asked for summary judgement against the NSM in the suit. 
The NSM "is on its own, not representing or taking any responsibility for the Nationalist Front," he said.
In the transcript, the judge identified Stern as the NSM's representative. He declined, however, to order Schoep not to interfere with Stern's access to information and to the NSM's website and Twitter accounts.
"I don't think that I can do that, based on … the information I have right now. I think that's something you all need to talk about," Hoppe said.
As of Wednesday afternoon, Schoep's group still managed the NSM's website.
The National Socialist Movement held a rally at Greenville Street Park on April 21. The weeks leading up to the rally brought disparate members of the community together in Coweta County to stand for diversity and openness, and efforts to bring black and white Cowetans together continue following the NSM visit.
Court documents filed Feb. 15 suggest Stern wants to use his new position as director and president of the National Socialist Movement to undermine the Detroit-based group's defense against the Charlottesville lawsuit, according to The Associated Press.
The NSM is one of several extremist groups that has been sued over bloodshed at a 2017 white nationalist rally in Charlottesville, Va. Heather Heyer, 32, was killed by a motorist during that rally.
Stern's motion for summary judgement asks a federal court in Virginia to rule against the group before one of the lawsuits goes to trial.
Stern replaced Jeff Schoep as the group's leader on Jan. 8, according to Michigan corporate records. On Jan. 15, Acacia Dietz, the NSM's registered agent, filed paperwork to make Stern the group's registered agent.
Subsequent paperwork filed with the Michigan Secretary of State renames Dietz as registered agent and lists a new set of officers headed by Florida resident Burt Colucci, an NSM director during Schoep's leadership of the group. None of those documents, however, bear Stern's signature.
Schoep was the spokesman for the NSM in the months leading up to the Newnan rally, and he was present in Newnan for the event.
Stern's feat invited comparisons to the recent Spike Lee movie "BlacKkKlansman" in which a black police officer infiltrates a branch of the Ku Klux Klan.
Matthew Heimbach, a leading white nationalist figure who briefly served as the NSM's community outreach director last year, told the Associated Press that Schoep and other group leaders have been at odds with rank-and-file members over its direction. Heimbach said some members "essentially want it to remain a politically impotent white supremacist gang," and resisted ideological changes advocated by Schoep.
Heimbach said Schoep's apparent departure and Stern's installation as NSM's leader probably spell the end of the group in its current form. Schoep was 21 when he took control of the group in 1994 and renamed it the National Socialist Movement, according to the Southern Poverty Law Center.
"I think it's kind of a sad obit for one of the longest-running white nationalist organizations," Heimbach told the AP. He estimated the NSM had about 40 active, dues-paying members last year.
The group has drawn much larger crowds at some rallies, although the gathering in Newnan had less than 40 attendees.
NSM members used to attend rallies and protests in full Nazi uniforms, including at a march in Toledo, Ohio, that sparked a riot in 2005. More recently, Schoep tried to rebrand the group and appeal to a new generation of racists and anti-Semites by getting rid of such overt displays of Nazi symbols.
It appeared that Stern, of Moreno Valley, Calif., had been trying for at least two years to disrupt the group. According to the AP, a message posted on his website said he would be meeting with Schoep in February 2017 "to sign a proclamation acknowledging the NSM denouncing being a white supremacist group."
"I have personally targeted eradicating the (Ku Klux Klan) and the National Socialist Movement, which are two organizations here in this country which have all too long been given privileges they don't deserve," Stern said in a video posted on his site.
Stern served a prison sentence for mail fraud at the same facility as Killen, who was convicted in the "Mississippi Burning" killings of three civil rights workers. Stern and Killen, who died in January 2018, shared a cell at one point.
In 2012, Stern claimed Killen signed over to him power of attorney and ownership of 40 acres of land while they were serving prison terms together. A lawyer for Killen asked a judge to throw out the land transfer and certify that Killen and his family owned the property.
Stern used the power of attorney to disband the Mississippi-based Klan organization headed by Killen.