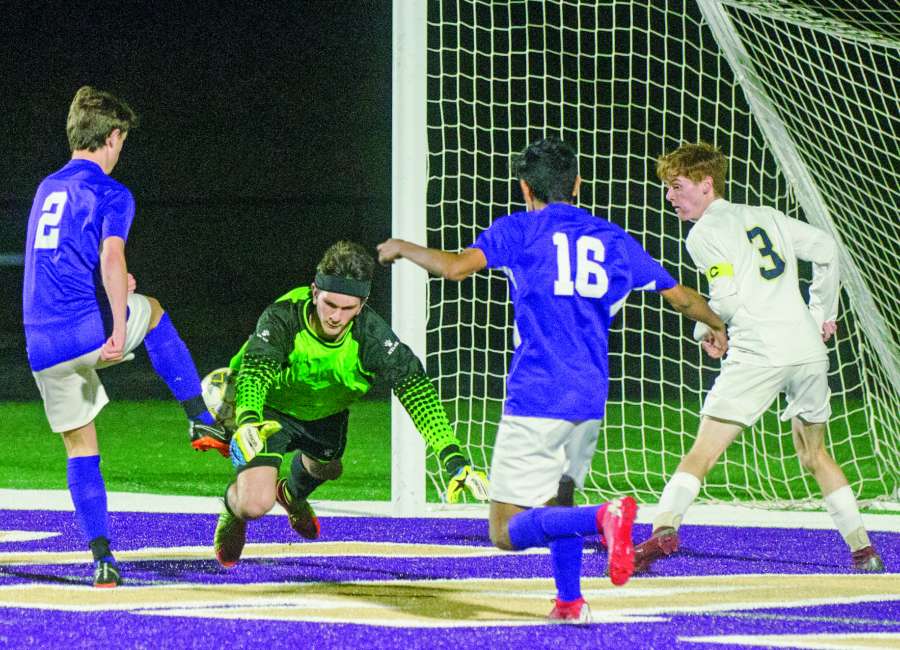 By Chris Goltermann
Coweta Store
East Coweta soccer teams have simultaneously held bragging rights in the annual Coweta Cup tournament over Newnan for the past five seasons, and a  monsoon in early spring wasn't about to deny the Lady Indians a sixth straight victory over its county rivals in Region 2-7A,, despite being limited to 40 minutes of play in a 4-0 victory.
Nevertheless, a wind of change arrived as well for Newnan's boys program.
For the first time since 2008, a Cougars team defeated East Coweta, holding on in a 3-2 victory after Monday's storms had made their way past Garland Shoemake Stadium.
With the win, Newnan (8-1-2, 4-1) clinches second place in the 2-7A boys standings, with the Cougars also earning their first home playoff game since 2012.
It came a year after the Indians knocked a 12-win Newnan team out of state playoff contention with its 10th straight Coweta Cup decision over their rival.
This time, however, Newnan's boys withstood a late surge much like Shoemake's new turf against heavy downpours while able to salvage the first of three dates of the round-robin tournament.
The Cougars, much like East Coweta's girls did in only a half en route to a rain-shortened victory, jumped out to a commanding three goal lead and seemed poised to roll through while securing its first win over the rival Indians in 11 years.
An own goal off the foot of an East Coweta defender was followed by a perfectly executed corner between Newnan teammates Will Thomas and Angello Sanon gave the Cougars a 2-0 advantage in the opening 14 minutes of play.
Thomas' serve was right on the mark, with Sanon able to head it on solidly, fighting off a trio of Indian defenders while positioned less than six yards out.
The lead held through halftime before Newnan struck again early in the second. Dean Goad's left-footer during a break in off a feed from Sanon put the team out in front 3-0 with 30:16 remaining in the match.
A quick flick from Sanon sent the speedy Goad in with an open look on keeper Rayhan Knot and the Newnan striker didn't hesitate with a quick shot that dented the net.
Yet the game was still far from over.
A banged-up East Coweta lineup did more than just hang around, putting together multiple pushes on net. Back-to-back headers from Kyle Waters and Matthew Allen on scoring chances over the course of a minute had Wyrick needing to first punch a ball over crossbar and then bat down a ball right on goal before scrambling to scoop up the rebound.
The Indians finally got on the board just five minutes after Newnan's third tally before adding a second goal with 11:57 left in regulation and turning the last dozen minutes of regulation into an even more frenzied atmosphere.
"I think [freshman] Michael Alrutz said it best in the huddle after the game that this was the best second half we've played this year," said Indians head coach Todd Beldon.
Noah Shoemake gave the Indians' comeback their initial spark not long after the Cougars went to a 1-5-4 formation while trying to protect the two-goal lead.
A goal came after Shoemake and Indians teammate Andrew Wilson worked the ball inside the box off the right side of the goal before Shoemake got off a low, hard shot to finally beat Newnan keeper Rad Wyrick.
The Cougar senior keeper came up big in the first half to maintain the shutout, more than once tracking down loose balls in the box.
East Coweta's Kyle Waters had two scoring chances before halftime that were denied, the first when Newnan senior defender David Ponce made a heads up play to prevent a shot and the latter in a collision with Wyrick that produced a follow-up attempt from Wilson from long range that carried over the crossbar.
Newnan kept its poise in a 3-1 game, but still found itself needing to bear down.
The lead tightened further shortly after East Coweta's Nick Grimaldi forced an Indians corner kick after working the ball down in the left corner.
It set up Wilson's well-placed serve to fellow senior Josh Milam. The Indians defender moved up to put himself in perfect position for a header in a bang-bang play similar to Newnan's successful attempt from the same spots on the field in the first half.
The goal upped the intensity even further with just under 12 minutes remaining, with East Coweta producing another corner from the same spot that eventually produced a shot from long range by Manny Esco
bar that sailed high.
Newnan made its own push in the final three minutes and kept the ball deep to produce a free kick as the clock hit the final 60 seconds.
There was still enough time, however, for the Indians to make a final serve from Wilson near midfield inside Newnan's box with less than a half minute to go.
Newnan center back Colin Swenney initially headed the ball out of his zona, and in a final scramble East Coweta had long-range shot attempts blocked by Cougar juniors Caeden Greer and Tanner Bassett before time expired.
The win became another major step for a Newnan program that now has a chance to capture its first outright Coweta Cup title for the first time since 2008. That year, however, didn't end with a state playoff berth.
The Indians, meanwhile, fell to 1-3 in region play and 4-10 overall with its fourth straight loss. A rough March that has seen the team drop seven of eight games has come with more than a handful of starters hampered by injuries or missing games including Monday's initial Coweta Cup match.
"We've got nine seniors, but we're still young among starters," Beldon said.  
East Coweta will now have to take care of business against winless Westlake to close the region schedule before looking toward a potential three-way tie with Campbell and Wheeler to determine the last two state playoff berths from 2-7A.
Wheeler's boys kept itself in contention by defeating Campbell 3-2 on March 22.
GIRLS
EAST COWETA 4, NEWNAN 0
In a game that played not nearly as lopsided as the final score, the Lady Indians still controlled play throughout while taking advantage of their scoring depth.
The win kept East Coweta undefeated in 2-7A at 4-0 heading into a showdown with Westlake (7-1, 4-0) to decide first place. Newnan (7-5, 2-3) is locked into the No. 4 seed.
Four Lady Indians took turns scoring over a 21 minute span as heavy rain equally picked up as play progressed.
Despite two early shot attempts by Newnan on senior keeper Abbey Chaves, East Coweta racked up five corner kicks in the first 16 minutes of play.
The constant pressure eventually produced Haley Davis' goal with 18:55 left in the first half  off a feed from senior teammate Abbey Cuttle in a scramble that followed the fifth corner attempt.
Just over a minute later, two more Lady Indians got involved in the scoring when Ellie Watson blasted a shot from just outside the box after taking a pass from fellow senior captain Laney Steed.
Junior Emily Darnell made it 3-0 when she scored off a serve from senior Nana Garcia from the right corner, before Steed deposited a successful penalty kick.
Newnan keeper Maddie Miller managed to keep the deficit there, coming up with a point-blank kick save to stop a breakaway from Steed in the final 90 seconds. An ensuing ricochet was pushed just over the crossbar by the Florida signee.
Coaches agreed to make the match official with it in a lightning delay at halftime, allowing the boys contest to kick off less than 30 minutes past a scheduled start time of 8 p.m.
CUP ACTION CONTINUES TONIGHT, FRIDAY
Newnan closes out Coweta Cup play tonight against Northgate in matches that will also be played at ECHS.
Northgate teams are coming off non-region losses on Friday at Columbus. The Vikings (5-6-1) will attempt to snap a three game slide while also trying to deny the Cougars a chance to clinch this year's Cup title.
The Lady Vikings enter this week at 6-4-1 overall.
The round-robin tournament concludes with a doubleheader Friday between host East Coweta and Northgate.
TRINITY CHRISTIAN GIRLS ADD REGION WIN
Trinity Christian's girls closed out the March schedule with a resounding 9-0 win against Region 5-A opponent Our Lady of Mercy on Friday behind hat tricks from freshman Maddie Beasley and senior Maddie Smith.
The win moved the Lady Lions to 3-1 against region teams and 6-5 overall heading into spring break.
Beasley scored three goals and added three assists as Trinity turned on the offense even further after taking a 2-0 lead to halftime. Smith finished with three goals and an assist.
Sophomore Olivia Loris gave the Lady Lions a 2-0 lead just before the break and Trinity also received goals from sophomore Celia Gwinn and senior Caitlin Ledford, who posted a team-high four assists.
Freshman keeper Tori Pabst had a quiet outing in goal, stopping all five shots en route to the shutout.
Trinity's boys battled into the second half against OLM before the Bobcats scored the only goal of the game en route to a 1-0 victory.
The loss dropped the Lions to 3-8-1 overall and 2-2 against region opponents.