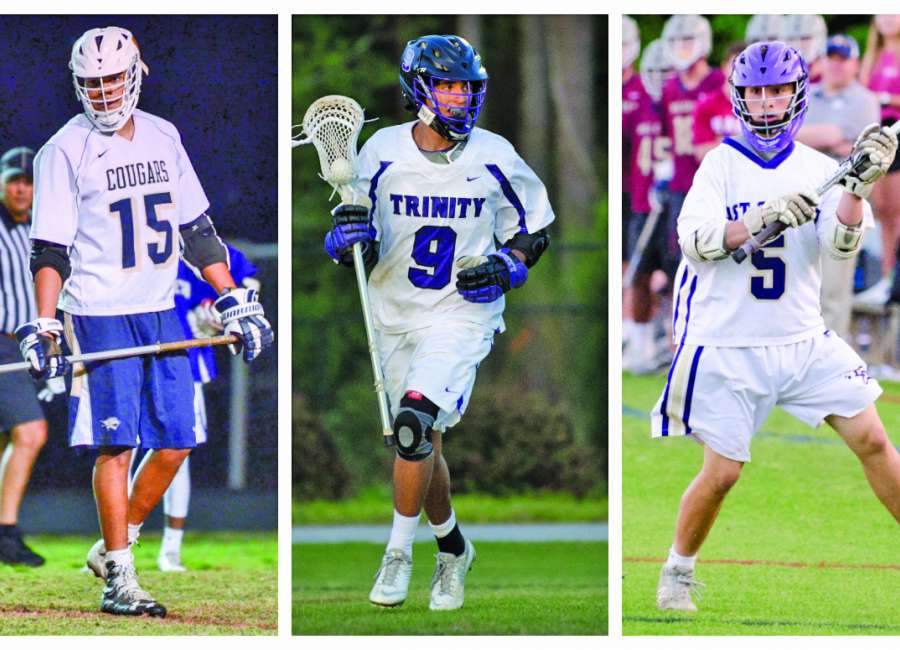 By CHRIS GOLTERMANN
CowetaScore.com
The 2019 high school lacrosse season presents opportunities for boys teams in Coweta County to take a big step, whether in terms of making a push for the GHSA state playoffs, continuing a trend for success or simply getting back on track.
Northgate's return to varsity play under first-year head coach Nick Weil after a year of fielding only a JV team, brings the number of county schools even with girls at four apiece.
It also helps restore the three-game Coweta Cup schedule for the annual county championship. As a bonus, both Northgate and Newnan have added non-region dates with Trinity Christian's second-year program to put some extra bragging rights on the line.
Contending for state playoff berths, however, may be the most important goal for teams facing new regions.
East Coweta, Newnan and Northgate move to Area 3-6A/7A with four Cobb County schools including last year's Area 1 champion and runner-up Hillgrove and Harrison.
Both were previous region opponents of East Coweta and Newnan from 2012-2016.
Northgate returns to varsity play after opting to play a JV schedule in 2018.
Weil was previously a coach at Woodward Academy while now tasked with getting the Vikings program back on solid ground.
The Vikings are off to a slow start through four games while managing just three goals.
Trinity, meanwhile, officially joins the GHSA after finishing with a 15-2 record in its inaugural season. The Lions are in Area 7 with Fayette schools McIntosh and Starr's Mill as well as Woodward Academy.
The Lions have alternated wins and losses through five games in a 3-2 start capped off by Wednesday's 16-4 victory at Whitewater.
"Offensively, we feel we can play with anyone," said Trinity head coach Scott Price, who does have a few challenges in 2019.
Scoring, though, hasn't been a problem for a lineup that returns last year's All-County Player of the Year Tanner Price and Offensive Player of the Year Zach Jones.
Price scored a whopping 92 goals and added 83 assists to set a new state record with a 10.3 points-per-game average last year as a sophomore. Jones added another 82 goals and 22 assists in his junior season.
The duo are among five returning All-County players from last year's team, all at key positions. Sophomore Danny Baird immediately emerged as a faceoff specialist, winning 72-percent of his draws and leading Coweta standouts with 159 ground-ball scoops.
He also had 11 goals and 15 assists in last year's varsity debut.
Senior Jason Marx, who signed with Reinhardt, returns on defense in addition to sophomore goalie Logan Lundy.
Last year, Lundy finished with 109 saves.
Youth, however, will again be a factor in Trinity's lineup after opening play in 2018 with a roster that included just one senior.
But even with four seniors this spring, the Lions may be even younger with a group of starters that now includes three freshmen and two sophomores. Four more ninth graders are in Trinity's top rotations.
The starters at midfield include junior Brett Dowler as well as freshman Christian Hanson. Brothers Josh and David Dallas give Trinity two more ninth graders in the lineup on defense and attack, respectively.
Freshman Tyson Wall is a top defensive middie while joining another strong freshman at the position in James Howser.
Price and Dowler are the lone juniors on the Lions roster, which also has sophomores Noah Grimes and Cam Jones as well as freshmen Zed Wingo, Tyson Wall, Grady Horton, Ethan Bivens and Juan McLean.
Newnan has split four games to open the 2019 season including a tough 14-6 loss on in Tuesday's Area 3-6A/7A opener at Harrison after the Cougars pulled within four goals after three quarters.
It was the type of effort that head coach Joshua Cyprian may be hoping to get out of his team throughout the spring.
"We expect our team to go out and compete with any team we play," he said. "The group of guys we have work extremely hard and are eager to succeed."
Newnan is coming off consecutive winning seasons for the first time since 2011 and 2012, going 9-6 in 2018 and 11-6 in 2017.
But there's still unfinished business after missing out on a state playoff berth by a single victory last spring.
"One of our big goals this season is to have a home playoff game and get Newnan's first playoff win," Cyprian said.
The pieces are also in place for the Cougars to make a playoff bid, but in a region where both Harrison and Hillgrove will be obstacles. Along with the return of starting goalie and team captain Avery Johns, Newnan returns its entire defensive core and two long-stick midfielders.
In addition, they have a top faceoff man back in the midfield and two of last year's three attack men returning.
"We have a lot of returning talent who when mixed with the new guys can be a very dangerous group to play against," Cyprian said. "The team attitude and drive coming into the season are great."
Having a established goalie is certainly a huge start and Johns is coming off a year where he stopped 65-percent of his shots.
Johns is one of four senior captains, joining returners Jack Carroll, Luke Morgan and Ben Wagner.
Wagner joins senior Sam Moran and T.J. Hill among three returning defenders and "the combined experience of our defense should help us when we get deep into region play," Cyprian said.
Wagner and Hill were both All-County selections in 2018. Wagner was also named to the All-South Metro First Team in a year that included 21 takeaways. Hill led the Cougars with 60 ground balls to go with 18 takeaways.
Carroll is also coming off an All-County selection in 2018 after scoring 18 goals and adding a team-high 15 assists in the midfield.
Sophomore Jack Johnstone, who received All-County honors after scoring 16 goals and adding nine assists, is also back after a strong varsity debut.
"We  are returning a great core of middies that should mix well with the new talent that has been added to the roster this season," Cyprian said.
The midfield includes sophomore faceoff specialist David Rembert, who won 70-percent of draws as a ninth grader.
Up top on attack, Newnan has a key veteran back in Morgan, a third-year captain with Carroll. Senior Caleb Morris is also back at the position among three Cougars that saw significant time at the position a year ago despite losing All-County honoree Clayton Garmany to graduation.
Last year's senior class also included All-County midfielder Tristan Daly, whose 27 goals were among team leaders.  
"We also added two strong attackmen to keep the guys fresh and defenses off balance," Cyprian said.
Newnan's roster is heavy among leadership with 13 seniors along with seven juniors. The senior class also includes midfielders Tyler Fuller, Caleb Brown, Beck Glover, Parker Ferguson and Kendall Malcolm.
Senior Jaylen Crumbley joins Moran and Wagner among upperclassmen on defense, while senior Colton Sink and Ethan King add depth on attack.
Juniors Michael St. John and Justin Adcock give the Cougars a pair of long-stick midfielders that can transition on defense.
East Coweta graduated a large senior class while also going through a coaching transition in the offseason.
Zach Giddens takes over as head coach for the Indians following five consecutive seasons under the leadership of Nick Crider.
The program is coming off last year's trip to the Class 6A/7A state playoffs following a 9-6 campaign that included a 4-1 record in Area 2 and a home state playoff game.
East Coweta finished in a tie for first with Wheeler but finished second only through a tiebreaker.
The roster experiences major changes through the graduation of six players that received All-County accolades, led by Co-Offensive Player of the Year Madison Duffessy.
Duffessy set a new single-season scoring record last year with 61 goals.
The Indians' graduating class also included starting goalie Devin McCarragher, defenseman Tanner Schmeider, midfielder Jackson Elliot and attackmen Nick Dailet and Bailey Brogan.
A 1-2 start to the season also included a loss at Hillgrove in a tough region opener on Feb. 27, where the Indians were held scoreless.
An area of strength for East Coweta could be on defense where Randolph College commit Gareth Ronfeldt leads a solid core of returners. It includes senior Wesley Chambless and sophomore Tucker McDonald.
Juniors Trevor Colburn and Kyle Marshall join sophomores Ryan Haponski, Brookins Vaughn and Theo Krajewski among long poles on the roster.
The Indians hope to get a scoring boost from the addition of Ben Easley up top. The senior, who played at Trinity last year, was an All-County selection after scoring 35 goals and adding eight assists in 2018.
Senior Owen DeBole is back while capable of picking up more of the offensive load after contributing each of the past three seasons on attack.
Also working on attack this year are sophomore Jack Owens and freshmen Cade McGraw and Logan Woodward.
East Coweta also has returning talent at midfield in senior Ryan Mitchell along with juniors Chase Swilley and  Kalope Wingo. Depth at the position includes senior Thomas McElwaney.
The group working at midfield includes juniors Jackson Millians and Kayne Hunter as well as sophomores Andrew Parks, Noah Smith and Chase Lewis.
Turnover will have new faces in goal. Senior Hunter Beckworth and freshman Bradley Gunnin step in for the Indians to replace McCarragher, who signed with Brevard College in North Carolina following an All-County senior season