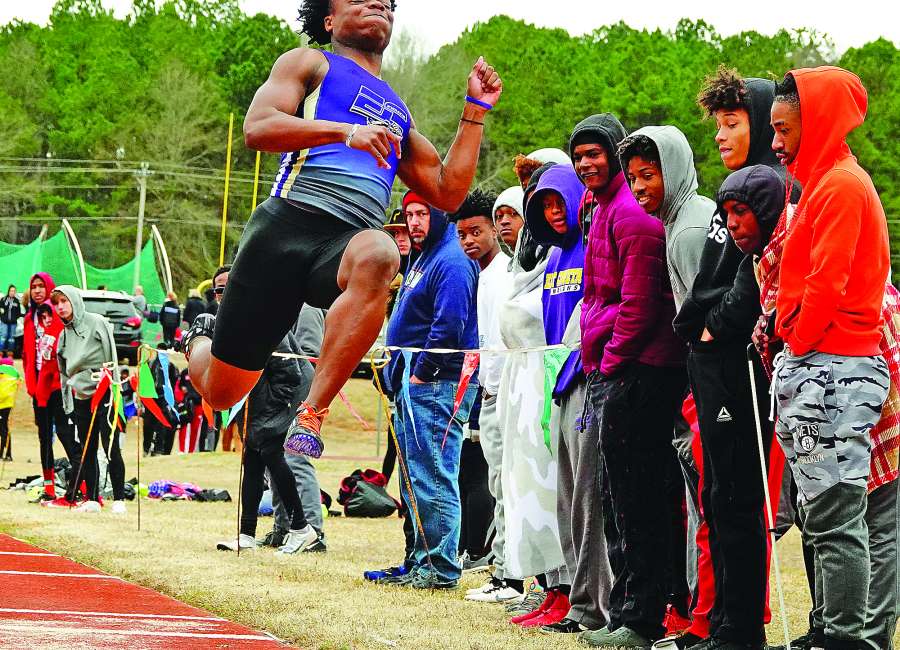 By Chris Goltermann
Cowetascore
East Coweta and Newnan boys track teams each put together 60-point performances over the weekend while competing at separate meets.
The Indians split up, but sent a larger contingent to the 7th annual Atlanta Games Invitational at Lakewood Stadium while placing first among 27 teams with 61 points.
East Coweta's boys held off both Arabia Mountain and Heritage-Conyers for top honors by nine points. Southwest DeKalb and Union Grove tied for fourth with 45 points.
In girls action at the Atlanta Games, a split-squad East Coweta girls team placed seventh with 36 ½ points.
The Cougars, meanwhile, led four local boys programs at the annual Christian Taylor Invitational at Sandy Creek. Newnan's boys finished with 61 ½ points to finish fourth behind Shiloh (135 ½), host Sandy Creek (121 ½) and Eagle's Landing (73)
Northgate was fifth with 43 ½ points while Trinity Christian (20 ½) and Whitewater (18) placed 10th and 13th respectively.
Trinity's girls scored 38 points to lead four local lineups in sixth place. Newnan was seventh with 27 points and Northgate (10) and East Coweta (8) were 12th and 14th, respectively.
Middle school action also had Trinity lineups placing third in both boys and girls divisions with 110 and 77 points, respectively.
Atlanta Games
East Coweta's winning effort was sparked by victories from seniors Brayden Carey and Ahumad Williams as well as junior Kyle Harkabus.
Williams outdistanced Campbell's Giovanni Alfred to capture the 110 hurdles in 14.77 by less than a quarter of a second. He was also among two scorers for the Indians in the 300 hurdles, placing seventh at 41.03, behind teammate Ramal Holston, who took fourth in 40.66.
Harkabus, who set meet records last season in both the 1,600 and 800, won the mile in 4:31.29 and took second in the 800 to Banneker's Sparticus Griffin by less than a second with a mark of 2:01.96.
Carey set a season best in the long jump of 23-1 3/4 to win the event, coming within less than four inches of a meet record. He also placed fourth in the 400 in 49.66.
East Coweta's scorers also included senior Braden Ray, who was fourth in the 3,200 in 10:24.29. Rigon Musliu was fifth in the high jump at 5-10 and sophomore Colby Butts took seventh in the 1,600 in 4:49.47.
Nelson Ramirez also scored in the field for the Indians, placing eighth in the shot put at 41-7 3/4.
Matthew Moore challenged in the 3,200, placing 10th in 10:55.
The Lady Indians were strong in field events, scoring 25 of their 36 ½ points while led by second-place finishes by Paishence Collier in the long jump (16-6 1/4) and London Fowler in the shot ut (36-1 1/4).
Collier also placed fifth in the 400 in 1:01.09.
East Coweta had two scorers in the discus in Kylie Ferguson (4th, 101-0) and Hannah Kunkle (8th, 93-6).
Madi Duke was also sixth in the high jump at 4-10 among a four-way tie at the height.
Sophomore Shannon Ferry and senior Holly Hind each added fifth-place finishes in the 1,600 (5:49.55) and 3,200 (12:56.32).
Christian Taylor Invitational
Boys
Newnan seniors Tyriq and Malik Hussie, both of whom recently signed with Kennesaw State, showcased their individual talents on the track while combining to win the 100, 200 and 400 meters for the Cougars.
Senior Elijah Williams added a victory in the long jump and joined the Hussie brothers and Tre Bridges to place second in the 400 relay.
Newnan's boys had two scoring relays in the 400, placing both second in 42.49, as well as eighth in 44.73, among a team of Joseph Hart, Vyshawn Wright, Malik Simons and Corey Brooks.
Individually, Tyriq led the 100 in 10.74 and added a winning time of 21.44 in the 200 to complete a sweep of sprint events.
Malik broke the two-minute mark while well in front at the finish of the 400, crossing in 1:58.78.
In the field, Newnan received third place efforts from R.J. Stevens in the high jump (5-8) and senior SanJuan Warner in the discus (126-3). Wright joined Williams among scorers in the long jump, placing eighth (18-4).
Gray Frederick placed ninth in the 3,200 in 10:34, with teammate Bryson Houston taking 12th (10:47). Wright placed 19th in the 400 out of 65 runners.
Trinity Christian had a strong effort in the field, placing in four events including multiple scorers in the pole vault after Adam Granade and Matthew Sherrod finished fourth and fifth, respectively while both clearing 9-6.
Bryan McGuire led the Lions with a third-place finish in the triple jump at 40-3 1/4. Sherrod was ninth overall in the event, just missing a scoring effort at 34-6.
Reed Benefield tied for seventh in the high jump (5-2) and Bartley Truskolaski placed eighth in the shot put in 39-1.
Kyle McGuire scored for the Lions in running events by finishing sixth in the 400 (51.13). He was also 12th in the 200.
Michael Freeman battled in the 1,600, placing 10th among four runners that crossed at 4:54. The group included Northgate's Davis McIntire and East Coweta's Jack Cliett.
Freeman was also 14th in the 800.
Northgate received multiple scoring efforts from Declan Gresham, Malik Mixon and Chandler Cao.
Gresham won the discus in 137-0 and was runner-up in the shot put at 47-2.  
Mixon had top-three efforts in the hurdles while taking second in the 110 high hurdles at 14.95, and third in the 300 intermediates at 39.70.
Cao was fourth in both the triple jump (39-8) and long jump (19-6).
The Vikings also received eighth-place finishes from Davis McIntire in the 1,600 (4:54.33) and William Stephens in the 3,200 (10:23.53).
Luke Hanks was 12th in the 1,600 (5:03) and Michael Nelson 14th in the 3,200 while crossing just ahead of teammates Ahmed Thomas and Billy Guilot.
Despite splitting up, East Coweta still scored points at the Taylor Invitational meet, led by Tyrell Fudge's second-place finish in the high jump at 5-10.
Phillip Wallace also scored for the Indians, placing eighth at 5-1.  
Nick Enright and Eli Maples both scored in the pole vault, placing sixth and eighth, respectively.
Others with solid performances included Christian Hatzo (9th, 110 hurdles), Jack Cliett (9th, 1,600), Jeden Watson (10th, shot put) and Alex Watson (12th, 1,600).
Senior Xavier Church was 17th out of 65 entries in the 400.
Girls
Trinity Christian senior Sami Bourque placed in both the 1,600 and 3,200, placing third in the 3,200 (12:53.25) and seventh in the mile (6:06.64).
In the field, the Lady Lions were led by Sarah Leyimu's second-place effort in the triple jump (30-0). Leyimu was 10th in the 100.
Scoring efforts on the track for Trinity also included Claire Geerings' fourth-place finish in the 300 hurdles in 50.32. Geerlings also was 10th in the 400.
Both Geerlings and Leyimu teamed with Sarah Nelson and Reagan Rogers for a fifth-place effort of 4:30.47, in the 1,600 relay.
Also in the field, Trinity teammate Breanna Peavy was the only pole vault competitor to clear the bar, placing first at 6-6. Kinsey Stierwalt also scored for the Lady Lions in the high jump, placing sixth (4-4).
Trinity also received a solid effort in the discus from Jordan Roberts, who placed ninth.
Newnan sophomore K.K. Madrey led the Lady Cougars while finishing as a runner-up in the high jump and also scoring in the 400 (5th, 1:02.58), 200 (6th, 26.19).
Madrey tied for the top effort of 5-4 in the high jump but took second due to a tiebreaker with Sandy Creek's Jania Hodges.
Grace Smith also scored twice for Newnan, placing fourth in both the 800 (2:36.66) and 1,600 (5:52.78). Teammate Rachel Woods also battled for positioning in the 1,600, placing ninth in 6:28.39.
Scorers for the Lady Cougars also included Mya Stevens, who was seventh in the long jump while also taking 10th in the discus and 13th in the shot put.
Northgate's girls received a runner-up performance from Sarah Brummett in the 3,200 in 12:52.34.
Also on the track, Guya Farmer placed seventh for the Lady Vikings in the 100.
Solid efforts for Northgate's girls also had Madison Duke placing ninth in the 3,200, Dalia Gibson 11th in the 1,600 and  Deyanna Champion 13th in the long jump.
East Coweta's split squad at the Taylor Invitational was led by Jada Brock's fifth-place effort in the shot put at 29-9. Elaina Divido took seventh in the discus (73-11) and Mary Ellen Goltermann was seventh in the 3,200 (14:28.81).