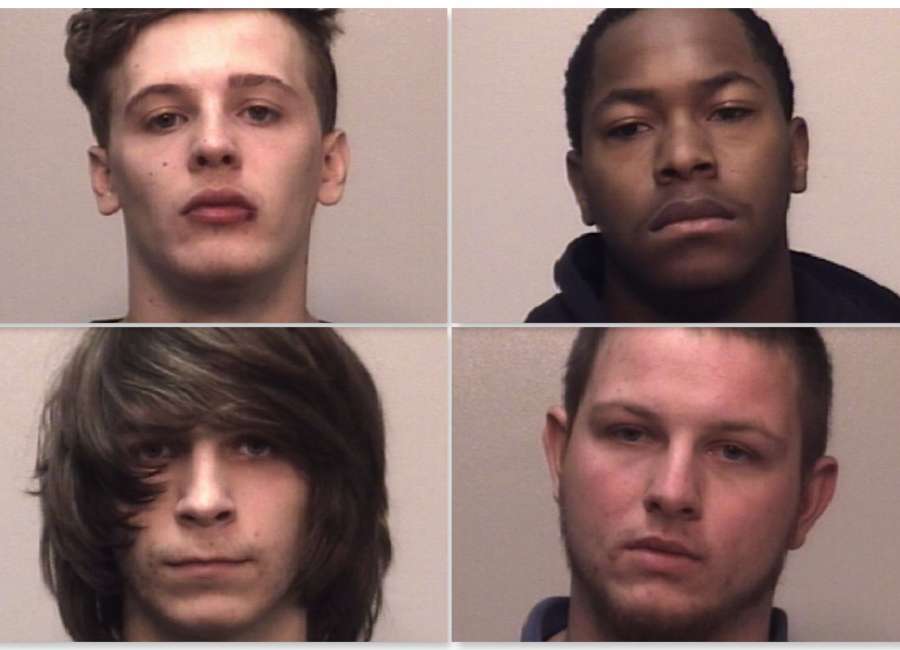 Four men who allegedly held residents, including a 3-year-old child, at gunpoint during a home invasion are now behind bars.

Randall Austin Hazelrigs, 20, is currently charged with home invasion, armed robbery, possession of a firearm during the commission of a crime, and marijuana possession.
Along with Hazelrigs, deputies also arrested Alex Hunter Jordan, 18, Ashton Rodricous Blackmon, 19, and Joseph Edwin Barrera, 19, who were each charged with one count of armed robbery and one count of home invasion.
The incident occurred Sunday night at a trailer park located on 1901 Lower Fayetteville Road when witnesses said the four men entered the home wearing black bandanas, according to Col. James Yarbrough with the Coweta County Sheriff's Office.
Approximately six people inside the trailer, including a 3-year-old child, were held at gunpoint by Hazelrigs, who demanded money and phones then forced the occupants into a hallway before the four men fled from the home with over $400 in cash, Yarbrough said.
Witnesses told police despite the suspects wearing black bandanas, they recognized all four because they knew them, according to Yarbrough. A neighbor spotted the men leaving the residence and was able to give deputies a description of their vehicle.
Based on the description of the vehicle, deputies spotted the car at the Texaco on Hwy. 154 near Exit 51 and were able to take all four suspects into custody. Deputies recovered a gun, a small amount of suspected marijuana, $368 in cash, and a pink iPhone, Yarbrough said.
During their interviews, several suspects indicated the robbery was a retaliation for a recent burglary believed to have been conducted by two men who lived in the trailer, according to Investigator Brandon Thrower.
"The suspects wanted to scare two of the men who lived in the home, but said the incident escalated when Hazelrigs pulled out a gun," Thrower said.
Jordan, Blackmon and Barrera were each given a $11,200 bond.
Hazelrigs remains in jail after being denied bond following a first-appearance hearing.