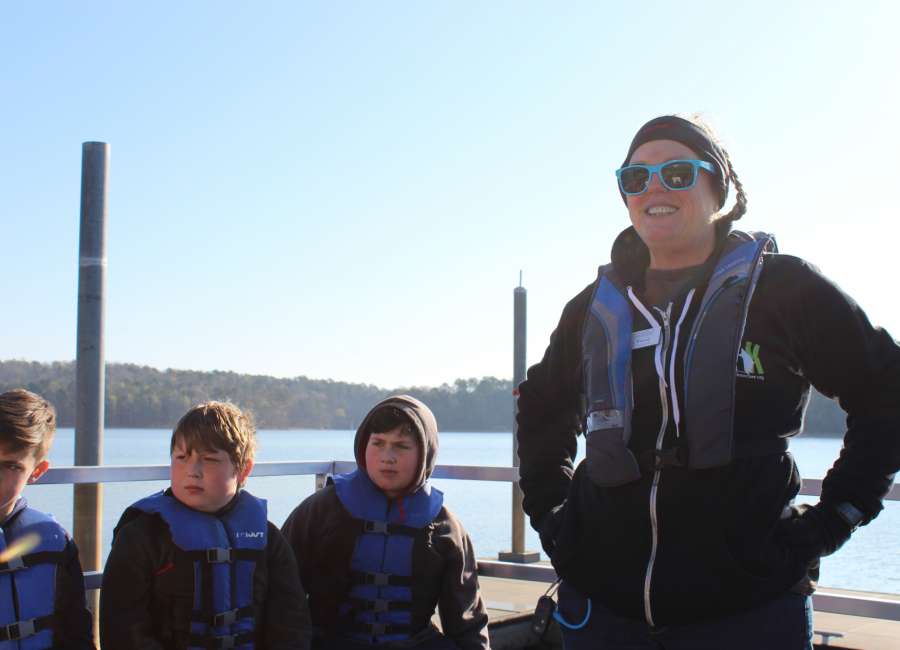 Jan Pierce handed out blankets and binoculars to shivering sixth-graders as they boarded the "Miss Sally," Chattahoochee Riverkeeper's boat and floating classroom at West Point Lake.
"We have groups that come distances to do this," Pierce said.
According to the CR instructor, students will travel from Columbus, Coweta County, Carrollton and Alabama to participate in CR's floating classroom.
As a child, Pierce said she wanted a job that allowed her to work outdoors.
"When I was growing up, I always wanted to be a forest ranger," she said.
Her father disagreed and wanted her to be a teacher instead, she said. Pierce was swayed and taught at math and science at Smokey Road Middle School for 25 years.
Pierce retired from teaching in May 2018 but still provided education to students as an instructor with Chattahoochee Riverkeeper.
"When this opportunity came up, I was already volunteering with CR," she said. "So I have my dream job now, I get to teach outside."
CR provides education on the Chattahoochee Watershed through their two floating classrooms on Lake Lanier and West Point Lake, in addition to water quality monitoring, conservation and legislative work.
Joanna Baxter, an instructor with CR, said the organization was founded by Sally Bethea in 1994.
Pierce described West Point Lake as "dying" in the late '80s. She said, sewage from Atlanta was leaking into the Chattahoochee River, which feeds into West Point Lake.
"It was a very old sewer system, a dual sewer and storm water runoff. All of that would go into the Chattahoochee river and settle in," she said. "People were getting sick."
According to Baxter, Bethea and Riverkeepr took the city of Atlanta to court and won which forced the city to pay $2 billion for damages.
CR continues to monitor the Chattahoochee watershed with E. coli tests to "make sure there isn't bacteria in the water that would be detrimental," Baxter said. "It's a neighborhood watch kind of thing."
When students arrive at CR's floating classroom they are divided into two groups. One remains on land to learn about the watershed and pollution through interactive models, while the other goes on a boat to see the local wildlife and conduct tests on the water.
"One of the problems we have here is the litter in the lake," Pierce said of West Point Lake.
"A lot is done in the land part on recycling because we're trying to keep trash out of the lake," Baxter said.
To combat the trash that ends up in the lake, CR hosts river and lake clean ups along the shore and in the water, said Baxter.
On April 6, CR will lead a cleanup across the entire watershed.
According to Pierce, all of the Chattahoochee River groups — 4500 volunteers at more than 40 locations — will participate that day to pickup trash from the river.
Pierce said during one cleanup, 43 balls were found in one area.
Balls are often left out at fields and "the rain washes them into the stream," she said.
In another cleanup more than 700 pounds of trash were recovered.
"Most of it was plastic bottles and styrofoam," Pierce said.
The BPAs from the plastic will dissolve and end up in the fish, and later in humans if the fish are eaten, Pierce said.
Baxter said she hopes teachers will reinforce aspects of recycling the students learned from CR.
"It's more personal reinforcement in a child's head but hopefully we're planting seeds in the children," she said.