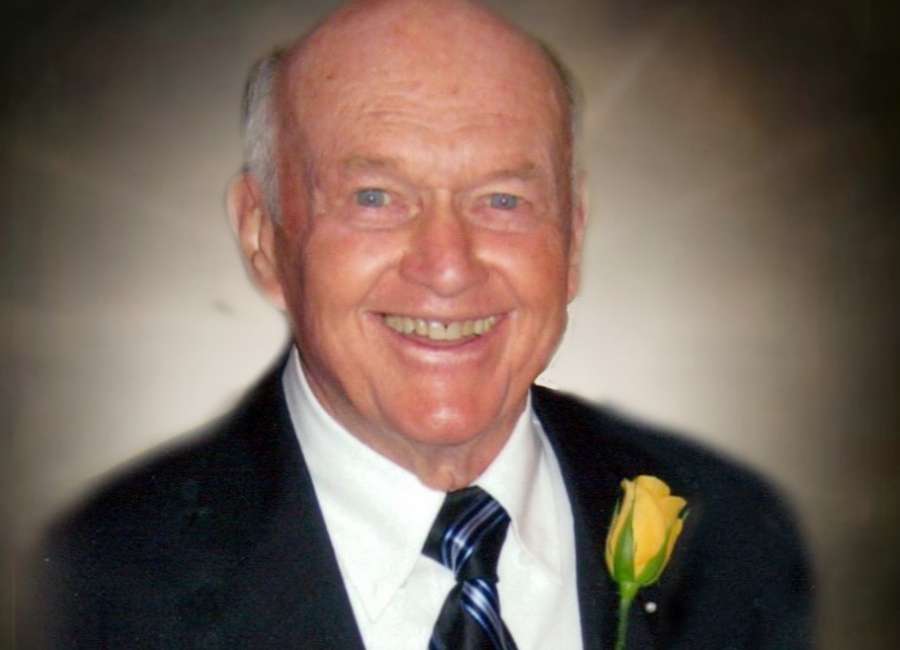 Elliott William "Bill" Brown Jr. passed away at home in Newnan, Ga. on Monday, March 18, 2019 at the age of 90.

He was preceded in death by his parents, E.W. Brown, Sr. and Gertrude Blue Brown; his siblings, Sample Duncan Brown, Walter Hubert Brown, Johnny McQuagge Brown, and Rosa Anne Brown; his grandson, Zachary Sheldon Brown; and granddaughter, Emilee Ann Brown. 
Bill Brown is survived by his wife, Lela Jacks Brown; his children, David Kent Brown (Deborah Bynum Brown), Jane Brown Orendorff (John Alan Orendorff), Glen Weldon Brown (Kaylyn Fisher Brown); his sister-in-laws: Patricia Walls Brown and Alda Jacks Ball; his grandchildren, Cara Orendorff Windham (Anthony Wayne Windham), Katherine Orendorff Malcom (Joshua Preston Malcom), Elizabeth Orendorff Elhammali (Adnan Mousa Elhammali), Betsy Orendorff Zint (William Carl Zint, IV), Nicholas Kent Brown (Kelcie McCall Brown), Sarah Orendorff Kirkley (Kevin David Kirkley), Laurel Summer Brown, Gabriel Elliott Brown (Mary Pennington Brown), Benjamin Bynum Brown and Garrett Riley Brown; numerous nieces and nephews; 13 great-grandchildren;, and caretaker and special friend, Rosetta Smith. 
Bill Brown was born on September 14, 1928, in Palatka, Fla..  His family moved to Georgia at an early age.
He graduated from Newnan High School where his nickname was "mi" (pronounced m – i since he ran the mile for the track team).  Bill attended Georgia Tech where he participated in the Glee Club and joined the Air National Guard.  He was called up to active duty and served in Louisiana during the Korean War.  He then enrolled at Auburn University and earned Bachelors and Masters degrees in Education.  At Auburn, Bill was president of Tau Kappa Epsilon fraternity and he met his future wife, Lela Jacks.
Upon graduation, Bill taught at Hogansville High School and Troy High School.  Bill then returned to Auburn University to obtain a Bachelor of Science in Mechanical Engineering. Bill went on to teach at Auburn University and Arkansas Tech University until he joined Brown Steel Contractors, Inc. in 1964.
Bill served as Vice President, President, Executive Vice President and a member of the Board of Directors alongside his father, E.W. Brown, Sr., and brother, Sam Brown, at Brown Steel Contractors, Inc.
In addition to working in the family business, Bill served in multiple business, civic, and social organizations.  Bill served as Chairman of Newnan Hospital Board of Directors, Newnan-Coweta Chamber of Commerce and Newnan Country Club and as a member of the board of the Newnan Kiwanis Club, Coweta County Board of Education, Citizens & Southern Newnan Bank.  He was a member of the Newnan First United Methodist Church where he taught Sunday School, sang in the choir, and served in multiple lay leadership positions.
Bill and Lela were married the first time for 26 years, divorced for 30 years, and secretly eloped to remarry in the Little White Wedding Chapel in Las Vegas 10 years ago.  Bill and Lela developed real estate in the Newnan area, including the Brown Ridge subdivision and apartments.
Bill will be remembered for his dedication to his family, friends, community and country. He was a die-hard Auburn football fan (WDE), a skillful hunter and fisherman and a collector of Indian relics and antiques. His family and friends remember a man with a quick witted sense of humor. He was greatly loved and will be deeply missed.  
A service to celebrate Bill's life will be held on Saturday, March 23, 2019 at 2 p.m. in the Chapel of McKoon Funeral Home. The family will greet friends beginning at 12 noon on Saturday.
In lieu of flowers, memorial contributions may be made in Bill's memory to the Music Ministry of Newnan First United Methodist Church, 33 Greenville Street, Newnan, GA 30263 or to the Alzheimer's Association – alz.org/donate
Condolences may be made to the family online at www.mckoon.com
McKoon Funeral Home, 38 Jackson Street, Newnan, GA 30263, (770) 253-4580