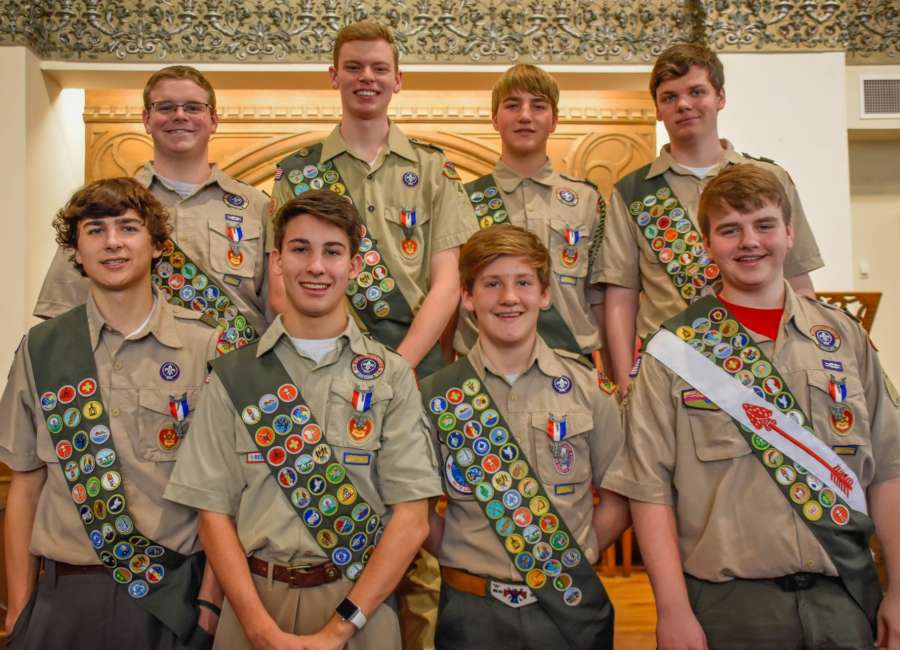 Eagle rank is the highest level of achievement that can be attained through the Boys Scouts of America.

Coweta County's Troop 47 recently had an unusual ceremony – a court of honor in which eight Scouts were elevated to Eagle rank at the same time. The ceremonies were held on Scout Sunday at Central Baptist Church in downtown Newnan.
The new Eagle Scouts are Kirby Bowen, Worth Burkhart, Chris Cannon, Ian Gaude,
Winn Johnston, Hutch Tripp, Willis Tripp and Lee Underwood.
The Court of Honor was held during the 10:55 a.m. service on Scout Sunday, Feb. 2. 
Troop 47 is chartered by the church, and Steve Mapel, charter organization representative, opened the program.
The Court of Honor included presentation of pins and recognition of parents and mentors, as well as formal ceremonies recognizing the new Eagles.
Leaders of Boy Scouts Troop 47 are Curran Bowen, scoutmaster; Cindy Burkhart, secretary; Jennifer Barber, treasurer; Joe Distel, Brad Glass, Mitch Headley, Ben Paschal, Al Robertson III, Rob Stanfield, Derek Thompson, Woody Tripp, Blake Wilbor.
Serving on the troop committee are Al Robertson IV and Ashley Smith.
Also recognized on Scout Sunday were Cub Scout Pack 47 and Girl Scout Troop 19394.
Leaders of Pack 47 are Charles Holcombe, cubmaster; Jennifer Tinkey, committee chair; Leigh-Ann Goldstein, treasurer; Jim Ball, Lion leader; Josh Tate, Jason Zawislak, Tiger leaders; Chip Best, Jason Groover, Chris White, Wolf leaders; Greg Bowne, David Nash, James Nash; Bear leaders; and Ben Bass, Luke Headley, Webelos leaders.
Michelle Freeman is troop leader for Troop 19394. Other leaders are Jennifer Lisborg, Jana Realbuto, Cadette and Junior leaders; Jovanca Blackburn, Sara Dewberry, Michelle Freeman, Charlotte Patterson, Brownie leaders; and Katie Faison, Allison Herdic, Daisy leaders.
Girl Scouts sang one of the verses for "Be Thou My Vision" during the Scout Sunday service. Ella Jane Cotten, Emma Lisborg and Ollie Walden also sang a verse, and Central's Youth Girls Ensemble also sang.
Kirby Bowen led the dedicatory prayer.