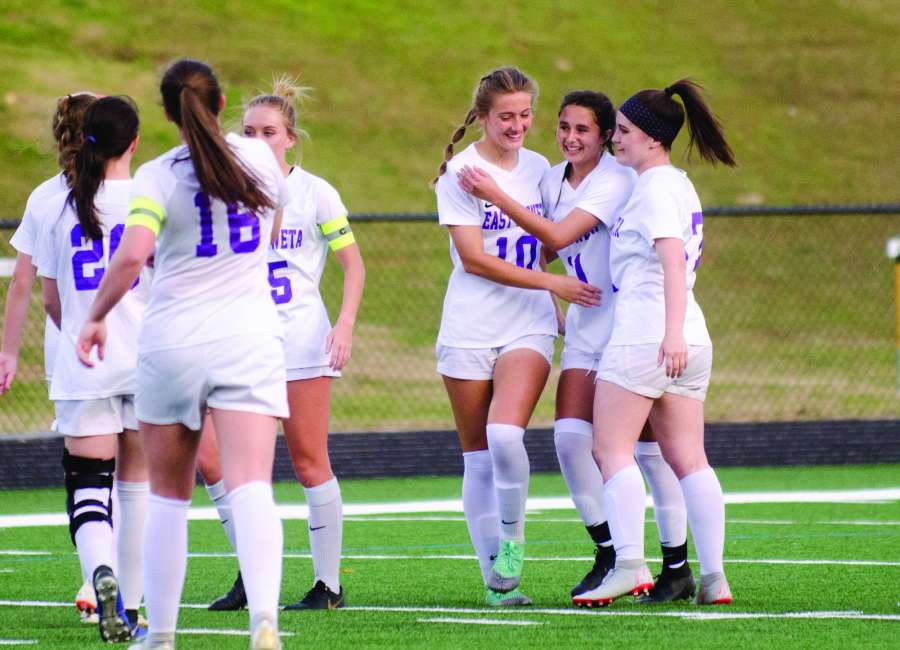 One of the first things the East Coweta Lady Indians soccer team did Friday night at Garland Shoemake Memorial Stadium after winning the Coweta Cup was to ring the Victory Bell.
The 5-2 win over Northgate came in a tale of two halves.
After East Coweta built a 1-0 lead at the half, the final 40 minutes was filled with explosive offensive action as the two teams took turns grabbing the momentum.
In the first half, neither team displayed too much in the way of offense.
With just over 16 minutes left before the break, the Lady Indians struck for the first goal of the game as Laney Steed feed a pass to Adriana Garcia in the box. Garcia connected on the score giving East Coweta a 1-0 lead.
Less than a minute later, Northgate's Amy Scobee had one of the best first-half scoring chances for the Lady Vikings but came up just short.
Ellie Watson and Emily Darnell nearly hooked up for a second goal for the Lady Indians before the break.
Northgate's Kailyn Borngesser had two scoring chances for the Lady Vikings in the first half.
The offenses heated up in the second half for both teams with three goals being scored in the first four minutes of the second half.
Steed and Watson put on a show early in the second half for the Lady Indians.
Steed took a pass from Watson both times for scores for the Lady Indians.
In between, the Lady Vikings got into the act with Hannah Ross finding the back of the net to briefly cut the lead to 2-1 with 37:35 left.
When Watson and Steed hooked up the second time, the Lady Indians increased the lead to 3-1 with 36:35.
East Coweta increased the lead to 4-1 when Abby Cuttle gave the Lady Indians a three-goal lead with 32:10 left in the game.
Borngesser added the final score of the game for the Lady Vikings with just over 15 minutes left in the contest.
East Coweta added its final score of the game with Steed's hat trick.
Her third goal of the Coweta Cup contest came off a corner kick with 3:42 left in the contest.
After the ball bounced around the box, she followed up the rebound and blasted into the back of the net.
Friday's championship was set up after both teams beat Newnan in their first games of the annual county round-robin showcase.
East Coweta won its match with the Lady Cougars 4-0, while Northgate earned a hard-fought 2-1 victory in a game decided 6-5 on penalty kicks.
East Coweta came into the match ranked ninth in the Class 7A poll and improved its record to 12-1-1.
Northgate dropped to 10-4-1.
The Lady Indians extended their winning streak to six games heading into a lengthy spring break.