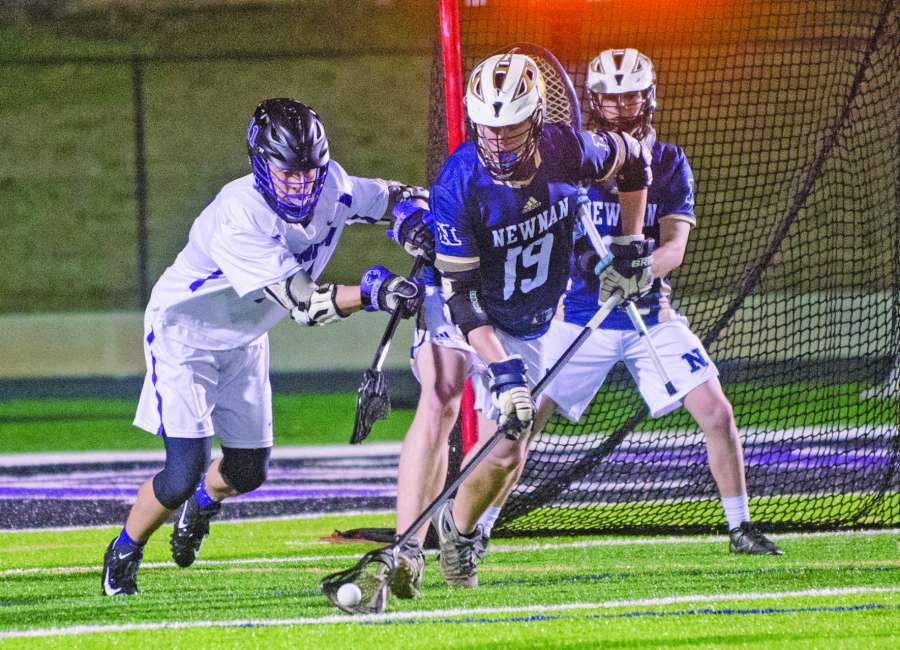 By CHRIS GOLTERMANN
Cowetascore
An impressive 16-10 victory by Newnan over Trinity Christian in a welcomed addendum to this year's Coweta Cup boys lacrosse tournament between the county's three public school programs was as much a tale of two halves for the Cougars.
The Cougars outscored the host Lions 11-3 in the third and fourth quarters after Trinity used a pair of three-goal surges behind senior Zach Jones and junior Tanner Price to take a lead after 24 minutes.
 Newnan received four goals from Jack Johnstone, Luke Morgan, David Rembert and Colton Sink and its defense settled in to hold Jones and Price to one goal apiece after combining for six of Trinity's first seven goals.
Senior Avery Johns kept Newnan in the game throughout, making key saves early to keep the Lions off the scoresheet for the opening four-plus minutes while clinging to an early 1-0 lead.
Rembert, meanwhile, became a driving force in the faceoff circle, both taking away Trinity's chances at fast breaks off the dot and creating them offensively while scoring on individual efforts that opened the third and fourth quarters.
 Just eight seconds into the second half, Rembert pulled the Cougars to within 7-6.
 He then carried the momentum from a strong third quarter into the opening faceoff of the final period while paired against Trinity standout Danny Baird in a battle between sophomores.
 Rembert closed the third with a faceoff win that led directly to Sink's go-ahead goal off a secondary pass from Morgan that gave Newnan its first lead at 10-9 with 48.7 seconds left.
 The opening draw of the final period had Rembert off to the races again, this time taking it himself for the second of seven unanswered goals that allowed the Cougars to suddenly pull away.
 Trinity's speed and quickness helped push the Lions out in front early.
 Jones scored twice within 16 seconds of the first quarter to put the Lions ahead, both off assists from Price, before Price added his first goal when sneaking one by Newnan's Johns in a man-up situation as he swung back around the right post from behind the cage.
 With its lead cut to 3-2, though, Trinity (5-4) rattled off three unanswered goals in 53 seconds from three different Lions.
 Trinity's lead reached 6-2 when Price scored the second of his three goals during a seven-point outing.
 Newnan scored three of the final four goals of the opening half to twice pull within a pair. After Morgan responded just 22 seconds after Trinity's sixth goal, the Cougars followed up with a strong transition that ended with Beck Glover feeding Johnstone. 
With Trinity again pressuring late following a goal by Christian Hanson that was assisted by fellow freshman Ethan Bivens, Johns stood tall while making seven of his 10 saves before halftime.
Sink scored three of his four goals in the second half to go with a pair from Morgan and Johnstone, who put Newnan ahead 12-9 to give the team two goals in the opening minute of the fourth quarter.
 Goalie Logan Lundy kept the Lions in the game, finishing with nine saves. 
Morgan finished with three assists to cap off a seven-point effort, while Johnstone and Rembert finished with six and five, respectively.
Cougars 16, Lions 10
Newnan         2    3    5    6    —    16
Trinity Christian    3    4    2    1    —    10
Goals: Newnan —  Jack Johnstone 4, Luke Morgan 4, David Rembert 4, Colton Sink 4; Trinity Christian —  Zach Jones 4, Tanner Price 3, David Dallas 2, Christian Hanson 1
Goalies: Newnan — Avery Johns (10 saves); Trinity Christian: Logan Lundy (9 saves); Zed Wingo (4th; 3 saves).