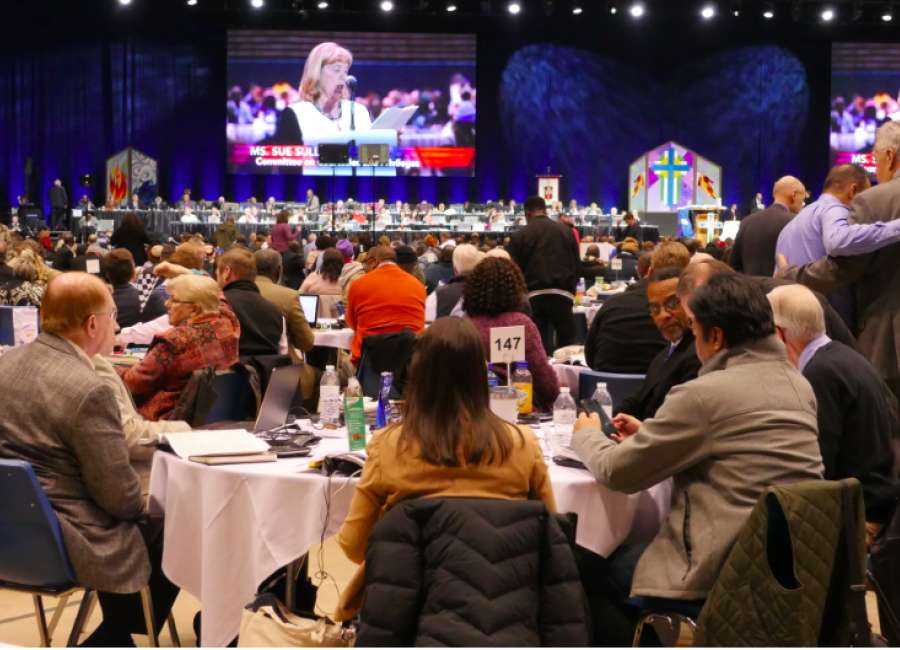 Officially, gay people may not serve as clergy in United Methodist churches and may not be married by United Methodist ministers or in United Methodist churches.

The United Methodist General Conference, meeting in St. Louis in a special session from Feb. 23-26, affirmed those longstanding rules by voting for the traditional plan, one of the options offered to delegates from around the world. The plan retains the wording already in "The Book of Discipline," the official guide for Methodists.
A Commission on the Way Forward, a diverse group appointed by bishops in the church, had been studying the issue of sexuality for several years, and several other options were presented to the delegates in St. Louis.
In the local area, many United Methodists were pleased with the General Conference vote, while others were not. Several current and former Coweta pastors were among the 264 people signing a full-page advertisement that ran in The Atlanta Journal-Constitution on March 3.
Titled, "A letter to our LGBTQ siblings and their allies," the ad stated those signing wished "to acknowledge the harm done last week by the global gathering of the United Methodist church." 
The ad noted 70 percent of delegates from the United States "voted in favor of a more inclusive church. And yet, as a diverse and global church, we find ourselves in a situation where the denomination has perpetuated exclusion."
Pastors currently serving in Coweta who signed the letter are John Turlington, pastor of Moreland United Methodist Church and Sharon Edgar, chaplain at Wesley Woods of Newnan-Peachtree City.
Other signers with ties to Coweta County include Elaine Crawford, former pastor at Newnan Chapel United Methodist Church; Mary Ruth Davidson, former Coweta resident and hospice chaplain; Dan Dixon, former pastor of Mt. Gilead United Methodist Church near Sharpsburg; Dana Everhart, former pastor at Moreland United Methodist Church; JoAn Kinrade, recently retired staff member at First United Methodist Church of Newnan; Erik Mays, former pastor at Senoia United Methodist Church; John Pinson, a former Newnan resident who is now a district superintendent; Stephen Soulen and Melanie Stanley-Soulen, husband-and-wife pastors who are former Coweta residents; Theophilus Stanford, a United Methodist pastor who grew up in Coweta County; and Joe Watson, former pastor of Cornerstone United Methodist Church.
A number of the signers are leaders in the conference, starting with Bishop Sue Haupert-Johnson. Susan Gary Landry, district superintendent for the LaGrange District, signed the open letter, as did Phil Schroeder, who has worked with numerous area churches on growth strategies.
Methodists in the pew had a range of responses to the General Conference decision.
"I will sit with, worship with, break bread together with, do business with my gay brothers and sisters, but they're trying to change the church to fit their beliefs," Steve "Smitty" Smith, a member at Moreland United Methodist Church, said. "I do not concur."
He said people with views different from an existing denomination should start their own church, not expect others to abandon long-held beliefs.
"It broke my heart to learn of the vote. The one thing I always counted on was the UMC opening the arms of fellowship to everyone," said Carole Newell, a member at Newnan Chapel UMC.
"I was very disappointed with the special General Conference," said Debbie Fambro, who described herself as a lifelong United Methodist. She was baptized at Lovejoy Memorial and is now a member of First United Methodist in Newnan.
"Views and teachings on women in ministry, racism and slavery have changed over the years. The same thing should be happening with human sexuality," she said.
She noted few Christians live by biblical admonitions not to wear clothing of different materials and to be scrupulous about the types of foods eaten. Fambro said "clobber verses – none of which can be found in the gospels" are often used to justify opposition to full acceptance of LGBTQ  people.
"What is the example of Jesus?" Fambro asked. "Loving and including everyone."
Pastors willing to speak on the issue emphasized that no individual is authorized to speak for the denomination.
"Whether or not you are a member of the LGBT community or you're just an ally, it has had an impact on everyone involved," said Sean Kilpatrick, pastor of New Hope UMC in Chattahoochee Hills.
In United Methodist churches, some members may feel they have been "shown the door," Kilpatrick said.
Other people hate that this has become a divisive issue, Kilpatrick said. "Some would like to reach some consensus and move on. I have the whole spectrum within my congregation."
Turlington shared his past pastoral experience in explaining why his name is on the ad. 
"From 2014 until 2016, I was an associate pastor at Saint Mark United Methodist Church on Peachtree Street in Atlanta as minister of adult and children's education. Saint Mark's membership is about 85 percent LGBTQ," he said.
"My LGBTQ sisters and brothers in Christ showed me a different Jesus in the two years I spent doing ministry with and among them: a Jesus that was completely inclusive of all children of God. My LGBTQ brothers and sisters showed me a Jesus Christ who calls me to work for justice, who calls me to help set free the oppressed, who calls me to share my food – both spiritual and material – with the hungry, who calls me to open my home and heart to the poor and calls me to not only clothe the naked but to acknowledge them and treat them as I treat my own family," he said.
Turlington said he believes Jesus also "calls us to be in relationship with those who live a life maybe a little different – but really not so different at all – than ours, to welcome them into our lives, and to be with those society rejects and marginalizes."
At Saint Mark, he heard from church members who had experienced "so-called Christian folks, churches and even parents who shut them out of the love of Christ and told them they were an 'abomination' and were unworthy of God's love – missing the point that all are truly unworthy of God's love."
On March 3, Turlington was at an early service at Saint Mark serving communion alongside 15 other North Georgia UMC clergy including Haupert-Johnson.
"These are people who support the United Methodist Church monetarily for years, but who cannot get married in their own church unless they are straight.  There were tears of pain, but mostly tears of joy, as NGUMC clergy once again told them that they are loved by God, loved by 70 percent of American UMC clergy, loved by the clergy of North Georgia and just plain loved," Turlington said.
"Because we have a gracious, forgiving and loving God, all children of God are welcome in God's family."
Landry said she signed the petition "out of my deep desire to show love and encouragement to those wounded by the recent vote by the General Conference."
As the district superintendent, Landry has the task of encouraging churches and pastors to continue their work and service – regardless of their position on the sexuality vote.
"This vote may not have a significant impact on the daily ministry of most of our churches. In fact, this is my hope," she said.
"I do hope we listen more and increase our dialogue with youth and young adults who have a unique perspective and who are often more accepting of differences, including race, gender and sexual identity," Landry said.
"A way forward for us now is to remain in the church with open doors, showing love to all people, and joining in meaningful ministry in our communities. As has always been the case, all persons are welcome in our churches, including LGBTQIA persons. We agree on this point – it is in our doctrine," she said.
Her advice to LaGrange District churches struggling with the issues debated at the General Conference is this: "Stay the course, with your eyes on Christ. Show his love to all you meet. The church will continue beyond this moment, as it always has. Let's be the church in ministry to the world, and see what God will do."