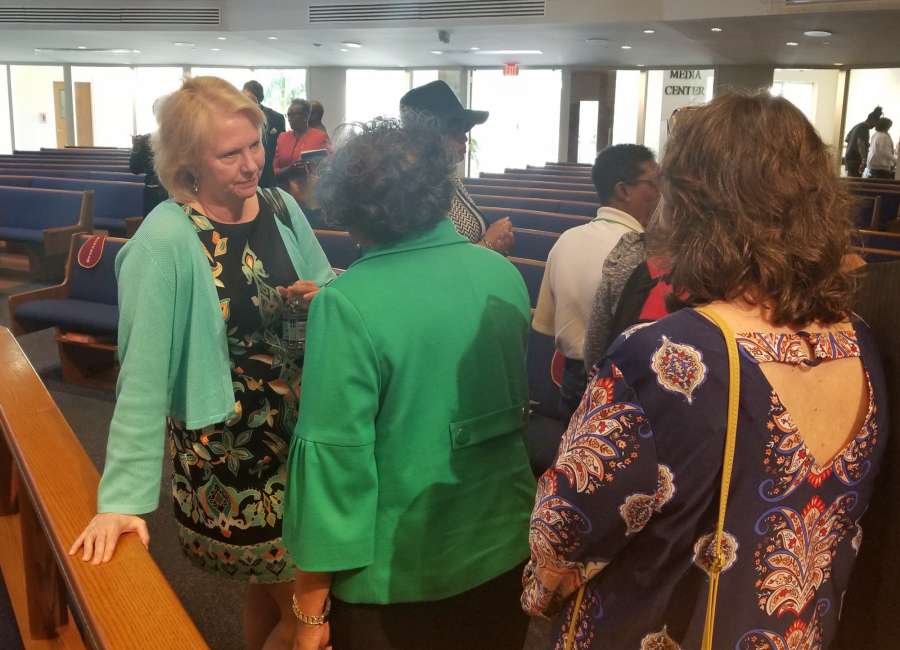 Bishop Sue Haupert-Johnson, who leads all United Methodists in the North Georgia Conference, says she is willing to enforce the denomination's rules but also feels compelled to help gay Christians find ways to serve.

Haupert-Johnson spoke at the informational session for area United Methodists on Sunday at Cascade United Methodist Church in Atlanta. The session was one of several held around the state – this one for Methodists from churches in the LaGrange, Griffin and Atlanta-College Park districts.
United Methodist churches in Coweta County are in the LaGrange District.
"I will uphold the Discipline, but I'm also committed to find a place of service for someone who is called," Haupert-Johnson said. She envisioned herself sitting at her desk and telling a gay person his or her clergy credentials were being taken away, then going around the desk, crying with them and setting about to "help them find a place to serve."
Haupert-Johnson said there is nothing new about gay men and lesbians serving as United Methodist pastors.
 "They have served in our congregation for decades," she said.
Those LGBQT pastors in the past, however, had to keep their sexuality under wraps and could not have a partner.
Haupert-Johnson began her ministry as a single woman. She remembered when she met her husband and fell in love – the excitement and joy she felt and the way her entire church celebrated with her.
For gay Methodist clergy, "the day they meet someone who will complete their lives, their whole ministry is thrown into question," Haupert-Johnson said.
She reflected on the flame in the flame and cross symbol used by United Methodists. The flame represents the Holy Spirit.
"I think of the flame on our cross and flame. The Holy Spirit blows where it will," she said.
"It breaks my heart. I get the struggle the church is having, but I also ponder, when the Holy Spirit lands on folks, should the church deny that?" the bishop asked.
"It's about individual lives. It's not about doctrine. It's about call and how God uses people," Haupert-Johnson said. 
She reaffirmed her pledge to help LGBQT people "find avenues of ministry and proclamation."
She said that the night following the General Conference vote for the Traditional Plan, she spent many hours with seminary students. Many told her they felt their dreams of combining ministry and marriage had been squashed.
In addition to Haupert-Johnson, speakers at Cascade included Dr. Bernice Kirkland, Atlanta College Park district superintendent; Susan Landry, LaGrange district superintendent; and Richard Winn, Griffin district superintendent.
"There are some things we have in common. We are a common people of faith. We are a people who believe in the priesthood of all believers," Kirkland said.
"God calls laity. God calls clergy," Kirkland added. "God's call is irrevocable."
Perfection "is not a work we ourselves can do," Haupert-Johnson said. "We all need to be brought farther along the way to perfection."
"God," Winn said, "is not finished with the people called United Methodists."