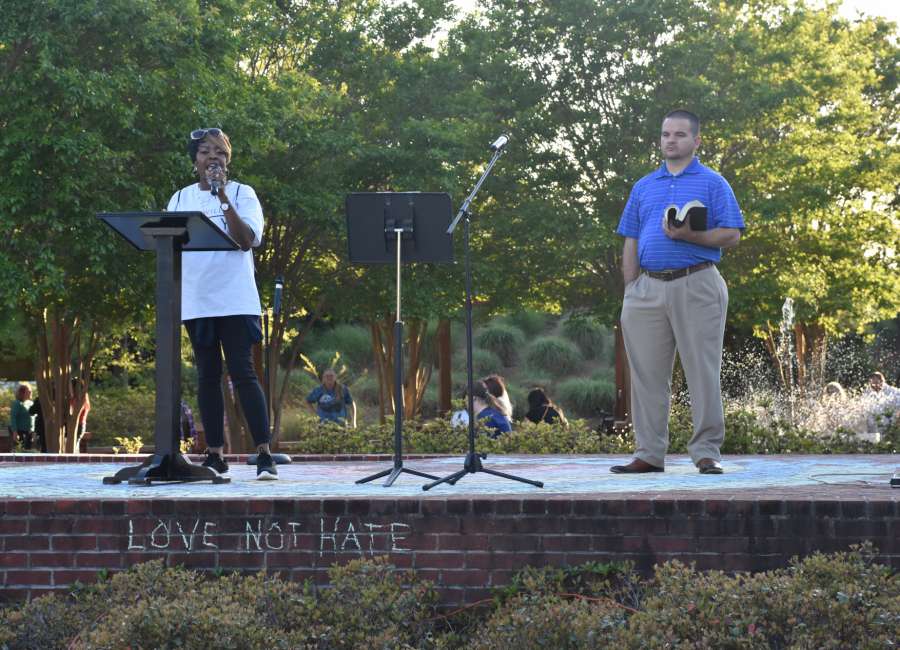 The impact of last year's Nationalist Socialist Movement continues to reverberate, bringing black and white Cowetans together.

On Feb. 10, the "We Are One" unity service will unite Christians of different races in a single service. We Are One will be held at 6 p.m. at First Baptist Church of Newnan. Apostle Debra Harris, who leads Ignite the Fire, a local interracial, interdenominational ministry, will be preaching.
Dr. Jimmy Patterson, pastor at First Baptist, pointed to Scripture, John 13:25 – "By this all men shall know you are my disciples, if you love one another" – as the reason why such a service is needed.
"The evidence that you are a Christian is by loving each other. If we don't love our black and white brothers and sisters in Christ, we do not show the identifying mark of Christianity," he said.
Early last year, the NSM announced plans to hold a white supremacist rally at Greenville Street Park in April. Groups throughout the community began to coalesce, making a concerted effort to present a different, inclusive face to the outside world.
This was particularly true of Coweta's faith community. A prayer service was held at the park the evening before the rally, and two interfaith services were held the day that white supremacists came to town. 
Harris took a lead role in planning the prayer service the night before the NSM came. She described the We Are One service as "an extension of our vision and mission."
"We desire to reach a community of people, regardless of the religious affiliation, to bring us together, as one body of people for the advancement of God's Kingdom agenda," Harris said.
Jimmy Ellison, pastor of Newnan City Church, is part of the Ignite the Fire coalition. He recalled the origins of the We Are One concept.
"Right after the April event, we started talking. It felt so good to be a Newnanite, the community coming together," he said.
Ignite the Fire leaders discussed ways to continue the momentum that began as black and white Christians joined together in the face of hatred last spring. 
"We came up with this idea of having  a community service. That is what birthed this," Ellison said.
Newnan Police Chief Buster Meadows, who played a lead role in not only protecting the town, but keeping the community calm and together, will have a recorded testimony that will be played at the service.
"It was so important for him to speak," Ellison said.
"Music will be a part of it," Ellison said, and several areas pastors will participate. "It will end with a time of prayer for unity, and then we're having a reception afterward."
Harris said now is the time for Christians to come together. "It is important for this hour of this age, in which we're living, because Jesus is soon to return, oneness will serve as a mechanism to bring about adoption into the family of God," she said.
"It is our prayer, that this service will be a vehicle or tool to many more events to come, where we – as brothers and sisters of Christ – worship in our respective churches, but find time to worship together in love and unity," she said.
"It will be a step to birthing of unity across divided lines," Harris said, "and death to a spirit of darkness."
Participating in the We Are One event are Bread of Life Church, Central Baptist Church, China Grove Missionary Baptist Church, Emmanuel Life and Worship Center, First Baptist Church, Foundation Christian Church, Girls of Faith/Unity Baptist Church, Greater Love Kingdom Ministries International, Harvest Family Outreach, Healing Waters Outreach, Hope Global Outreach, Kingdom Connected Ministries Internal Inc., Newnan City Church, Pleasant Grove Baptist Church and Purified Living Waters.