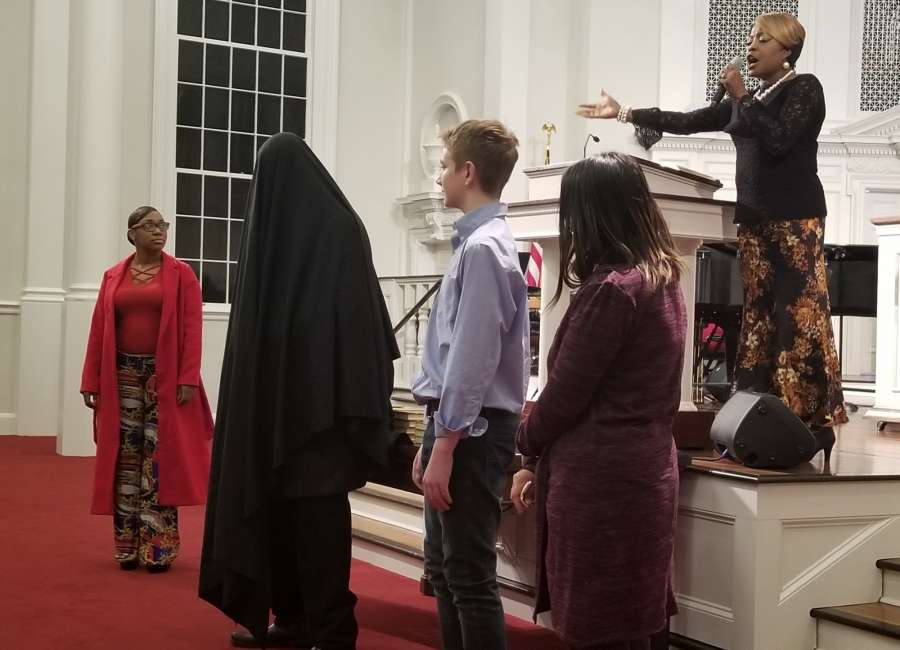 Racism is a demonic, divisive spirit that must be overcome.

Apostle Debra Harris made that the central point in her message at the We Are One unity service on Sunday night at First Baptist Church. Some 750 people gathered in the downtown sanctuary for the service, which included music, a prayer for unity and an offering for Bridging the Gap.
Harris illustrated her point both with her words and with a visual – bringing four people to the front of the sanctuary and having a tall man drape a black cloth over his head and represent the dark spirit separating the other three – an African-American female, a Latina female and a young Caucasian man.
"It's a spirit of darkness which divides us. It has nothing to do really with the color of our skin. What we have to do tonight is to make sure that we are not allowing a demonic spirit to rule our lives," Harris said.
"It's the work of the devil himself and the demonic spirits he sends out to do his divisive work," Harris said. "That spirit is real. It is very real, and too many of us are allowing it to surface and to influence us."
She said the Holy Spirit and the Bible are the defenses against the dark spirit of racism.
"We ourselves cannot unify the way God would have us to. We're all different people. We have different mindsets. We are of different cultures. We cannot do it without God," Harris insisted.
A full story will be in the print edition of The Newnan Times-Herald on Wednesday, Feb. 13.